STORY HIGHLIGHTS
Do Clifton Smith's two great years make him the best return man in team history?
How will Jeff Tedford's influence manifest itself on the Bucs' offense this fall?
Doest Tampa Bay's deep RB corps rank among the top five groups in the NFL?

Each week, Senior Writer/Editor Scott Smith will dip into the inbox to answer questions from  Buccaneer fans.  This week's fan-submitted topics all came via Twitter – thanks for the fast and interesting response, all!  It's a nice mix of what was (best kick returners in team history), what is (the top running back groups in the NFL) and what could be (the shape of the Bucs' offense under Lovie Smith and Jeff Tedford).
Fans can submit questions for upcoming mailbags via Twitter to @ScottSBucs (#BucsMailbag), through a message on the Buccaneers Official Facebook Page or via email at **tbbsocial@buccaneers.nfl.com*.  The One Buc Mailbag runs every Thursday and is not necessarily meant to reflect the opinions of the team's management or coaching staff.*
@ScottSBucs @TBBuccaneers If you had to pick an all-time Bucs team, who would be your return specialist? Truth, Spurlock, Stecker, other? — Tony Morreale (@Tony_Morreale) July 2, 2014
An immediate opinion came to mind when I read your question, Tony, and that would be Karl "The Truth" Williams.  But let's go through the analysis and see if I end up in the same spot.
I'm going to go through the candidates chronologically, beginning in 1976.  There will be some stretches over the last four decades in which there were no Buc returners worth including, but this approach should uncover all the viable options.
1. Danny Reece.  Reece was the first primary return man in franchise history; that is, he handled the vast majority of the punt returns from 1976-80.  The kickoff return job during that span bounced around between a lot of players, with Reece getting into the act every now and then but not enough to matter here.  What matters is that Reece is still the Buccaneers' all-time leader in punts returned, by a slim margin of the truth.  He deserve consideration for that alone, though his career average of 7.0 yards per runback are a hard sell.  What really set Reece apart, though, was his almost fanatical refusal to call for a fair catch.  Reece returned 222 punts during his Buc career…and only executed seven fair catches.  That's incredible.  Reece fair caught 3.1% of the punts he fielded; all other returns in franchise history called fair catches at a 33.7% rate.  The three players who returned the most kickoffs during the John McKay era (1976-84) were George Ragsdale, Isaac Hagins and Michael Morton, and none rank in the top 20 in franchise history in return average.
2. Bobby Futrell.  I'm not going too try to hard to make a case here.  Futrell really doesn't have a chance to take the top spot, but he was the best bridge between Reece and the notable return man of the 1990s.  Futrell returned 77 points from 1986-90 and was fairly effective, with an average of 8.3 per runback.  For comparison's sake, that ranks right between Sammie Stroughter and Micheal Spurlock on the Bucs' all-time punt return average list, and you'll see Stroughter and Spurlock mentioned again not far below.
3. Willie Drewrey.  Drewrey only played four of his nine NFL seasons in Tampa, and he doesn't rank particularly high on any of the team's career stats tables.  However, I still think he's a pretty interesting figure (my own tenure here only overlapped with him by one year, so I mostly know him from the archives).  Until Vincent Jackson came along with a 95-yard reception in 2012, Drewrey was on the receiving end of the two longest pass plays in franchise history, an 89-yarder in 1990 and an 87-yarder in 1991, both thrown by Vinny Testaverde.  Those were also the two longest scoring plays of any kind in team annals until Karl Williams' 88-yard punt return in 1996 and Jacquez Green's 95-yard punt return in 1998.  Others, like Shelton Quarles' 98-yard pick-six, followed.  Anyway, we're talking returns here, and Drewrey was pretty good on punts, averaging 9.4 yards on 88 tries.  He also kicked in 27 kickoff returns, but only at a 19.1-yard rate.
4. Vernon Turner.  Turner ranks 23rd in team history in total punt returns, 17th in punt return yards, 14th in total kickoff returns and 17th in kick return yards.  Still, fans with even a casual knowledge of franchise history know why Turner is on this list.  It's the same reason that none of the players before 1994 really had a chance in this study.  On October 2, 1994, Vernon Turner returned a punt 80 yards for a touchdown against Detroit, giving the Buccaneers their first-ever kickoff return for a score.  Breaking that well-publicized franchise-long drought bought Turner a lasting spot in team history.  He's also fifth on the Bucs' all-time punt return average with a mark of 10.4.
5. Karl Williams.  This is where we start to run into some interesting candidates, beginning with the man they called, "The Truth."  Williams came into Tony Dungy's first Buccaneer training camp, in 1976, as a little-known undrafted free agent out of Texas A&M-Kingsville.  He impressed quickly with his precise route-running and made the team, but didn't really play a ton until the last month or so of the season, after the team had seen enough of Nilo Silvan and Marvin Marshall.  And then Williams went ballistic over that last month, finishing with an average of 27.4 on 14 kickoff returns and, impressively, 21.1 on 13 punt returns.  He even joined Turner as the only two Bucs to find the end zone on a return to that point.  Williams was such a revelation that he earned the NFC's Special Teams Player of the Month award for December.  There was a lot more where that came from Williams, who would eventually score five times on punt returns, which means he still owns more than one-third of all the kick return TDs in team history.  Nobody else has more than two.  I would concede that there have been some more dynamic return men in team history, but Williams still ranks fourth all-time with a career 10.7-yard average, and second if you set the minimum qualifier at 50 returns.  He also returned 55 kickoffs at a 22.3-yard clip, which isn't star quality but doesn't hurt his overall case.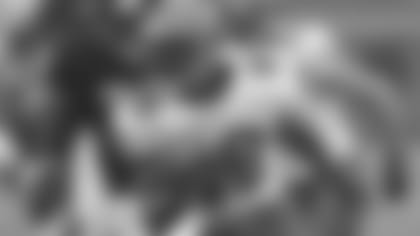 Karl "The Truth" Williams owns five of the 14 kick-return touchdowns in Buccaneer history
6-7. Reidel Anthony and Jacquez Green.  I decided to pair these two together because they were kind of like two sides of the same coin.  Anthony was a first-round pick in 1997, Green a second-rounder in 1998, both out of the University of Florida, and both played in Tampa through 2001.  Neither really developed into the type of receiving threat the Bucs hoped they would be (though Anthony was decent in 1998 and Green was about the same in 1999 and 2000), but they were both better return men than most Buc fans probably remember.  They might even be a top candidate here if we could combine them, because Green ranks second in team history with a 12.0-yard punt return average (and first among all players with at least 50 tries) and Anthony ranks ninth with a 23.5-yard kickoff return average.  Neither one did the other job very much.  Green's candidacy is also helped by his aforementioned 95-yard punt return, still the longest in team history and, even better, it happened in Lambeau Field.  I can remember it vividly, because I wasn't the only one in the press box who reacted in horror when Green fielded the punt at his own five-yard line, only to be quite happy a few seconds later.
8. Aaron Stecker.  I listed Williams before Anthony and Green because he started earlier, but he also outlasted the other two.  For the last three years, he formed a pretty effective return duo with Aaron Stecker.  The 2002 team that won the Super Bowl was obviously (and rightly) known for its insanely good defense, and if you were listing assets after that you'd probably note QB Brad Johnson, FB Mike Alstott and the Keyshawn Johnson-Keenan-McCardell-Joe Jurevicius receiving trio.  But the return game was an asset, too, with the Bucs ranking fourth in kickoff return average and 15th in punt return average.  Williams also had one of his five touchdown returns that year, helping the Buccaneers win at Baltimore, 25-0, on a day in which the offense scored no points.  I'm not sure this is obvious to most Tampa Bay fans (Tony, who proposed this question 800 paragraphs ago, obviously knows), but Stecker returned more kickoffs (100) for more yards  (2,376) than any other player in team history.  Reidel Anthony is a fairly close second.  Stecker came close to breaking the Bucs' kickoff return touchdown drought several times, especially on an 86-yarder against New Orleans in 2001 on which he was tackled on the 14.  It was with delicious symmetry (that tasted quite sour to Buccaneer fans) that Stecker would get his lone career kickoff return touchdown in 2004, as a member of the Saints against the Buccaneers.
9. Mark Jones. This was one of those occasions in which the Buccaneers drafted a player pretty much specifically to return kicks, and it sort of worked out.  Actually, the Bucs cut Jones and he ended up playing for the Giants as a rookie, but he came back to Tampa the next year.  From 2005-07, Jones averaged 9.5 yards on 83 punt returns and 25.6 yards on 16 kickoff returns.  That's not an overwhelming resume, and (spoiler alert) I won't be picking Jones as the winner, but it's worth noting that he's one of three players who ranks in the top eight in team history in both punt and kickoff return average (granted, it's an awfully small sample size on kickoffs for Jones).  The other two?  Well, one you'll be hearing about in a moment, and the other is – get this – Eric Page, the incumbent for the job on the current roster.
10. Micheal Spurlock. Spurlock has one major claim to fame in Buccaneers history:  Against Atlanta on December 16, 2007, he became the first player in the Buccaneers' 32-season history (to that point) to return a kickoff for a touchdown.  Two years later, after a season out of the game and most of another year with the 49ers, he returned late in 2009 and immediately returned a punt for a touchdown.  He was the first Buc to reach the end zone on both types of returns.  Spurlock has bounced around a lot in his NFL career – seven teams in seven years (not counting 2008, when he didn't play) – but his best work has come as a Buccaneers.  Overall, though, he's 14th in team history in punt return average and fourth in kickoff return average, which doesn't help his cause.
11. Clifton Smith. What a story Clifton Smith was in 2008.  Not only was he an undrafted free agent, but he actually came to the team's rookie mini-camp on a tryout contract, having to earn a spot on the 80-man roster heading into training camp.  By the next winter, he was in the Pro Bowl.  Make no mistake, Clifton Smith's 2008 season was the greatest single return-man campaign in franchise history, and his 2008-09 years were the greatest two-year stretch in Buc annals.  The proof is in the numbers.  As long as you're fine with Smith's sample size of 46 punt returns and 67 kickoff returns, nobody can touch him on the team's all-time list.  He is first in punt return average, at 12.1, and he's first in kickoff return average, at 28.3.  He and Spurlock are also the only two Bucs ever to score on both types of returns.  It is a crying shame that injuries clipped Smith's career; during those two great years he was being compared to Dante Hall, who is without a doubt one of the best kick returners in league history.
12. Sammie Stroughter. Would you be surprised to learn that Stroughter's 27.7-yard kickoff return average is second in team history?  Or that he joins Smith as the only Bucs ever to score on both a kickoff and a punt return?  This is another player who had great promise but whose career was eventually capped by injuries.  Stroughter deserves mention on this list for what he did in a small sample size, but it was a small sample size, and that's the issue here.
Okay, that's it.  A dozen candidates, but I can easily narrow it down to two: The Truth and Clifton Smith.  Smith's two years are the best, but as with the Hall of Fame we have to consider longevity as well.  Williams' impact was longer-lasting than Smith's and that gives him the edge.
I'm a little leery to go on record about this because there's still a bit of mystery about what the Buccaneers' offense will look like in 2014.  Ever since the players started working with the coaches on the field this spring, the team has been…how shall we say it…reticent about the issue.  I wouldn't go so far as to call it "secrecy" – a good number of the offseason practices were held in front of dozens of members of the media, from beginning to end.  But, yes, I would say that Lovie Smith, Jeff Tedford and the rest have been a bit reticent to discuss the offense to this point.  This doesn't really mean that Tedford and Smith are preparing to unleash something wildly different on the NFL; the point of that reticence, I think, is simply to keep Buccaneer opponents in the dark as long as possible.  That's only going to last a week or two into the season.
By the way you phrase your question, Mason, I take it you're of the belief that Smith's success in Chicago was built mostly on defense, and that his attention to and development of the offense was always secondary.  Personally, I think that point has always been a bit overblown; the Bears' offense was the second-highest scoring unit in the NFL in 2006 and was right in the middle of the league the following two years.  No, it wasn't always a productive offense during his nine years in Chicago, and difficulty finding a good starting quarterback was a main problem early in that tenure, but Smith was part of an administration that made bold trades for both Jay Cutler and Brandon Marshall.
Anyway, for argument's sake I'll concede the point and get to your question, paraphrased as such: Will Jeff Tedford be running a system that looks different from what the Bears did under Smith?  Well, here's what we know: During the year following his dismissal by the Bears, Smith – certain he would get another chance on an NFL sideline – prepared himself for his next job.  He expected teams to be calling this January, and he was determined to be ready.  That included tracking down Tedford, who was also on a one-year hiatus after his 11-year run as the head coach at Cal came to an end.  The two got together in Chicago, compared philosophies and discussed what their offense would look like if Tedford paired up with Smith as his O.C.
Now, here's my question: Why would Smith bring on Tedford – a long-time head coach, a well-known offensive mind and a strong personality – if he was simply going to ask him to run whatever playbook Smith handed him.  No, Mason, I think you're going to see Tedford's influence all over this attack.
Plenty of people have speculated as to what that influence will look like, based on Tedford's past and the personnel the Bucs have acquired since January.  Former Golden Bear players say he had a very complicated playbook that required a smart and heady quarterback – it seems to me like the Bucs have at least two of those.  He was also more than happy to run the ball on a high percentage of plays when he had the personnel, and that would seem to fit with one of Smith's offensive tenets.  It would also seem to fit with the Bucs' personnel – a very deep running back corps with a potentially special lead back, plus a reshaped offensive line that could be very strong if the guard positions shape up right.
Josh McCown had a strong half-season in Chicago last fall throwing the ball where only his big receiving duo of Marshall and Alshon Jeffery could get it.  That was under Marc Trestman, not Lovie Smith and company, but it would be hard to picture the Bucs not adopting some of that approach after adding the 6-5 Mike Evans and the 6-5 Austin Seferian-Jenkins to the 6-5 Vincent Jackson.  Also, with ASJ, Brandon Myers and Charles Sims joining the offense, I would expect you'll see more passes to backs and tight ends as Smith and Tedford look for mismatches and ways to utilize "speed in space."
Finally, there have been questions about the tempo the Bucs' offense will establish.  I think Tedford gets a little amused when questioned about this, like he's secretly preparing to completely do away with the huddle.  Tedford points out that the Bucs' playbook will certainly have a no-huddle section, but that every team has one of those, and has to in fact to be ready for two-minute situations.  Maybe the best prediction is that the Buccaneers will mix their offensive tempos up a little more than they have in the recent past, and more than Smith's Bears did.
Now, I know all of that is pretty general, but again, we don't know much about the specifics yet.  To the meat of your question, though, I reiterate that I expect to see quite a bit of Jeff Tedford's influence on the Bucs' new offense, which would almost necessarily make it a different animal from the Bears' offense, circa 2004-12.
Top 5?  Hmm.  Ask me again in January.  I think the Bucs' backfield has the potential to be a top-five group this season, but I'd be a bit of a homer if I claimed it was already there.
In terms of depth, I think you have to give it to San Francisco, which still has Frank Gore in the lead, a very capable backup in Kendall Hunter (4.6 career per-carry average) and the talented Marcus Lattimore returning from his pre-draft injury.  To that group, you add Carlos Hyde, a highly-regarded draft pick, and you probably don't even have room for LaMichael James.
I know we're talking groups here, but I kind of feel like any group that features Adrian Peterson and other people with legs is going to be top-five.  The pairing of C.J. Spiller and Fred Jackson is pretty potent in Buffalo, and there's some reasonable depth behind them with Bryce Brown and Anthony Dixon.  Seattle's group will be among the league's best if Robert Turbin and/or (especially if it's "and") Christine Michael prove to be a dynamic complement to Marshawn Lynch.  The Eagles added Darren Sproles to the amazing LeSean McCoy.  Even with the unfortunate retirement of Johnathan Franklin, the Packers have some depth behind Eddie Lacy with James Starks and DuJuan Harris.  If rookie Lache Seastrunk can make his speed work in the NFL despite his lack of size, the Redskins would have a different sort of weapon to combine with Alfred Morris and Roy Helu.  That would be pretty strong.  And I guess we still have to consider Carolina as long as they have Johnathan Stewart and DeAngelo Williams together.
The Bucs have Doug Martin, who was a top-five back individually in 2012 and is back to full health after losing much of last year to a shoulder injury.  That's a great start.  They also might have the most depth they've ever had in the backfield if both Mike James and Bobby Rainey prove they are as good as they looked at times last year while putting up 100-yard games.  That's because even with those three, the Buccaneers drafted West Virginia's Charles Sims, who's a good runner between the tackles and, perhaps more importantly, an outstanding pass-catcher.
Still, it's probably too early to consider James, Rainey or Sims a sure thing, which is why I'm going to hold back on calling that a top-five group just yet.  I hope (and I believe) I'll be singing a different tune after the season.