STORY HIGHLIGHTS
Who's in the running to grab the punt and kickoff return jobs for the Buccaneers in 2014?
If you could keep only five receivers from the current group the Bucs have on hand, who would they be?
Given the uncertainty at guard, was it strange that Tampa Bay traded Jeremy Zuttah to Baltimore?

Each week, Senior Writer/Editor Scott Smith will dip into the inbox to answer questions from  Buccaneer fans.  This week's fan-submitted topics include the uncertain kick return game, the likely depth chart at wide receiver and the wisdom of the Jeremy Zuttah trade .
Fans can submit questions for upcoming mailbags via Twitter to @ScottSBucs (#BucsMailbag), through a message on the Buccaneers Official Facebook Page or via email at **tbbsocial@buccaneers.nfl.com*.  The One Buc Mailbag runs every Thursday and is not necessarily meant to reflect the opinions of the team's management or coaching staff.*
Scott…huge Bucs fan here since the '80s. I was disappointed that we didn't get Devin Hester, especially when he went to the Falcons instead (ugh). I thought with Lovie we'd get him for sure. Anyway, that ship has sailed…who do you think will be returning kicks for the Buccaneers this season? We could use more out of that part of the game. Thanks.
- Shane Carlson, via e-mail to tbbsocial@buccaneers.nfl.com
I too thought there was a good chance we'd land Hester, Shane, and I continue to believe the Bucs did at least make a minor run at him, though we'll never know for sure.  I found it hard to be disappointed, however, given everything else the team accomplished during free agency.  You can't fix everything on the open market.
So the Bucs will fix this one internally.  Maybe "fix" isn't the right word; Eric Page handled the punt and kickoff return duties reasonably well last year and he's a candidate for the job again in 2014.  But we need more big plays, whether from him or whoever gets the return job(s), right?  Lovie Smith says he wants at least two big plays per game from his special teams.
Let's start with kickoffs, because the Bucs were working on that just yesterday in mini-camp.  They spent most of that drill rotating between four candidates: Page, WR Skye Dawson, WR Chris Owusu and RB Charles Sims.  Bobby Rainey, Mike James and Jeff Demps rotated in the job of personal escort, the player on the return team who stands about 10 yards in front of the return man and leads him up the field after the ball is caught.  At one point, James and Dawson switched, making James a fifth candidate for the return job.
I think the first thing we should do is consider which players have the best chances of making the team.  Had we signed Hester, I think Lovie Smith would have devoted a spot on the 53-man roster to a player whose only job was returning kicks.  Now, however, I predict that the player or players who win the return jobs will have to earn a roster spot by contributing in several different ways.  It could be your fifth receiver or your fourth running back, something like that.
Of all those names above, Sims, the third-round pick out of West Virginia, probably has the highest-percentage chance of making the team.  It is extremely rare for a third-round pick not to make the 53-man roster in his rookie season.  Judging solely on their performances in practice so far, I would also put Owusu near the top of that pick.  Rainey, James and Demps might all be fighting for one or two roster spots, so it's hard to make a prediction on those three.  Page will probably have to prove he can contribute as a fifth (or possibly sixth) receiver to hold on to his roster spot and thus his return jobs.
There's only so much you can tell in practice, especially when real contact is not yet allowed, so I don't think it would be fair to hold me to these June guesses.  That said, Owusu has looked awfully sharp, both receiving and yesterday in the kick return drill.  He has very noticeably added a lot of upper-body muscle so he cuts a more imposing figure these days.  I know skeptics are going to say that Owusu looked good in camp last year, too, and it didn't translate into a significant impact during the season.  True, but sometimes players do turn a corner in their development, and I'm thinking that might happen in 2014 with Owusu.  Thus, I'm going to go with him as my first choice on kickoff returns, followed by Sims.
I would have thought Demps would be a strong candidate here, but he wasn't in the rotation yesterday, so I'm not ready to make that prediction.  I would not be surprised, however, to see Demps get his shot in training camp, and if that goes well he could rise up the list quickly.
The same could be true at punt return, and I'm sure the coaching staff would love to see one player holding both return jobs.  That really simplifies things when you're choosing your 46 active players on game day.  The issue here, however, is catching the ball.  That's fairly routine on kickoffs but it really is a very difficult thing to do on punts.  A lot of NFL punt returners make it look easy but, believe me, it is very challenging.  Demps and several of the other young candidates for this job have to first prove that they can be trusted to field every punt securely.
Special Teams Coordinator Kevin O'Dea lays it out the hierarchy of goals on punt returns like this: 1) Catch the ball; 2) Get a first down; 3) Make a big play.  By "get a first down," he means pick up at least 10 yards, so he wants his punt returners to field the ball and immediately get upfield, rather than dance around looking for an opening for a huge play.
Page did that last year, averaging 10.9 yards per punt return, though he did put the ball on the ground three times.  Right now his competition appears to be Demps, Sims and Dawson, plus rookie receivers Robert Herron and Solomon Patton.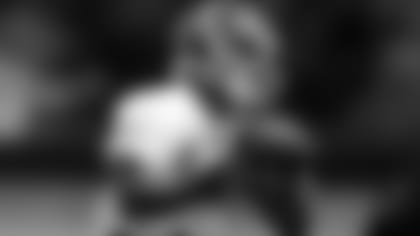 WR Eric Page is one of the team's kick return options after holding down the job in 2013
To me, this one is even tougher to sort through.  Coach Smith did mention earlier this offseason that the two rookie wideouts, Herron and Patton, were getting a look at the punt return job, and it's easy to see why.  Both guys are smaller and shifty, with top-end speed.  Herron would seem likely to win a roster spot since he's been mentioned as a leading candidate for the slot-receiver job, but Patton has to overcome those undrafted-free-agent odds.  That's not out of the question.  Sims seems more like a kickoff returner to me, but he has also been mentioned as a possibility, and the coaches know better than I.  As I said before, you can pretty much count on Sims being on the roster, and probably being active on game day, too, so that helps his cause.
If you force me to pick one now, even though I know it's way too early and things will change several times over before September, I'd say this: If Eric Page makes the roster, I think he holds onto the punt return job and gives the Bucs steady if not spectacular results.  If Page is not among the 53 kept, I'll go with Herron.
I know a lot of you out there probably wanted me to say Demps for both jobs.  I'm not going there until I feel like the coaches have become comfortable with him as a fielder of kicks.  I will admit, though, that Demps winning one or both of the jobs is probably the most exciting possible outcome, so I'll be happy if I get to change my mind in the next couple months.
So this is the "prediction mailbag," huh?  Alright, I'm game.  I just don't want any of you digging this up in late August and throwing it in my face.  Lovie Smith himself says you can't really begin sorting out the players until the pads go on in mini-camp and the true competition arrives in the form of preseason games.  That said, I'm sure Coach probably has at least a rough order in his head of how the receivers are currently ranked, so let's see if I can get close with my guesses.
Yes, I agree that Vincent Jackson and Mike Evans are locks.  I also think five is a good guess for the number of receivers the Buccaneers will keep on the 53-man roster, though six is certainly possible, especially if the sixth guy happens to be a return man or a special teams ace.  Still, you set the number at five, so we'll go with that.
If I'm drafting from the remaining pool, my first-round pick is Robert Herron, who was actually, of course, the sixth-round pick this year.  Sixth-round picks are certainly no locks, and some of them have to start out on the practice squad, but Herron seems to be in a really strong position.  The Bucs are overhauling the receiver position behind Jackson, and pretty much every other job is wide open.  Coach Smith said right after the draft that Herron was a player he and Jason Licht saw as a potential "starter" at slot receiver.  He still has to prove that Smith and Licht were right about him and beat out several other candidates for a job, but I think he'd have to really struggle in order to miss out on the 53-man roster.
My second-round pick would be Louis Murphy.  Skeptics would surely point out that Murphy had just six catches for the Giants last year and 46 grabs over the last three years combined (two of them in Oakland).  But it would be nice to have some veteran experience on the receiving crew other than Jackson, and Murphy has that plus a versatile skill set.  He's big and fast enough to play on the outside but he's had plenty of experience playing in the slot, as he did with the Panthers in 2012.  Moreover, Murphy has looked awfully good on the practice field this summer, to the point where the team's starting quarterback made a point of bringing him up.  That led one astute fan to say this:
@ScottSBucs McCown pretty much guaranteed louis murphy will make the team with his comments today. Agreed? — Michael Rossi (@bucs5520) June 10, 2014
So I'll take Murphy for a little well-rounded experience.  That leaves me with one more pick and I'm choosing between Chris Owusu, Lavelle Hawkins, Russell Shepard, Eric Page, Skye Dawson, Solomon Patton, Tommy Streeter, Quintin Payton and Aaron Burks.  Hawkins has veteran experience and experience in the slot, but I just filled that profile with Murphy.  Page and Dawson could help as return men, and that's tempting, especially with Page.  I actually think Patton is a nice sleeper pick, especially if the corps expands to six players, but I might be putting too much stock in how smooth he has looked in a handful of practices.
So I'll finish the group with Owusu.  I can tell from feedback on Twitter that this will have its share of skeptics, too, because Owusu has looked good in the spring and summer before.  He's had bad luck with injuries and that's the first thing that will have to change for me to be proven right.  But I can only go on what I'm seeing right now, and that's a receiver with a lot of positive check marks: His speed has never been a question, he's added muscle and is in ridiculously good shape, he's a very smart player and he's just been catching everything in sight on the practice field.
Man, making me stick with five picks made it tough, "Slagter."  I'm hoping that the competition is so good on training camp that it's just as difficult for Smith and his staff to choose come the final cuts.
@ScottSBucs #BucsMailBag with the questions at OG, was it a wise move to trade Zuttah? IYO, would Zuttah have been a starting OG for Bucs? — Chuck Adcock (@chazmania37) June 12, 2014
That's a really good question, Chuck, and I'd be surprised if you're the only one thinking that way.  How can you not?  Zuttah spent the previous six seasons pretty much filling in wherever the Bucs had a need between left and right tackle, and if he were still on the roster he'd easily be the most experienced of all the candidates to fill those two undetermined spots at guard.  I don't think that anyone's ever referred to Zuttah as an elite-level option, but it would be reassuring to have a somewhat proven option on hand.
That's all pretty obvious, and yet Smith and Licht didn't really hesitate to trade Zuttah to Baltimore.  To me, that says a couple things.  One (and I know this is going to be received with even more skepticism than my Owusu optimism), Carl Nicks might be a surer bet to return than many of us are willing to believe.  I completely understand that many of you won't believe it until you see it – that's fair enough – but if Nicks does return for the start of camp as he expects to do, and he's something like the Carl Nicks of old, the problems at guard are suddenly a lot smaller.  At that point, left guard is set and we're only worried about the right side.
Two, I think it says that Smith and Licht evaluated the roster in January and February and came to the conclusion, in their shared opinion, that Zuttah wasn't going to be a better option at guard than some of the other players on hand.  The fact that they went out in free agency and specifically targeted a starting center (Evan Dietrich-Smith) was certainly telling, because we have been told for years that center was Zuttah's most natural position.  If they felt they could upgrade the center position, where Zuttah was the incumbent, that would seem to mean they didn't consider him the top option at guard, either.
I don't want to sound like I'm ripping on Zuttah.  It certainly seems like Baltimore is happy to have him.  As it says up top, these words don't necessarily reflect the opinion of Smith or Licht or anybody else in football management.  I am speculating at their motivations, which I think is what you asked me to do, Chuck.  I don't think that Smith or Licht have their heads in the sand about the guard position; Smith mentioned in his final offseason press conference on Thursday that those are two of the more unsettled spots on the team.  They know there is work to be done to find the right solution…and we all know that it won't matter too much how great the team is at three of the five O-Line spots if the other two are serious problems.
It's worth noting that the fifth-round pick the Bucs got from the Ravens for Zuttah was used in combination with a 2014 seventh-round pick to get an extra fifth in this year's draft.  The Bucs doubled up in that round because they had two O-Line prospects they liked: guard Kadeem Edwards and tackle Kevin Pamphile.  In this week's mini-camp, Edwards was getting first-team snaps at left guard, which was extremely interesting.
I also find it interesting that Patrick Omameh, a player the Bucs snatched off San Francisco's practice squad last year, has been seeing tons of first-team time at right guard this season.  That's a name to remember, Chuck: Patrick Omameh.  That could be your starting right guard.  You could scoff, but did you know who Donald Penn was before 2007?  The Bucs snagged Penn off Minnesota's practice squad when he was a rookie in 2006, stashed him on the 53-man roster and then got him ready for 2007.  When Luke Petitgout went down with a season-ending knee injury in the fourth game of that season, Penn stepped in…and the rest was history.
Just because it happened once doesn't mean it will happen again, so you don't have to take my word for it yet on Omameh.  Still, I think the answer to your question is that Bucs management looked at the roster, saw several guard candidates that looked promising (Omameh, Meredith, Oniel Cousins after he was signed in free agency), had some cautious optimism regarding Carl Nicks and believed they could gain a valuable asset by moving Jeremy Zuttah.
Still, it's a good question, Chuck.  We're only a few months away from finding out whether the move was a good one or not.