STORY HIGHLIGHTS
Three Bucs have been named in the NFL's Top 100 so far...what's next, and has anyone been snubbed?
Defensive line battles can't really heat up until training camp, but the discussion around them can
The Buccaneers made a point of showing support to the USMNT at their headquarters on Thursday

Each week, Senior Writer/Editor Scott Smith will dip into the inbox to answer questions from  Buccaneer fans.  This week's fan-submitted topics include an analysis of the NFL Top 100 so far, a look at a couple position battles on the D-Line and a little football/futbol interaction .
Fans can submit questions for upcoming mailbags via Twitter to @ScottSBucs (#BucsMailbag), through a message on the Buccaneers Official Facebook Page or via email at **tbbsocial@buccaneers.nfl.com*.  The One Buc Mailbag runs every Thursday and is not necessarily meant to reflect the opinions of the team's management or coaching staff.*
Scott…what do you think of the Buccs in that Top 100 thing NFL Network is doing? Gerald Mccoy was named 28th last night and I know that Lavonte and VJ are also on the list. Save me looking it up and let me know if those are the only three we have so far and if you think there will be any more in the top 20. Also, what do you think of the rankings for those guys…too high or to low? And did any Buccs get snubbed??
- Drew Nolan, via e-mail to tbbsocial@buccaneers.nfl.com
I'll get to all those separate questions in a moment, Drew, but I think I should start off by saying that I'm not a huge fan of the "NFL Top 100 of [Fill in the Year]."  I think the concept is a good one, in which players from around the league identify who they think are their best competitors.  They should know, after all.  Year after year, however, the list seems a little screwy, and I wonder exactly how strong and how uniform the involvement is for players across the league.
I mean, I think it's entirely possible that some ballots are filled out without too much thought.  That kind of thing is always going to favor the biggest names, which is how you have, say, RGIII debuting at #15 in 2013 after one season in the league.  That same year, Ed Reed was ranked #18.  I think Ed Reed is one of the best NFL players of the last 20 years, but by the spring of 2013 he was well past his prime and it would be hard to claim he was one of the top 20 in the entire league.  Meanwhile, safety Jairus Byrd was nowhere to be found on the list.
I don't want to come down too hard on this.  It's still fun to see the 10 names revealed each week, and some of the guys who are getting top 10 spots on name recognition (Peyton Manning, Calvin Johnson, etc.) have that recognition because they're quite deserving of those top spots.  Plus, it sparks debate, and this is all about entertainment anyway.  I'm just saying, I take these annual lists with a grain of salt and don't get too bent out of shape about where certain Buccaneers do or do not end up on the list.
Now, on to your questions.  First, no there have been no other Bucs named to the top 100 this year beyond McCoy, David and Jackson.  It is cool that all three of those have come out in the last three weeks, meaning they're all top 50.  Jackson was #44 and David was #35.  The first of these Top 100 lists came out in 2011, which makes this the fourth version, and this is the first time that any Buccaneers have cracked the top 50, let alone three at once.  Jackson was #52 last year and Doug Martin was #57.
Do I think any additional Bucs will be joining those three when the top 20 are revealed over the next two weeks?  Honestly, no.  I think it's fair to say that McCoy and David were considered the Bucs' two best players at the end of 2013, and they've both already found their spots.  The only other players on Tampa Bay's current roster who have been on this list before, other than the four mentioned, are Dashon Goldson and Carl Nicks.  Nicks hardly played last year due to his foot ailment and Goldson didn't have the kind of season that would move him upward from his #96 spot in 2013.  Also, there are only 20 spots left and we still haven't heard from the likes of Peyton Manning, Drew Brees, Aaron Rodgers, Tom Brady, J.J. Watt, Robert Quinn, Calvin Johnson, Adrian Peterson, A.J. Green, Jamaal Charles, Marshawn Lynch, Jimmy Graham, Joe Thomas, LeSean McCoy, Earl Thomas or Richard Sherman.  I'm thinking the dance card for the top 20 is full.
Given what I've already said about my feelings about the rankings, it's hard to summon up much rancor for where the Bucs landed.  And, that said, three players in the top 50 for a team that went 4-12 last year seems pretty good to me.  We can split hairs and say that both McCoy and David were first-team AP All-Pros last year, and there were only 24 non-specialists that got that honor.  I could see the argument that they thus belong in the top 25, but then again there is only one quarterback on the All-Pro team (Manning) and I don't think that means Rodgers, Brees and Brady should be outside of the top 24.  And if you think I'm going to argue that any of our guys should be ranked lower, you haven't been paying attention!
Finally, did any Bucs get snubbed.  Well, if we're going to include players who are Bucs now but weren't last year, I think you could make cases for Michael Johnson and Alterraun Verner.  Other than that, no, I don't really have any complaints.  I think – I hope – it will be a different story a year from now.
Oh, it's definitely too early, Billy.  See, the problem is, CBA rules for the offseason prohibit any intentional contact, and that makes it nearly impossible to evaluate linemen.  One of the best drills to see who is standing out is the OL/DL one-on-one pass rush, and you can't do that right now.  When practice moves into full-team drills, with 11 on 11, receivers and defensive backs can stand out with crisp routes or quick reactions to the football, but the linemen pretty much have to lay off each other.  They come out of their stances and start in the direction the play calls for, and they can turn and chase, but that's about it.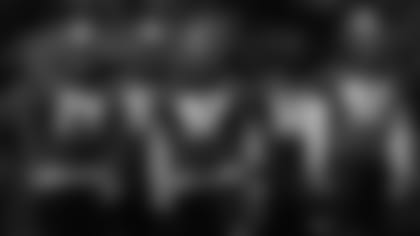 Starting candidates on the D-Line will be able to sort themselves out better in training camp when contact is allowed
This spring, Buccaneer defensive linemen went back to spending a lot of time each day on bag drills, something they used to do under Rod Marinelli.  New Bucs D-Line Coach Joe Cullen is considered a Marinelli protégé, and it shows.  You know the drills I'm talking about – four or five large tackling dummies are spaced out and the linemen have to rush through them and then close on the "QB" dummy as quickly as possible.  You can get a bit of a feel for how good certain players are looking from watching this drill, but not really enough to gain any depth chart separation.
Still, we can discuss those battles with as much as we know.  I don't think there's much question that when camp starts Adrian Clayborn will be at left end and Clinton McDonald will be at defensive tackle next to Gerald McCoy on the first team.  When Michael Johnson signed on the first day of free agency, Lovie Smith made it clear that he would be taking over on the right edge, and also said that Clayborn would get the first crack at starting at left end.  McDonald signed at virtually the same time as Johnson, and Smith said the Bucs were not bringing in that first wave of free agents to sit on the bench.  These were players he expects to start.
Now, they'll have to fend off challenges to do so, and I think you've pinpointed the right guys, Billy, if for no other reason than the fact that Gholston and Spence were starting at LE and DT when last season ended.  Spence started all year, in fact, and Gholston was coming on strong at the end as the two mid-round rookies made good use of an early chance to play.
I think what it comes down to, however, is that Smith and company want to generate pressure with the front four alone as much as possible, and as such they're going to want the four best pass-rushers on the field as often as they can have it.  Clayborn has not yet emerged as a breakout pass-rushing star, but he had 7.5 as a rookie and 5.5 last year (sandwiched around a season on the DL), and I think he's currently more of a polished rusher than Gholston.  Gholston, with his ability to play inside and outside, might serve the team better as a versatile reserve who sees a good number of snaps in order to keep everyone fresh.  On the inside, McDonald was brought in after he racked up 5.5 sacks as a rotational guy in Seattle last year.  He would seem to have more pass-rush potential than Spence, though the second-year man will get a chance to prove otherwise in a new defensive scheme.
As a matter of fact, Mike, I'm writing this while watching that game on a huge screen in the dining room at One Buccaneer Place, along with much of the rest of the staff.  Others are watching on an even bigger screen in the team auditorium, where Lovie Smith usually holds his full-team meetings.  As you can imagine, this mailbag is coming along a little slower than usual.  It's still 0-0 as I type this; I hope I can include a more favorable score by the time I'm done.
We're actually making it a full World Cup day here at One Buc.  The USMNT asked for support, and we were only too happy to jump onboard: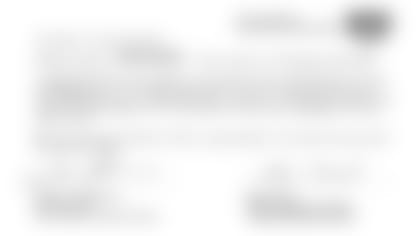 All of us were encouraged to wear white shoes, blue jeans and either red shirts or gear supporting the USMNT.  (I'm sure Bucs fans in other nations are having just as much fun supporting their teams.)  Domino's Pizza, a Buccaneer partner provided lunch in appropriately-hued red, white and blue boxes.  We even have a little raffle going on.
It's a lot of fun actually.  I can't really call myself a soccer buff, but I appreciate the game.  I guess you'd call me a bandwagoner, mainly just enjoying the other kind of football during the World Cup.  That U.S.-Portugal match was thrilling from end to end, if a little hard to swallow at the very end.  Of course, that's what has made today's match so tense, which is just adding to the experience as a viewer.
I can tell that there are quite a few people on staff here who are true soccer enthusiasts, but I'm guessing they don't even mind us bandwagon jumpers.  Right now, I think the USMNT is happily enjoying the support of everyone who's getting involved.  Here at One Buc, we're doing our part (and not really getting much work done)!
(By the way, Germany scored the first goal of the match just as I was wrapping this up.  I hope it doesn't prove to be the last goal of the match.)