STORY HIGHLIGHTS
Rookie WR Solomon Patton could regain his kick return job on Sunday after being promoted from the practice squad
CB Brandon Dixon, another rookie on the practice squad, has clearly impressed the Bucs' staff in a short period of time
The team let go of WR Louis Murphy and CB Quinton Pointer to clear spots for those two promotions

Solomon Patton may get to return kicks this Sunday after all.
On Saturday afternoon, the Tampa Bay Buccaneers switched out a pair of spots on their 53-man roster, promoting wide receiver Solomon Patton and cornerback Brandon Dixon from the practice squad and releasing wide receiver Louis Murphy and cornerback Quinton Pointer. Patton and Dixon are both rookies; the former has been with the team since signing as an undrafted free agent in May and the latter was signed on Sunday after being released by the New York Jets.
Patton and Dixon will be eligible to play in Sunday's season opener against the Carolina Panthers, and with five players already ruled out due to injury and a couple offensive linemen likely to be inactive, there's a very good chance they will do just that.
Patton, in fact, could be the team's primary return man on punts and kickoffs, though the Bucs also have confidence in running back Bobby Rainey on punts and wide receiver Chris Owusu on kickoffs. Patton had risen to the top spot on the depth chart at both return spots during the preseason but was released during the final roster cutdown a week ago. He averaged 8.2 yards on six punt returns and 27.0 yards on eight kickoff returns.
While Patton's promotion isn't an enormous surprise given his good work in the preseason, Dixon has obviously made a very good impression on the Bucs' coaching staff in a short period of time. The Bucs aggressively went after Dixon after he was released by the Jets, convincing him to head south for his first practice squad opportunity, and it's now clear he made a good decision. While the rookie out of Northwest Missouri State product has probably not had enough time in the playbook to get playing time on defense, he could help out on special teams this weekend.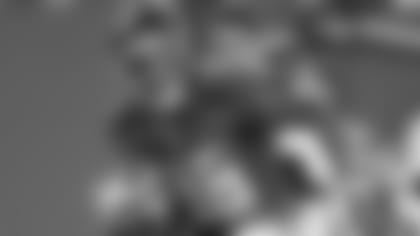 Rookie WR Solomon Patton may figure into the Bucs' return game on Sunday after he was promoted from the practice squad on Saturday
The 5-11, 203-pound cornerback was a sixth-round pick by the Jets this spring. He showed great speed at the NFL Scouting Combine and is considered strong in man-to-man coverage. The Dixon family will be quite interested in NFC South results this year; Brandon's twin brother Brian made the New Orleans Saints' squad after signing as an undrafted free agent.