STORY HIGHLIGHTS
WR DeSean Jackson leads the NFL in yards per catch in 2014 and has 27 50+-yard receptions since 2008
DE Ryan Kerrigan has nearly matched his single-season career high in sacks, with seven games still to play
An August waiver claimed turned into a major boon for Washington's special teams

On Sunday, the 1-8 Tampa Bay Buccaneers take on the 3-6 Washington Redskins at FedExField in Landover, Maryland.  It will be the 19th meeting between the two teams, and barring a scoreless overtime period it will break an all-time 9-9 head-to-head tie (more on the Bucs-Redskins series history here). Washington, which is coming off its bye week, has won two of its last three games after a 1-5 start to the season and is 2-2 on their home field in 2014. The Buccaneers are trying to snap a five-game skid and get their second win away from home this season.
To get that victory, the Buccaneers will need to contain mobile quarterback Robert Griffin III, keep the lid on big-play receiver DeSean Jackson and try to keep emerging star pass-rusher Ryan Kerrigan out of their offensive backfield. Here's a closer look at the challenges the Buccaneers will face on Sunday when they visit FedExField.
HEAD COACH: Jay Gruden has run a wide gamut of coaching experiences, all leading up to his first gig at the helm of an NFL team this year in Washington. He has been on a Super Bowl-winning staff, he's won multiple championships in the Arena League, he was an instant hit as a first-time NFL coordinator in Cincinnati and he's even sported that anachronistic title of "player-coach."
Gruden's coaching career began at his alma mater of Louisville, where he played quarterback under Howard Schnellenberger. He spent two years (1990-91) as a graduate assistant for the Cardinals before beginning what would prove to be a long and successful career in the Arena League, where he won a total of six championships as a quarterback and a head coach for the Tampa Bay Storm and Orlando Predators. Gruden was playing for the Predators in 2002 when his younger brother, Jon, arrived in Tampa as the Buccaneers' new head coach, and he promptly joined the Bucs' staff as an offensive assistant. For six years he juggled playing and coaching duties with the Predators and his spot on the Bucs' staff, helping Tampa Bay win Super Bowl XXXVII at the end of the 2002 campaign.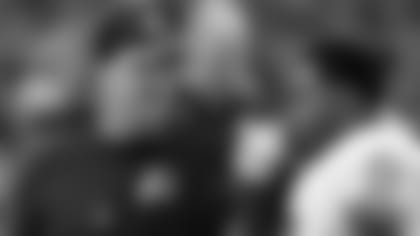 Washington Head Coach Jay Gruden won a Super Bowl with the Buccaneers in 2002
After two years coaching in the UFL, Gruden landed the offensive coordinator job with the Cincinnati Bengals in 2011 and began the immediate development of second-round draft pick Andy Dalton. Dalton won 30 of his 48 regular-season starts from 2011-13 and threw 80 touchdown passes in that span, the third-most ever for a quarterback in his first three seasons behind only Dan Marino (98) and Peyton Manning (85). The Bengals, who had finished 22nd in the league's offensive rankings in 2010, improved in each of Gruden's three seasons with the team, rising all the way to sixth in yards and 10th in points in 2013.
Gruden had previously worked with Washington General Manager Bruce Allen in Tampa, and Allen wanted the reunion for more than just his new coach's football experience. "We knew it was more than just X's and O's," said Allen upon the hiring of Gruden. "it was about finding the right person to build the team chemistry that we needed."
OFFENSE: Washington has all the components of a very dangerous offense, and indeed the Redskins are ranked seventh in yards per game and second in yards per play this season, though that has only translated into a tie for 18th in points scored (21.9 per contest). Seventeen giveaways and a negative-nine turnover ratio that ranks 29th in the league haven't helped, though the team is essentially league average in red zone situations.
It starts, of course, with third-year quarterback Robert Griffin III, the player that cost the team three first-round picks and one second-round pick in 2012. A dislocated ankle suffered in a Week Two win over Jacksonville cost Griffin about half of the season but he returned to throw for 251 yards and a touchdown and run for another 27 yards in a 29-26 loss at Minnesota in Week Nine. At his best, as he was during an eye-opening rookie campaign, Griffin is a threat to launch deep passes from the pocket and to make big plays with his legs. In 2012 he completed 65.6% of his passes, threw 20 touchdown passes against just five interceptions and also ran for 815 yards and seven scores. Injuries have marred his two seasons since, but it's worth noting that Griffin has completed 72.1% of his passes when he's played this year and put up a better yards-per-attempt rate (8.2) than he had as a rookie.
While Buccaneers QB Josh McCown gets to work with two very big and agile receivers in Vincent Jackson and Mike Evans, Griffin has been gifted with speed to burn in the duo of DeSean Jackson and Pierre Garçon. While Garçon was Griffin's top target last year, catching 113 passes for 1,346 yards, Jackson is a new addition in 2014, coming aboard in April after he was released by the Philadelphia Eagles. Jackson has a well-earned reputation as one of the most prolific big-play receivers in all of football, and he has most definitely delivered on that promise in D.C. Since Jackson entered the league as a second-round pick in 2008, he has led the NFL in catches of 50 or more yards (27), touchdown catches of 50 or more yards (20) and overall yards per reception (17.6). So far in 2014 he has a league-best average of 21.8 yards per catch and has already produced 10 plays of 25 or more yards. Of his 784 yards this season, 295 have come after he's made the catch.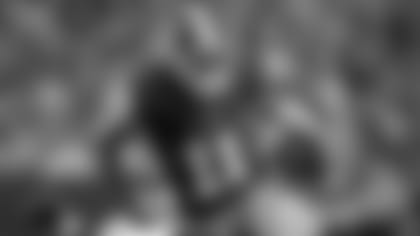 WR DeSean Jackson has brought an added big-play threat to the Redskins since he was released by Philadelphia and signed by Washington this past spring
Garcon (42) and Jackson (36) lead the Redskins in receptions but there are four other players who have at least 20 catches and 200 yards, including tight end Niles Paul and running back Roy Helu. They have combined to give Washington the sixth-best passing attack in the NFL, even as the team has cycled through Griffin, Kirk Cousins and Colt McCoy at the quarterback position.
That passing attack is supported by one of the NFL's most dependable runners in third-year man Alfred Morris. The former Florida Atlantic player arrived in the same draft class as Griffin, but as a sixth-round pick, so his enormous contributions to the team's playoff run in 2012 were less expected. Morris racked up 1,613 yard and 13 touchdowns as a rookie, then proved it wasn't a fluke by going for another 1,275 and seven scores last year. So far in 2014 his numbers are a bit down – he's on pace to get a little less than 1,100 yards and has seen his per-carry average drop from 4.6 to 4.0 – but he's still a good bet to put up helpful numbers almost every week. In fact, no back in the NFL has produced more 70-yard games since 2012 than Morris, with 30.
Washington's offensive line is anchored by left tackle Trent Williams, Gerald McCoy's teammate at Oklahoma and the player who went right after McCoy (third and fourth) in the 2010 draft. A 337-pound mauler who ran and leaped like a much smaller man at the 2010 combine, Williams has proved to be much more than a workout warrior, already earning two Pro Bowl selections. Williams and company have helped Washington run for the second-most yards in the NFL since 2012 and so far this year have allowed 22 sacks to rank in the middle of the league in sacks allowed per pass play.
Again, turnovers – and particularly interceptions – have been the main problem for the Redskins. Washington has thrown 11 interceptions, but only one of those belongs to Griffin, while nine were tossed by Cousins. Washington's other problem has been converting on third downs. Despite all the aforementioned weapons and the creative ability of Griffin on broken plays, Washington ranks 30th in the league with a third-down conversion rate of 34.3.
DEFENSE: With Williams in 2010 and Griffin in 2012, the Redskins got the linchpins of their offense in the first round of the draft. In between, in 2011, they did the same thing on defense, grabbing Purdue pass-rusher Ryan Kerrigan with the 16th overall pick. Playing left outside linebacker in the Redskins' 3-4 front, Kerrigan was a consistent force in his first three seasons, contributing 7.5 sacks as a rookie and then 8.5 each in 2012 and 2013. When that 2012 sack performance was coupled with an interception, eight passes defensed, two forced fumbles and a defensive touchdown in 2012, Kerrigan found himself in the Pro Bowl. Still, the 2014 campaign is shaping up as his best yet, as he is already to 7.5 sacks with seven games to go. He has a knack for stripping the ball, with 12 forced fumbles already in just three and a half seasons.
With Kerrigan leading the way, the Redskins have sacked opposing passers 23 times and their defense ranks 10th in the league in sacks per pass play. The down linemen are often not the big sack producers in a 3-4 defense, but ends Jason Hatcher and Frank Kearse have pitched in with four and three, respectively. In addition, eighth-year safety Brandon Meriweather has emerged as a dangerous blitzer, with three sacks this year and four over his last 20 games.
Thanks to that constant pressure, Washington's defense ranks exactly the same as its offense when it comes to the passing game: sixth. Strangely, though, while the Redskins are holding opposing teams to 223 net passing yards per game and putting the quarterback on the ground regularly, they have only been able to pick off three passes all year. The team is starting a rookie fourth-rounder, Bashaud Breeland, at left cornerback and a second-year player, David Amerson, at right cornerback. What those two lack in experience, however, they make up in size, which will help them match up with the Bucs' Evans and Jackson. In addition, reserve corners Tracy Porter and E.J. Biggers (the latter a former Buccaneer) are in the six-foot range as well and have 13 years of combined NFL experience. Oh, and they're coached by Raheem Morris, Tampa Bay's head coach from 2009-11 and a long-time Buc assistant before that.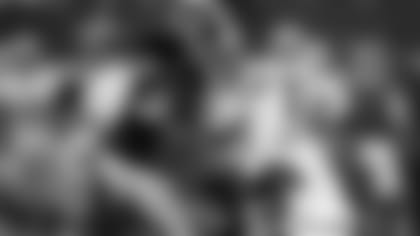 S Brandon Meriweather has added to the Redskins pass-rush with a career-high 3.0 sacks in 2014
Washington has been a little more susceptible to the run, ranking 14th in both yards allowed per game (110.4) and yards allowed per rush (4.1). The leading tackler is inside linebacker Keenan Robinson, with 76, and Robinson has also notched one of the team's three sacks.
Washington's issues on defense mirror those on offense, especially when it comes to third down. The Redskins rank 20th in the league, allowing a conversion rate of 43.1%. And while the offense has turned the ball over too many times, the defense has not taken it away enough, and hasn't scored when it has gotten a turnover. The Redskins are last in the entire NFL in points scored off turnovers, with a mere nine.
And to continue the mirror image theme between the Redskins' offense and defense, consider the team's rankings in red zone touchdown percentage. As mentioned above, the Washington offense is right in the middle of the pack, ranking 15th with a TD percentage of 57.1%. On defense, the Redskins are also 15th, allowing a TD success rate of 55.2%
SPECIAL TEAMS: On the other hand, Washington's special teams have definitely been a winning edge, especially when it's time to punt the ball. For that, the Redskins can thank a very fortuitous waiver claim made in August. Former University of Oklahoma punter Tress Way had tried to catch on with the Bears in their 2013 and 2014 training camps but was released midway through August this year. The Redskins claimed him and added him to a competition that included Robert Malone and Blake Clingan. Ten days later, Way had the job and several months later he is the NFL's leading punter.
Way's gross average of 49.4 yards per kick this year is not only first in the NFL by a 1.7-yard margin, but it would rank among the 10 best seasons in league history if maintained. Way's net average of 41.5 is also excellent, ranking sixth in the league, and he already has a 77-yard punt on his resume.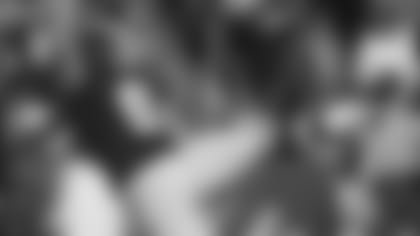 P Tress Way, a waiver claim from the Bears in August, is leading the NFL with a 49.4-yard gross punting average
The Redskins got kicker Kai Forbath in 2012 after he had turned in an outstanding training camp and preseason with the Buccaneers but was unable to unseat incumbent Connor Barth. Forbath has also been a major find for Washington, making 50 of his 56 field goal tries since arriving, including 50 of 56 this season. He has not been asked to try a kick from 50 yards or farther this season but is a perfect six-for-six in the 40-49 yard range.
In the return game, the Redskins have been better on punts than kickoffs. WR Andre Roberts handles both jobs and is getting 9.1 yards per punt return, with a long of 37. Opponents average 8.7 yards per punt return against the Redskins, and both of those figures rank around the middle of the pack. However, the Redskins are getting just 21.0 yards per kickoff return while giving up 26.1 (28th and 27th in the NFL, respectively) and they've already allowed a 102-yard runback to Philadelphia's Chris Polk. Additional special teams miscues included a blocked extra point and a blocked punt that was returned for a touchdown against Houston.
Get to know the key players on the Redskins before Sunday's game at FedExField.