STORY HIGHLIGHTS
The Bucs will conduct a voluntary three-day mini-camp this week, beginning on Tuesday
For the first time, Lovie Smith's team will take part in full-speed practices with offense against defense
This week's camp will provide some evidence as to how far along a handful of recovering Bucs are in their respective rehabs

For the last two weeks, coaches for the Tampa Bay Buccaneers have stopped at the door as their players have walked out to the practice field, like anxious parents watching their children get on the school bus. This week, however, those coaches will be waiting for their charges at school, as they get their first chance to be the 'stern teachers' that Lovie Smith called them when he assembled his staff.
Because Smith is in his first year as the Buccaneers' head coach, his team was given a two-week head start on the CBA-mandated offseason program. The Bucs hit the field on April 7, but because they were in Phase 1 of that carefully delineated league schedule, on-field work could consist only of conditioning work, with only the strength and conditioning staff allowed on the field with the players. But the concessions made to a new staff – also being enjoyed in such NFL outposts as Houston, Minnesota and Detroit – also includes an extra three-day mini-camp. The Buccaneers will take advantage of that opportunity this week, camping on Tuesday, Wednesday and Thursday, with coaches on the field and everything.
This still being the offseason, there are still limitations. There is no purposeful contact allowed at any point during the NFL offseason, so defenders will be working on their shadow-tackling. And, considering there is only so much ground that could be covered in the meeting rooms during the eight four-hour work days that preceded this camp, the offense will just be scratching the playbook's surface. Still, there will be actual drills featuring offense against defense – 7-on-7, 9-on-7, full-team, etc. – something that otherwise doesn't begin until Phase Three of the offseason (OTAs) in May.
This week's camp is voluntary, as is all offseason work save for the one three-day mandatory mini-camp allowed to each team. Like every other team in the league, the Bucs will save that camp for the end of their program, in June. Chances are, however, this voluntary camp will draw very close to 100% of the roster, if not everyone.
And that makes it another seminal moment in the Lovie Smith/Jason Licht era, which began in January with great optimism. Smith, who was part of the Bucs' great turnaround in the 1990s and who had a strong nine-year run at the helm of the Chicago Bears, brought a stabilizing presence to the franchise. He and Licht, the Bucs' new general manager, also dramatically overhauled the roster in free agency, particularly along both lines. The last two weeks have included a lot of locker room introductions – Mr. McCoy, meet Mr. Johnson, your new QB-hunting partner – and now the Bucs get a chance to get to know each other on the field, as well.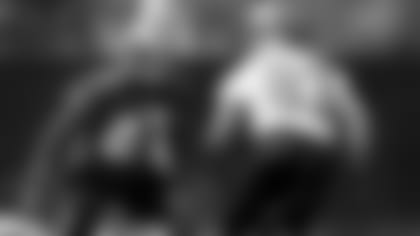 CB Johnthan Banks (left) and WR Vincent Jackson will each be learning new playbooks this offseason*
Will Pro Bowl defensive tackle Gerald McCoy and free agency prize Michael Johnson become the sort of inside/outside presence the franchise last enjoyed with Warren Sapp and Simeon Rice? Will quarterback Josh McCown and Offensive Coordinator Jeff Tedford be able to breathe new life into a Buccaneers offense that ranked 32nd in the league last year? Are there viable second and third-receiver candidates on the current roster? Can Lavonte David be even better in the Tampa Two defense being installed by Smith and Defensive Coordinator Leslie Frazier?
No, these questions won't get anything close to final answers during the next three days, but the process will begin. What we will get more concrete evidence on is the state of the key Buccaneers returning from injury. By the end of this week we should have at least some clarification on how far along Carl Nicks, Doug Martin, Mike James, Luke Stocker, Tom Crabtree, Jeff Demps and several other players are in their recoveries from season-ending mishaps in 2013. We may also see a little more definition in who the top competitors will be for right guard, right cornerback/nickel back, kick returner and, again, Vincent Jackson's running mates in the passing attack.
The current roster of players will actually assemble at One Buccaneer Place on Monday evening for a brief meeting, in which Smith will go over the week's schedule and expectations. The first practice will be on Tuesday afternoon, a lengthy two-and-a-half hour session starting at 1:30 p.m. ET. The schedule on Wednesday is the same, with Thursday's finale starting a half-hour earlier. Buccaneers.com will provide exclusive video interviews from the Bucs' locker room throughout the week.
The Buccaneers' offseason program began two weeks ago but kicks up a notch this week when Smith gets his first opportunity to bring his reshaped team together on the field. The month of May will be dominated by OTAs (and a little thing known as the NFL Draft) and June will bring that critical mandatory mini-camp. Throughout, the coaches and players will be seeking to lay the groundwork for a successful training camp by installing the new playbook on both sides of the ball. That all begins Tuesday with the first real practice of the Lovie Smith era at One Buccaneer Place.