STORY HIGHLIGHTS
CB Alterraun Verner has missed two games with a hamstring injury but is optimistic about returning on Sunday in Chicago
LB Lavonte David, also dealing with a sore hamstring, will be a game-time decision
Chicago's prolific wide receivers, Brandon Marshall and Alshon Jeffery, are both probable to play against the Bucs

This Sunday at Soldier Field, the Tampa Bay Buccaneers will try to keep the dangerous receiving duo of Brandon Marshall and Alshon Jeffery in check. Their chances of doing so would seemingly go up considerably if cornerback Alterraun Verner can play.
Verner, the Buccaneers' starting left cornerback and big-ticket free agent acquisition, has missed the last two games with a hamstring injury. The hamstring might be one of the trickier injuries in sports, but Verner thinks he's got a good chance of being cleared to play on Sunday.
"I feel good," he said after Friday's week-ending practice, in which he took part on a limited basis. "Had a good week and was able to do a lot of things and hopefully they give me the green light to go this week. I was able to open up a lot more this week and I'm looking forward to hopefully being out there this week."
Tampa Bay's defense managed to have one of its best afternoons of pass coverage last Sunday against Washington while Verner was sidelined, in part because second-year CB Johnthan Banks is improving rapidly. Outstanding pressure from the defensive front undoubtedly contributed to that fine outing, and if that was a trend then Verner would like to be on the field to take advantage of it.
"We've got to show up in the back end," said Verner. "The D-line, you see them going, and we've got to be able to make plays on the ball to cause the quarterback to hesitate [in order] to help our D-line."
Verner is one of four players on the Buccaneers' official injury report, which had official game-status designations added to it on Friday. All four – Verner, linebacker Lavonte David and running backs Doug Martin and Charles Sims – are considered questionable, though Verner is obviously optimistic and Head Coach Lovie Smith thinks he could have all four of the team's tailbacks at his disposal.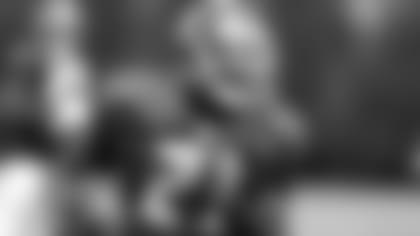 CB Alterraun Verner has been able to move around the practice field better this week, fueling his optimism that he can play on Sunday after missing two games
"We have four guys available," said Smith. "It's pretty hard to dress four running backs, three tight ends, as you look across the board, but we like having those decisions. It's tough in a way, but it's really not and that's why practice is so important. We knew that we should have everybody back this week so we've been paying close attention and we have a plan we feel comfortable with. Doug is back this week and that's a good thing. He's looked pretty good in practice and we feel real good about that group whatever three or four we go with."
David was held out of practice for the second straight day with a sore hamstring. Smith called his leading tackler a "game-time decision" and noted that David was "a lot better" on Friday.
Chicago had a lengthier injury report throughout the week but it didn't look too limiting by Friday afternoon, although three players have already been ruled out: defensive end Trevor Scott, linebacker Darryl Sharpton and wide receiver Chris Williams. All three are reserves, although Williams has been the team's primary return man this season.
Three other Bears are considered questionable, including starting right tackle Jordan Mills (ribs). The other two are reserves: tackle Eben Britton (illness) and cornerback Demontre Hurst (knee). Most notably, both halves of the aforementioned receiving duo of Marshall (ankle) and Jeffery (hamstring) are considered probable to suit up on Sunday.