Bucs fandom comes in all different forms. For some, it was time spent with a family member growing up, etching the Buccaneers into fond memories of their childhood. Others, it was upon the first sound of cannons booming inside Raymond James Stadium. Or maybe you've been around from the beginning, when the Buccaneers finally brought NFL football to Tampa Bay.
No matter your story, we want to help tell it. And so begins our series highlighting Buccaneers fans from around the Bay and beyond.
Meet Joseph Acquaviva. The Bucs have been a huge part of his life, in more ways than one, and now that he's back in the Bay Area, his Bucs fandom is bigger than ever. This is his fan story.
---
---
Well, I was pretty much raised into it. My dad was always a huge Bucs fan so I grew up with it. My first Bucs game was back in 1997 and it was actually the last game played in the old Sombrero, which was our first playoff win in like 15 years. It was actually a playoff game against the Lions. That was my first Bucs game and it was a win. It was huge. It was amazing and that's what hooked me.
I was born in St. Pete and I grew up on the east coast in Vero Beach but I came back to the west coast when I graduated high school to go to USF and then to actually be closer to the Bucs because they've always been a big part of my life. About three years ago I bought season tickets and that's when I really started going to every game and getting more and more involved. Now, it's to the point where I'm going to like four-to-five away games a year. This year I'm going to LA and I went to the draft when it was in Nashville and Dallas. It's pretty much my whole life [laughs]."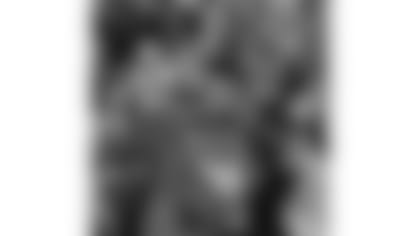 ---
---
It's something to believe in. It's my city, it's the camaraderie with the fans. I go to the What the Buc tailgate. They're a big charity tailgate and I'm pretty active in that. It's just like a big family that adds to the excitement.
When I first moved back to the area, I didn't know a ton of people until I started getting involved in the tailgate and over the last three years, the people at the tailgate have really become like family. We just went on a cruise a few months ago and we called it the 'Bucs Bahama Cruise' and it wasn't even a football-related thing. It was just all of us Bucs friends getting together and doing something because we've all really become like family.
We're definitely not everybody's top pick but those that are Bucs fans are really tight-knit. We all know each other. I actually got married in New Orleans last year the day before the Bucs game. We all went to the game – there was like 50 of us. We all went for the game but me and my wife were engaged and it was actually her idea. She said, why don't we just do the wedding in New Orleans? We could have a Bucs wedding in New Orleans. That was the season opener, if you remember, and Fitzpatrick came out and had like 500 yards and won 48-41.
My wife loves the Bucs, too, and my son is starting to get into it. He's only five, but I took him to his first training camp practice. Then he'll be going to his first Bucs game in the preseason. We signed him up for his first year of flag football, too, so he's just starting to learn it all and it should be a pretty exciting year for both of us.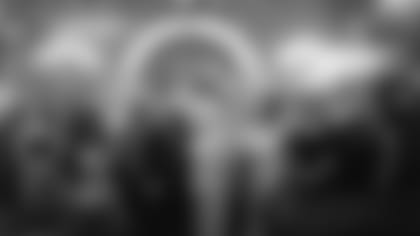 ---
---
I was there for the first kickoff return for a touchdown and we clinched the division that day, too. That was amazing because it was such a big thing for us never having had a kickoff returned for a touchdown. I was like 17 at the time and I actually came from high school across the state to go to that game. I wasn't a season ticket holder at that point, I just happened to go to the perfect game.
I'm a big collector of Bucs memorabilia, I do a lot of trading for other memorabilia and stuff. I happen to have a six-foot tall Mike Alstott statue. Alstott is my favorite player of all time, for sure. That's the jersey number I wear on all my custom jerseys. I've met him several times but I heard there was a signing coming up and it was last second. I had 30 minutes to get this thing into my SUV and drive to Tampa but I made it in time and he signed it and I got a picture of him and me standing next to it. He thought it was awesome.
Originally, it was a six-foot tall store display of a running back. It was perfect for Alstott. I painted him with his number 40 but it wasn't sold as Alstott. I have 300 Buccaneers bobbleheads, I have two rooms filled with helmets, game-worn cleats.
Little tidbit too, I have an Escalade. I had it wrapped in a giant Buccaneers flag. It's about 10 feet long on both sides and it's going to be insane. It's a white Escalade with the red flag. It's going to be big and bold. So, when I say the Bucs are my life, it really is.