On Saturday, October 7, nearly 4,000 participants enjoyed perfect Florida weather for the fifth annual Bucs Care Treasure Chests Finish at the 50, powered by Jabil. The annual event has become an October tradition for the Buccaneers and helps kick off the NFL's A Crucial Catch: Intercept Cancer initiative in support of the team's commitment to raise funds for patient services and breast cancer research in the Tampa Bay area. This year's event, led by Glazer Family Foundation Co-President Darcie Glazer Kassewitz, featured the fan-favorite 5K, a new 1-Mile Fun Run and a 10K, with every participant running out of the tunnel and through the 50-yard line at Raymond James Stadium. The Treasure Chests race has now contributed over $180,000 from the Bucs Care Foundation with funds being utilized for breast cancer research and patient services through the American Cancer Society, Florida Cancer Specialists Foundation, Moffit Cancer Center and Florida Hospital Foundation.
On Sunday, October 29, when the Buccaneers host the Carolina Panthers, the team will continue its support of cancer awareness with special apparel as well as field stencils and banners throughout the stadium. In addition, the Buccaneers will honor military heroes throughout the game.
HONORARY FLAG RUNNER: DAWN WARD, MOTHER OF DEFENSIVE END WILL GHOLSTON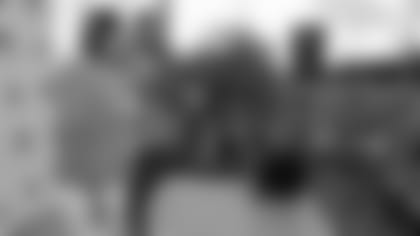 For team introductions, Dawn Ward, breast cancer survivor and mother of defensive end Will Gholston, will lead the team out of the tunnel as the Buccaneers' Honorary Flag Runner. On October 7, Gholston and Ward helped kick off the fifth annual Bucs Care Treasure Chests Finish at the 50, powered by Jabil. That morning, Gholston thanked the more than 4,000 participants for coming out and, along with his mother, served as the honorary starters for the event.
HONORARY GUESTS OF THE GAME: TOP RUNNERS IN THE TREASURE CHESTS FINISH AT THE 50
Following player introductions, the Buccaneers will welcome to midfield Cooper LaBrant, Penny Primus, Jeff Francis and Jacki Wachtel, the 5K and 10K winners of the Buccaneers 2017 Treasure Chests Finish at the 50. The group will serve as the team's Honorary Guests of the Game for the coin toss. HERO OF THE GAME: U.S. AIR FORCE COLONEL SUSAN FERRERA, BREAST CANCER
Before kickoff, the Buccaneers will continue a tradition with the team's military Hero of the Game. At every Buccaneers home game, a selected military member will be stationed on the Pirate Ship in Buccaneer Cove to ready the team for action. This week, the Buccaneers will honor United States Air Force Colonel Susan Ferrera.For more than 25 years, Colonel Ferrera served in a variety of capacities, beginning as a Service
Officer in support of Operation Southern Watch at Dhahran Air Base in the Kingdom of Saudi Arabia and continuing as Squadron Section Commander, Deputy Group Commander and eventually being named Director of Protocol for the United States Central Command. In late 2016, while processing through her retirement physicals, Colonel Ferrera was diagnosed with Stage 1 breast cancer and would undergo a bilateral mastectomy just four days after her retirement from the Air Force. For her bravery and commitment to service, she was twice awarded the Department of Defense Superior Service Medal, the U.S Air Force Bronze Star for meritorious service in a combat zone and numerous Department of Defense awards and recognition due to her significant work in personnel management.
SALUTE TO SERVICE SUITE, SUPPORTED BY JABIL
At every Buccaneers home game, the team honors a distinguished group of military members with an exclusive gameday experience in the Salute to Service Suite, supported by Jabil. During a break in play, fans are encouraged to direct their attention to the pirate ship and join players and coaches in thanking local servicemen and servicewomen for their sacrifices, including:
From the Army, Colonel Francisco Alicea Jr, Sergeant First Class Joseph Taylor,First SergeantVictor Antonetti, and*Master Sergeant Charles Sanders*
From the Air Force, Technical SergeantJenne Markovitz
From the Navy, Senior Chief Petty Officer* James Harkinsand Senior Chief Mario Martin*
To round out the Salute to Service Suite honorees, the Buccaneers will recognize Ret. Army Sergeant James "Jimmy" Jackson, cousin of Buccaneers wide receiver DeSean Jackson. Born and raised in Philadelphia and a Naval Air Engineering graduate, Jimmy served in Vietnam from 1967-70 and was wounded twice in action. He was honorably discharged and for his service, Jackson was awarded two Purple Hearts and two Bronze Stars.
HALFTIME: SPECIAL BUCCANEERS CHEERLEADERS PERFORMANCE
At halftime, the Tampa Bay Buccaneers Cheerleaders will carry out a special performance with support from the University of South Florida Sun Dolls and 500 participants from this year's Bucs Care Treasure Chests Finish at the 50, powered by Jabil. The group will create a large breast cancer awareness ribbon on the field to honor those who have fought and continue to battle cancer, and at the conclusion of the performance, stories of courage from three breast cancer survivors will be recognized at midfield.
COMMUNITY PLAYER TICKET PROGRAM
At every home game, Tampa Bay Buccaneers players host fans from a wide variety of nonprofit organizations throughout the Tampa Bay area. On Sunday afternoon, the community player ticket program spotlight will feature quarterback Jameis Winston and his group, Jameis' Dream Forever Foundation. The foundation provides financially-disadvantaged children and families with encouragement, opportunities and resources to develop and achieve their dreams. Recently, Winston and his foundation distributed gift cards and meal bags to over 400 families affected by food loss during Hurricane Irma. Winston also hosts an annual Famous Jameis Jamboree in which he collects hundreds of toys and also surprises families with a meal and gifts for the holiday season. A true leader off the field, Winston is the quarterback for all 24 Buccaneer Academies; inspiring youth to Dream Big.
BUCS CARE 50/50 RAFFLE
On gameday, fans have the opportunity to participate in the Bucs Care Foundation 50/50 Raffle while supporting a worthwhile cause. Each raffle ticket purchased will go towards a huge cash prize, in which fifty percent of the net proceeds help support the team's 24 Buccaneers Academies around the Tampa Bay area and other Bucs Care Foundation initiatives. The other fifty percent will go to one lucky winner. Tickets are available in-game at kiosks located in section 106, 115, 131, 140 and each club level as well as mobile sellers throughout the stadium and on the Buccaneers app. For a complete list of rules and regulations, locate a kiosk or mobile seller on game day. To learn more, visit www.buccaneers.com/5050. 
BUCS SQUAD EXPERIENCE & BUCS SQUAD TWO-MINUTE DRILL AT RAYMOND JAMES STADIUM
The Tampa Bay Buccaneers Bucs Squad is an exciting program designed to get the next generation of Bucs fans behind the bench and inside the huddle with their favorite NFL team. By becoming a Bucs Squad member, fans 14-and-under gain access to amazing gameday experiences. For more information and to sign up for the Bucs Squad, visit the Bucs Squad Two-Minute Drill from 11:30 a.m. until the end of the game in section 137.
The Bucs Squad Experience will be open 9:30 a.m. - 12:30 p.m. in Lot 6D (Tampa Bay Blvd. between Gates C & D) for all children and families attending the game. The Bucs Squad Experience will include inflatable football activities, interactive PLAY 60 football clinics, as well as visits from Captain Fear (10:30 a.m. - 11:30 a.m.) and the Tampa Bay Buccaneers Cheerleaders (11:15 a.m. - 12:00 p.m.) for children to enjoy free of charge.
BUCCANEERS ACADEMY GAMEDAY FOR KIDS GUESTS
The Bucs Care Foundation hosts 100 "Gameday for Kids" from the Buccaneers Academy program to promote academic achievement and positive behavior in children. Selected groups receive game tickets, t-shirts, food vouchers and Buccaneers flags by achieving goals set by their teachers. More than 16,000 youths and community members representing over 100 organizations from Tampa Bay have been rewarded through the annual program. This game's attendees will represent Pizzo Elementary, Davis ElementaryandMiles Elementary.
Through the Buccaneers Academy program, the team provides resources, enhanced curriculum, and hands-on participation from Buccaneers players and cheerleaders to over 16,000 underserved students and 2,200 teachers at 24 elementary schools the team has adopted throughout Hillsborough County. Each of the schools in the Buccaneers Academy program, most of which are Title I schools, has also received a court-sized shade cover that provides an improved environment for students to safely participate in physical health and wellness activities.
Tampa Bay Buccaneers players, coaches, cheerleaders, alumni, and staff have an active role in community improvement through a variety of youth health and education initiatives, family outreach, and military support. Innovative partnerships between the Bucs Care Foundation and local nonprofit organizations provide assistance to thousands of Central Florida residents each year. Glazer Family Foundation initiatives including the Glazer Family Foundation Vision Mobile and the Glazer Children's Museum continue to enhance learning opportunities for Bay Area youths. To learn more, visit www.buccaneers.com/community.