STORY HIGHLIGHTS
Wyoming QB Brett Smith is one of 11 undrafted players the Buccaneers netted over the weekend
Tampa native Matt Patchan returns to his home town to start his NFL career after standing out at Boston College
Some of the most productive players in franchise history, such as Earnest Graham and Shelton Quarles, started as UDFAs

The next Earnest Graham, Karl Williams or Shelton Quarles could be taking the field for the Tampa Bay Buccaneers this weekend.
In the frenzied hours that followed the last pick of the draft on Saturday evening, with all 32 teams working the phones and hundreds of still-coveted prospects still looking for NFL homes, the Buccaneers added 11 more players to their 2014 rookie haul.  On Monday, the team released the list of those undrafted free agent signings, which includes Wyoming quarterback Brett Smith and Boston College tackle Matt Patchan.  It's likely that a few more names will be added to the list in the coming days.
The Bucs have been adding players to their 90-man offseason roster throughout the spring but haven't had to trim any names for some team.  With all the weekend additions, however, the roster reached capacity, necessitating the release of three players: fullback Josh Baker, cornerback Bobby Felder and tight end Steve Maneri.  Baker and Maneri were signed earlier this offseason; Felder joined the Bucs as a waiver claim during the middle of the 2013 campaign.
Smith, Patchan and the rest will try to follow in the footsteps of Graham and Williams, players who first arrived in Tampa as undrafted free agents (UDFAs) and went on to long and successful careers with the Buccaneers.  Some of the most accomplished players in team history, including Quarles, tackle Donald Penn and Cecil Johnson entered the league as UDFAs, albeit not necessarily with the Buccaneers first.  The NFL as a whole has seen countless players forge outstanding playing careers after being passed over in the draft, from John Randle to Warren Moon to Priest Holmes.
Of course, the first order of business for Smith and his fellow UDFAs is turning their opportunities in Tampa into a spot on the 53-man roster in September.  Those efforts begin this weekend when the Buccaneers hold their annual post-draft rookie mini-camp.  The players signed after the draft will join Tampa Bay's six draftees, a handful of first-year holdovers from the 2013 roster and a couple dozen additional rookies participating on tryout contracts for three days of practice, Friday through Sunday.
Here's the complete list of the Buccaneers' UDFA signings to this point:
Smith
will have at least one familiar target to throw to during the rookie camp, as the Buccaneers used their sixth-round pick on his Wyoming teammate, wide receiver Robert Herron.  The two were a prolific pair last fall, as Smith completed 293 of 467 passes (62.7%) for 3,375 yards, 29 touchdowns and 11 interceptions; with Herron on the receiving end of 75 of those throws.  Smith, who started 35 games and threw for 8,834 yards and 76 touchdowns over three seasons in Laramie, will get plenty of work this weekend.  The Bucs are likely to add at least one  more quarterback on a tryout contract before Friday, but veterans Josh McCown, Mike Glennon and Mike Kafka are not eligible to participate.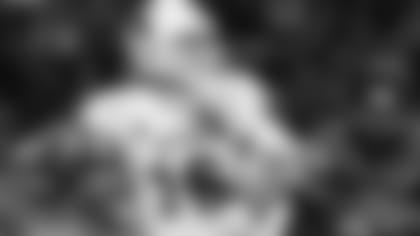 Wyoming QB Brett Smith completed 75 passes to new Bucs teammate Robert Herron last year
Patchan, a former All-American at Armwood High School, will return home to start his NFL career.  He originally went to the University of Florida as a defensive linemen but converted to tackle and started for most of one season before transferring to Boston College.  With the Eagles, Patchan started all 13 games at right tackle as a senior in 2013, earning second-team All-ACC honors.
Askew is the sort of developmental prospect that often has to start as an undrafted free agent but has the potential to establish himself with further coaching, a la Demar Dotson, the Buccaneers' starting right tackle who mostly played basketball in college.  A receiver during his first three seasons at Texas A&M, the 6-4, 235-pound Askew converted to defense for his last year in College Station.  He played in 12 games and started two as a linebacker in 2013, notching 33 tackles and two interceptions.
Like Patchan, Allen and Miller likely saw an opportunity to stick on a Buccaneer offensive line corps that has had an enormous amount of turnover this spring.  The team did spend two fifth-round picks on linemen Kadeem Edwards and Kevin Pamphile, but there should be stiff competition for the two starting guard spots and the three or four reserve positions.  The 6-3, 315-pound Allen was a four-year starter at ULM, opening games at both center and guard.  Miller (6-4, 296) also logged starts at both center and guard over the course of his final three seasons at Virginia Tech, earning second-team All-ACC honors from the conference's coaches.
The D-Line also got a couple additions after the draft in South Carolina end Chaz Sutton and Georgia Tech tackle Euclid Cummings.  Sutton played in 48 games over five seasons for the Gamecocks but didn't become a full-time starter until last year, when he contributed a career-high 32 tackles, three sacks and 8.5 stops for loss.  Cummings  followed a similar path, rising to full-time starter last year and racking up 37 tackles, 2.5 sacks and 5.5 tackles for loss.
Burks (6-3, 205) and Patton (5-9, 169) were the third and fourth receivers added to the Bucs' mix over the weekend, as the team used its first-round pick on Texas A&M's Mike Evans before finishing their six-man class with Herron.  Burks caught a total of 47 passes over four seasons at Boise State but showed big-play potential, especially in his last two years as he averaged 17.9 yards per catch.  Patton has speed to burn, reportedly clocking a 4.31 at Florida's Pro Day, and also has kick return experience.  He did most of his damage as a senior, catching 44 of his 52 career passes and setting a Gator school record with an average of 29.2 yards per kickoff return.
Like a number of the players who were seeking NFL starting spots after the draft, Lewis is a small-school prospect, having played his football at Virginia University of Lynchburg, which is part of the 86-school United States Collegiate Athletic Association.  Lewis, in fact, is seeking to become the first Lynchburg product to play in the NFL.  He and Eastern Michigan's Swaim will compete for spots in the Buccaneer secondary; in 12 games last fall Swaim racked up 81 tackles, one interception and 1.5 tackles for loss.