STORY HIGHLIGHTS
LB Jonathan Casillas was one of 19 Bucs due to become an unrestricted FA on Tuesday, but he returns instead on a one-year deal
An outstanding special teams player, Casillas also took over as the starting SAM at midseason
Casillas played four seasons in New Orleans before joining the Buccaneers last spring

The Tampa Bay Buccaneers had 19 players who were slated to become unrestricted free agents when the NFL market opened next Tuesday. Now that number is 18.
The Buccaneers were able to keep Jonathan Casillas off that market by agreeing to terms on a new one-year deal for the versatile and productive linebacker. Casillas first joined the team a year ago as an unrestricted free agent after spending his first four seasons with the New Orleans Saints.
The 2014 free agency period begins on Tuesday, March 11, at 4:00 p.m. ET. Until that time, players whose contracts are due to expire at the end of the 2013 league year can sign only with their existing teams. However, a pre-free agency negotiating window for all pending free agents begins on Saturday, which made Friday the last day for the Buccaneers to deal exclusively with Casillas and the others set to hit the market.
Casillas appeared in 12 games and made four starts for the Buccaneers in 2013 before a knee injury brought his season to a premature end. He began the season as a reserve on defense and a core player on special teams before supplanting Dekoda Watson as the starter at strongside linebacker at midseason. Considered a strong coverage 'backer, Casillas contributed 24 tackles, one tackle for loss, two passes defensed and one forced fumble on the season. On special teams, he ranked second on the team with nine kick-coverage stops despite missing a quarter of the campaign.
Casillas spent the 2010 season on injured reserve for the Saints but otherwise filled a similar role in New Orleans, making a big impact on special teams and starting on defense when needed. He has played in 50 career games with 11 starts, logging 127 tackles, 3.0 sacks, six passes defensed, one forced fumble and two fumble recoveries, while also making 26 stops in the kicking game. An undrafted free agent signee in New Orleans in 2009, Casillas played his college ball at Wisconsin and originally hails from New Jersey.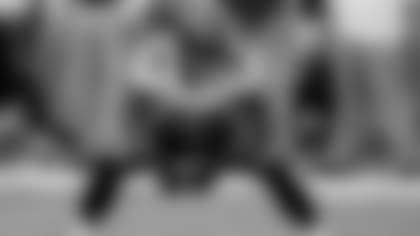 LB Jonathan Casillas was second on the team in special teams tackles in 2013 despite missing a quarter of the season
Three different players logged starts at the SAM position for the Buccaneers in 2013 – Casillas, Watson and Adam Hayward. All three were set to become free agents next week; now at least Casillas will be back to fight for that starting spot again in 2014.