STORY HIGHLIGHTS
Tampa Bay was awarded two players on waivers Tuesday: CB Marc Anthony and C Jeremiah Warren
CB Danny Gorrer was placed on injured reserve and fellow CB Deveron Carr was waived
The Bucs also cut two offensive tackles from the roster in Matt Patchan (waived/injured) and J.B. Shugarts

The trade that brought Pro Bowl guard to townunderstandably captured all the attention at One Buccaneer Place on Tuesday, but the Tampa Bay Buccaneers also had some further roster work to take care of before the afternoon was done.
The Buccaneers began the day with 77 active players and had to get down to the new limit of 75 by the NFL's 4:00 p.m. ET deadline.  They did so, but not by simply releasing two men.  The team's series of roster-compliance moves actually involved six different players.
First, the team was awarded two players on waiver claims: cornerback Marc Anthony and center Jeremiah Warren. That meant four spots had to be cleared, not two, which was accomplished with the following moves: cornerback Danny Gorrer was placed on injured reserve, tackle Matt Patchan was waived/injured and cornerback Deveron Carr and tackle J.B. Shugarts were waived.
Anthony returns for a second stint with the Buccaneers after being waived by the team this past June. He subsequently signed with the Tennessee Titans but was waived again on Monday during the NFL's first round of roster cuts. The 5-11, 196-pound cornerback first entered the league as a seventh-round pick (#247 overall) of the Baltimore Ravens in 2013. After he was released by the Ravens at the end of the preseason, Anthony signed on with the Buccaneers' practice squad and spent his entire rookie season on that unit.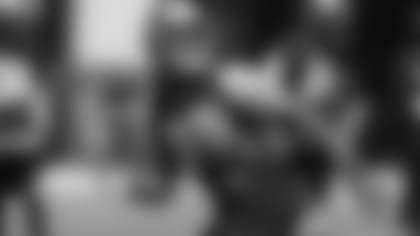 CB Marc Anthony spent most of the 2013 season on Tampa Bay's practice squad
Warren comes to the Buccaneers from the Cleveland Browns, where he spent much of last season on the team's practice squad, working under the tutelage of current Buccaneers Offensive Line Coach George Warhop. In addition to reuniting with Warhop, Warren also returns to his home state and to the area in which he played his college ball. A Panama City native, he started 38 games at the University of South Florida and won second-team All-Big East honors as a senior. Warren (6-4, 320) first signed with the New England Patriots as an undrafted free agent in 2012 and spent most of his rookie season on their practice squad. He split his 2013 offseason between Arizona and New Orleans, going to camp with the Saints but getting his waivers on August 31. The Browns signed him three weeks later.
Gorrer joined the Bucs as a waiver claim from Seattle in October of 2012. He played in 13 games over the past two seasons with one start, contributing 16 tackles, one interception and two passes defensed. Carr came to Tampa as an undrafted free agent in 2013 and spent most of the season on the active roster, seeing action in nine games. Patchan signed with Tampa Bay as an undrafted free agent in May; Shugarts joined the team just before the start of training camp.
The Buccaneers must further trim their roster to 53 players by Saturday at 4:00 p.m. ET, though the necessary moves could come at any time between Friday morning and that deadline.