"You come at the king, you best not miss."
Meet Christopher Dombrowski, who won a spot in the inaugural Buccaneers FANtasy Challenge league, then came to the AdventHealth Training Center in August for a live draft in the actual Buccaneers Draft Room and put together a squad he named "Risky Biscuits." (To be fair, that's a great team name.) Shortly after the draft, Dombrowski – possibly confusing the waiver wire with "The Wire" – took a swing at the kingpins.
"Plunder and Lightning- His draft was more like Blunder and Frightening. Despite getting a couple of early gifts (Johnson, Allen, Kittle), this 'guru' still managed to come out with a subpar team. He managed to take the Rams 3rd string RB 9 rounds before their 2nd string, load up on injured players in bad situations, and even took a flyer on the corpse of Stank Gore. On the bright side, he crushed it at QB…too bad QB in ffb is about as worthless as RB in real life."
Hoo boy. In case you haven't guessed, I'm Omar Little in this scenario. Plunder and Lightning is my team, the name an homage to the Mike Alstott/Warrick Dunn glory days. Meanwhile, Chris ripped not just me but fellow pros Carmen Vitali and Casey Phillips, ranking us all in the bottom half of the league, and in the process tagging his own team as the top contender.
So Chris took a swing at this "guru" before Week One, then tried to do so again when the season started, as Risky Biscuit's very first matchup just happened to be against Omar Litt…I mean, Plunder and Lightning. How did that go? I think this screenshot tells the story. I've circled the relevant information.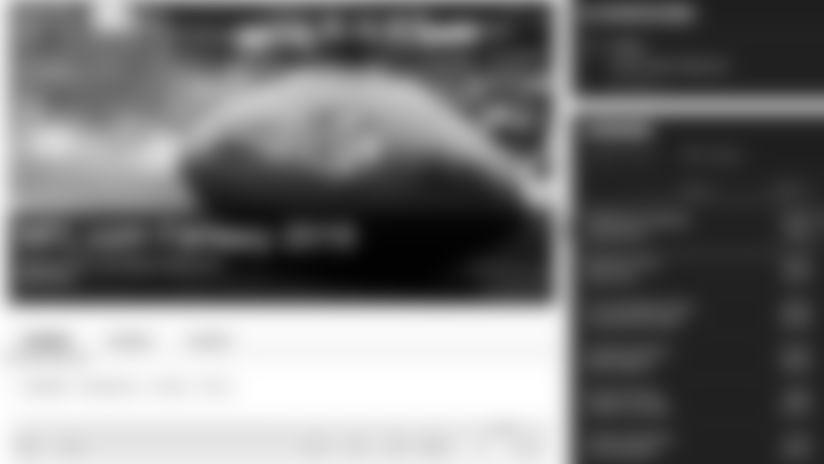 Chris and eight other Buccaneers fans won the opportunity to participate in the FANtasy Challenge through a contest held this summer. In addition to the live draft at team headquarters – which featured a very exciting guest – the nine fans now have a chance to try to take down the pros, not only for bragging rights but for a boatload of great prizes at season's end.
But they've got to beat us first, and that might look more challenging after a good opening week for the pros. Or at least two of the three. While my team was scorching the earth and razing small villages, Carmen's Bowles-Room Blitz squad was making short work of Nick Russin's team, Kung-Suh Panda. She actually had only a small lead heading into Monday night, at which point she strategically deployed Michael Thomas, Phillip Lindsay and the Denver defense. Nick probably didn't even stay up for the second game.
Casey? Well, we've got your back, Casey. Week One wasn't really your thing, but we're confident you'll be back on top in Week Two against Schiano's Sombreros, who scored…oh my, 139.70 points in Week One. Well, at least you're having fun, right Casey? Right. If there's one thing I know about Casey it's that fantasy football is her single favorite activity.
Let's take a closer look at how Week One went down in the Buccaneers FANtasy Challenge.
Lineup Decision of the Week: Plunder and Lightning putting Kansas City WR Sammy Watkins in the flex spot.
Now, the cynic might say that the only reason Watkins was in the flex in Week One is because his team owner (um, me again) didn't draft a good enough third running back. But that cynic can stuff some risky biscuits in his mouth and see how great the smack talkin' goes then, because Watkins WENT OFF.
If you're reading this you're probably a fan of fantasy football as well as the Buccaneers, so you already know what Watkins did. But let's relish it anyway: nine catches for 198 yards and three touchdowns. In our scoring system, that's 46.80 points, folks. From the flex! After a slow start Aaron Rodgers from on Thursday, my team got good production from virtually every other spot, especially from RB1 David Johnson and WR1 Keenan Allen. But it was Watkins that allowed me to strut around like Mr. Little.
Lineup Blunder of the Week: Justin Beetz and The Revolution starting Cam Newton over Lamar Jackson in the quarterback spot.
It's important to note here that every bad outcome on game day is not necessarily a bad decision. If you draft Devonta Freeman and Kerryon Johnson in the fourth and fifth rounds, that's who you're starting at running back in Week One. The fact that Bills discard LeSean McCoy actually outscored both while on your bench is a bummer, not a blunder. Sorry if all of this is a bit painful, Nick.
For a lineup decision to be "bad," there has to have been a reasonable option for the owner. And that's where we come to Justin Beetz and The Revolution, which – apologies to the incomparable Prince – sounds like a pretty great band. Beetz started Cam Newton over Lamar Jackson, which is essentially understandable…or is it?
Yes, Newton was the first quarterback Justin Beetzber drafted, but it was all the way in the eighth round, and he took Jackson just four rounds later. Neither one is exactly the high-round investment that is an absolute must-start every week. So you've got Newton going against Aaron Donald and the defending NFC champs or Jackson going against the NFL's version of the Process 76ers. This is not a reflex decision, particularly because Newton hasn't exactly been a picture of health leading into the season.
 Newton: 7.36 points. Jackson: 33.56 points. It will be interesting to see what Justin decides in Week Two. Does he want to start Newton against what appears to be an improved Buccaneers defense? Should he trust Jackson to duplicate that effort despite the league turning down Baltimore's petition to play Miami every week. Fortunately for him, this Blunder didn't cost Justin as he had what was essentially a bye against the short-handed Ladies and Edelman squad.
Best Game of the Week: Deckerhoff the Halls over The Great Marpet Capers, 155.48 to 148.90.
Jason Swinford and the Capers started the weekend with a huge performance by McCaffrey, probably the first of many, which resulted in 42.90 points. However, the Browns defense played like it was 2017 and laid a goose egg, while the flex and kicker positions were mostly unproductive. That gave Deckerhoff a chance to pull ahead with a good across-the-board showing. Nobody on Justin Morris' Deckerhoff squad broke out for 30 or more points, but nobody fell short of 10, either. Derrick Henry with 28.90 points in the flex gave him a boost and a fairly comfortable lead heading into the Monday Night doubleheader. However, Jason still had Drew Brees and Josh Jacobs in his pocket – one reliable 57-year-old vet and one newbie in his first real game. Both did great, but Jason needed 51.69 points to win and those two combined for 45.10. Jason still had a shot deep into the night on Monday; I hope he didn't have to get up early on Tuesday.
Additional Week One Results:
We've already covered my unholy evisceration of the Biscuits and the barn-burner between Deckerhoff and the Capers. Here's how the rest of the league fared:
- Water Walkers 164.02, Schiano's Sombrero 139.70
Christopher Hatton's Walkers were losing heading into Monday night but the Texans duo of Deshaun Watson and DeAndre Hopkins – clearly the key to this team's fate – exploded for a combined 61.82 points. Austin Ekeler also had a very good start to the season in Melvin Gordon's absence; that could prove to be one of the top picks of the draft. Campbell Sears' Sombrero squad did okay overall but wasted good outings by Dak Prescott and T.Y. Hilton by starting Sony Michel and Jared Cook. Of course, there really wasn't a good option on the bench to replace Michel. Zeke's return renders Tony Pollard nearly useless and Derrius Guice is now on the shelf. Campbell may be shopping in the running back aisle soon.
- Bowles-Room Blitz 120.16, Kung Suh Panda 96.86
This is the other one for the pros, as Carmen won despite having the eighth-lowest point total in Week One. Carmen's Blitzers got the expected output from its underrated pair of running backs (Carson and Cook, which sounds like an auto-accident law firm) and receivers (Thomas and Jeffery). However, the low scores from the TE, Kicker and Defense spots (Denver yielded nary a point), kept her from pushing her score up into the top half of the league. Fortunately for Carmen, Nick Russin's Panda people were worse, with the four starting RB/WRs averaging about 11 points. That's not what you need out of Freeman, Kerryon Johnson, Julio and Smith-Schuster. And the Bucs' defense kept flex-man Dante Pettis from putting up anything of use.
- The Revolution 126.16, Ladies and Edelman 76.14
Becky Hartman drew praise on draft night for her team name (Ladies and Edelman) but not so much for her draft beyond the timely selection of Mike Evans. The Week One results indicate that the critics might have bene right. Tom Brady did better than expected with 25.64 points and 10.00 from the Buffalo defense was a nice boost. However, the only other player on Becky's squad to crack double digits was TE Jimmy Graham, with 12. Kenyan Drake and Nyheim Hines are not going to cut it as a starting RB tandem. Marlon Mack and Evan Engram were the stars for Justin's Revolution, and I don't think that's going to be a rare occurrence. As I mentioned in the wrap-up after our draft, I think we all slept a little too long on the Colts' running back. The Revolution didn't get close to the week's top score but there was a whole lot of extra production on the bench (Lamar Jackson, Emmanuel Sanders, Tyrell Williams) so it appears as this team has the depth to weather the upcoming bye weeks.
- Matt Gay 4 Trey 132.22, Brate Scott 85.54
This was the one loss by our pros and it was a lackluster beginning for Casey Phillips' Brate Scott team. As she pointed out to me, nearly every one of her starters fell below his projection generated by the league site. (Casey actually said all of them did, but that wasn't strictly true as Amari Cooper did overshoot his projection with 22.60 points. Close enough). Joe Mixon's early injury hurt and Zeke wasn't exactly in midseason form, only getting 13.30 points despite the Cowboys' blowout of the Giants. Meanwhile, the core of Brandon's Trey squad did pretty much exactly what it should, with Mahomes, Ingram, Kamara, Thielen and Landry providing close to 100 points. Harrison Butker's 16 points from the kicker spot was a nice bonus.
Tales from the Message Board: Hey, this isn't an autocracy. I'm not only the league commissioner but I happen to have Buccaneers.com as a forum. That's a problem if you happen to get demolished like Christopher Dombrowski did this week, but overall I'd like everyone to have a voice. That's why I'm going to share some thoughts from the league message board on a weekly basis. Such as:
Jason Swinford (The Great Marpet Capers) on the team that owns Antonio Brown: "Ever buy one of those candies that supposed to be a surprise? It could be cotton candy flavored or could be apple pie flavored or could be straight cow s* flavored."
CampbellSears (Schiano's Sombrero) on Brown maintaining good value: "Once he goes more than two days without making headlines for having an apocalyptic meltdown Ill agree with you."
Brandon Durfey (Matt Gay 4 Trey) on Christopher Dombrowski's ambitious recap: "All this from a guy who drafted a TE in the first round and has Kyler Murray for a quarterback? Good thing the person judging everyone here is obviously one of the least threatening teams in the league. I'm guessing your mouth will be shut by week 5 or so."
JasonSwinford (The Great Marpet Capers): "Well I'm more confused than I was before the league started so seems like I'm right on track for typical fantasy football year." [Editor's note: Amen, brother.]