STORY HIGHLIGHTS
Though it didn't always go well, some early-season playing time for defensive reserves is paying off now
Tampa Bay's has been consistently strong for the last six weeks despite missing some key regulars almost every game
When starters like Lavonte David return from injury, the Bucs suddenly have some tested depth to fall back on

The Tampa Bay Buccaneers played a Week Three game in Atlanta without defensive tackle Gerald McCoy, middle linebacker Mason Foster and, for all but six sacks, right end Michael Johnson. It did not go well.
The Buccaneers took on Baltimore at home three weeks later without the services of cornerback Johnthan Banks and safety Dashon Goldson. Again, it did not go well.
The next-man-up credo in the NFL is real and understandable, and essentially the only way a team can react to the loss of a key player. However, there is no guarantee that the results are going to be scintillating every time, and teams are always going to try to exploit any weak spots in the opposing lineup.
Things have gone relatively well for Tampa Bay's defense over the last six weeks; the Buccaneers are fourth in the NFL in yards allowed and 10th in points allowed since coming back from their Week Seven bye. A good part of that improvement is surely a matter of the players getting used to the new defensive imported by Lovie Smith and Leslie Frazier. Some of it, however, might also be a matter of the team getting used to overcoming injuries. That's been possible because the Bucs have recently been getting very helpful efforts from the likes of cornerbacks Brandon Dixon and Isaiah Frey, safety Bradley McDougald, defensive end Jacquies Smith and linebackers Danny Lansanah and Orie Lemon.
"I think it always benefits when you can play some young players that haven't played an awful lot," said Smith. "Injuries happen every year. We want to get to a point where if you lose some of your front-line players early on, that backup can come in and you're not seeing a big drop-off. And we haven't seen that. A lot of guys that got more reps are really playing some good football right now."
Dixon, for instance, intercepted a pass in the end zone last Sunday that was intended for Pro Bowl wide receiver A.J. Green of the Cincinnati Bengals. Dixon positioned himself well and made the leaping pick in front of Green while fourth safety Keith Tandy was bracketing the receiver from behind. Against Baltimore, Dixon was one of the fill-in corners in Banks' absence, and it was a difficult assignment for the undrafted rookie and former waiver claim.
"I can remember the Baltimore game when we had to put those guys out there and, man, it wasn't pretty, as we recall," said Frazier. "So they've grown and in turn, we've gotten better. A lot of guys had to play early – we got into our depth early in the season and they were forced to get some snaps that are now paying dividends for us now. So it's very gratifying when you see Brandon go out and make a play like that when you consider where he was say five or six weeks ago, or Keith, or some of the other guys that had to play because of injuries."
Lansanah has actually been a significant part of the Buccaneers' defense since he took the strongside linebacker job from Jonathan Casillas in Week Four. Lately, however, he's become even more important as he has stepped into the weakside spot while All-Pro Lavonte David has been sidelined by a hamstring injury. All Lansanah did against the Bengals was rack up the David-esque line of 14 stops and three tackles for loss.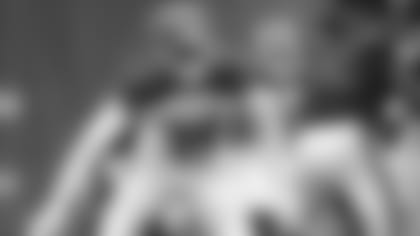 Rookie CB Brandon Dixon has been one of the defensive reserves who has helped the Bucs plug holes in the lineup in recent weeks
And, of course, Lansanah's move opened up a hole on the strong side which could have become a problem if Orie Lemon, plucked off Dallas' practice squad at midseason, hadn't taken very well to that role.
"We all are pleased with what he's done when you consider the short time he's been with us, all the snaps that he missed early on, and to come in and grasp some of the basic things that we're trying to teach, he's done a really good job of preparing himself," said Frazier of Lemon. "And then when he's had an opportunity, he's made some plays for us. So we're pleased with his progress and we'll just see how he continues to grow. But he's done some good things, some things to grab our attention for sure."
The Bucs clearly missed McCoy when he was out for most of two games with a hand fracture, and didn't have him at full strength until he was out of his protective device a few games later. His everyday level of play is, of course, hard to duplicate under any circumstances. Still, the Bucs of the second half of the season probably would have handled that issue well. They managed to get by without their other starting defensive tackle, Clinton McDonald, last week, and McDonald had been one of the team's most reliable defenders up to that point. Akeem Spence stepped up into the starting spot and reserves such as Da'Quan Bowers and Will Gholston helped out more on the interior line. McCoy said the players in the defensive line room try to adopt the attitude that all of them are starters.
"There shouldn't be a drop off," he explained. "It's great to see all across the board on defense when a guy goes out, or whoever it is, it's next man up and you can't tell a difference. That's great. It means guys are really buying in and focusing."
The Buccaneers specifically felt good about some of their defensive depth when they traded starting safety Mark Barron to the Rams at the deadline. Veteran Major Wright has stepped in as the starter and played well but the team was also high on second-year reserve Bradley McDougald. When Wright's injured shoulder kept him from playing last Sunday, McDougald played a full game for the first time and showed his coaches they were right to have faith in him.
"He came up with some big tackles for us in that ball game," said Frazier of McDougald's efforts against the Bengals. "That was a good run offense – they were coming off, I think, a game where they rushed for over 160-something yards. So to see him come up and help us in our eight-man front and make some good open field tackles, that was a plus. He was where he needed to be when we were in pass coverage. It didn't seem like the game was too big for him in the role that we had him in on Sunday. He did some things to make you believe that he'll get better with the more snaps that he gets, and we felt that way going into the game and his play kind of solidified that."
Of course, depth isn't really depth anymore when it's pressed into starting roles, at least until the original starters return. That's where the Buccaneers ultimately want to find themselves on defense, with as many of their top performers in place as possible but backups and situational players standing by to keep the unit humming. That's why the team was pleased to see David practicing this week after missing the last two games.
"It's big," said linebacker Mason Foster of David's potential return. "Those guys did a great job of filling in for him, but I've been playing with Lavonte for three years now, he's like my best friend and it goes without saying some of the stuff that he does on the field and what we do together and it's good to have him back. It's tough out there without him. We had a lot of great linebackers that filled in for him, but Lavonte is Lavonte and it's good to have him back."
David was listed as "questionable" on Tampa Bay's Friday injury report after practicing in a limited fashion each of the last three days. The Buccaneers' full report can be found here. Detroit's injury report can be found here.