STORY HIGHLIGHTS
The Bucs added to a thin spot on the depth chart by signing FB/TE Josh Baker and FB Jorvorskie Lane
Baker played for the Jets in 2011 and could be employed in an H-Back type of role
Lane, a tailback for a good portion of his college career, started five games for Miami in 2012

At the NFL's Annual Meeting last week, Tampa Bay Buccaneers Head Coach Lovie Smith said that there was a spot for the fullback position on his roster.  On Tuesday, Smith's team actually devoted twospots to the position.
Adding to a position that recently lost its 2013 starter, Erik Lorig, to free agency, the Buccaneers have signed third-year fullback/tight end Josh Baker and second-year fullback Jorvorskie Lane.  They join Lonnie Pryor, a midseason pickup last fall, on the current depth chart at that position.
While acknowledging that the fullback position has been "pushed aside" in the NFL in recent years, Smith said his offense has room for that role if the player can also help in additional ways, most notably on special teams.  However, Smith also said he would be looking for "a big lead blocker," and both Lane and Jorvorskie certainly fit the ball.  Lane is listed as 6-3 and 244 pounds while Jorvorskie stands 6-0 and has played at up to 275 pounds.
As a fullback-slash-tight end, Baker is likely to be employed in an H-back type of role.  He entered the league as an undrafted free agent with the New York Jets in 2011, and though he began his rookie season on the Jets' practice squad he was promoted to the active roster before the end of September.  Baker eventually saw action in 11 games in 2011, catching three passes for 27 yards and one touchdown, before spending the 2012 season on injured reserve due to a preseason knee injury.  The Jets released him in February of 2013.  Baker's collegiate career included two separate stints at the University of Delaware before a final 2010 season at Northwest Missouri State, where he was named to the Associated Press' Little All-America Team after a 66-catch, 838-yard campaign.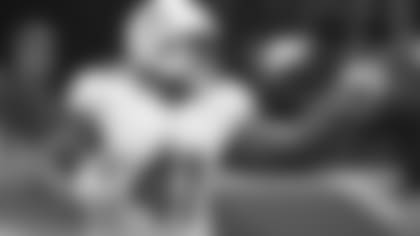 FB Jorvorskie Lane played in 16 games and made five starts for the Miami Dolphins in 2012
Lane spent three seasons as a jumbo-sized tailback at the Texas A&M University before moving to fullback in his senior season.  In four Aggie seasons he ran 461 times for 2,090 yards (4.5 avg.) and 49 touchdowns.  He cracked the end zone 35 times during his combined sophomore and junior campaigns, breaking an 80-year-old school record with 19 TDs in 2006.  He began his professional career with the Orlando Predators of the Arena League in 2011 before signing with the Miami Dolphins in June of 2012.  Lane made the Dolphins' active roster and played in all 16 games in 2012, starting five and rushing 13 times for 13 yards and two touchdowns.  He also caught 11 passes for 79 yards and another score.  Lane went to camp with Miami again last summer but was released in late August.
Neither Baker nor Lane was on an NFL active roster at the end of the 2013 season, so neither falls into the "unrestricted free agent" (UFA) category of players whose contracts expired on March 11.  The Buccaneers have been very active on that market, signing 11 UFAs in the first few weeks of the open market.  The team has also worked on adding depth through signings such as the two on Tuesday, also picking up experienced long-snapper Jeremy Cain on March 19 and adding such veterans as cornerback D.J. Moore and tight end Steve Maneri before the starting of unrestricted free agency.