STORY HIGHLIGHTS
The Bucs made a switch at quarterback Wednesday, signing former Brown Alex Tanney and waiving rookie Brett Smith
Three more undrafted free agents also joined the team after a tryout on Tuesday, including TEs Cameron Brate and Ian Thompson
WR Quintin Payton, formerly a favorite target for Mike Glennon at N.C. State, also came aboard

The Tampa Bay Buccaneers' rookie mini-camp last weekend included 23 players who participated on tryout contracts but did not generate any additional signings to the 90-man roster. A small post-practice tryout on Tuesday afternoon produced four new Buccaneers.
On Wednesday, the team announced the signings of four players, including former Cleveland Browns quarterback Alex Tanney and three undrafted rookies: Harvard tight end Cameron Brate, North Carolina State wide receiver Quintin Payton and Louisiana-Lafayette tight end Ian Thompson. Because the roster stood at 89 players before those additions, Tampa Bay also had to waive three players: defensive lineman David Hunter, punter Jacob Schum and quarterback Brett Smith.
Tanney (6-4, 220) spent the last five weeks of the 2013 season on Cleveland's active roster after the Browns signed him off the Dallas Cowboys' practice squad, though he was declared inactive for each of those five games. He originally entered the NFL as an undrafted rookie with the Kansas City Chiefs in 2012 after rookie camp tryouts in Pittsburgh and Buffalo. He spent his rookie season on injured reserve for the Chiefs and then went to training camp with the Cowboys last summer. At Monmouth, he rewrote most of the school's passing records and was named the Midwest Conference Offensive Player of the Year three times. Tanney's 157 touchdown passes at Monmouth are an all-time all-division NCAA career record.
Brate (6-5, 249) participated in the Minnesota Vikings' rookie mini-camp last weekend. He played three seasons at Harvard and racked up 91 receptions for 1,381 yards and 18 touchdowns in just games. Brate won second-team All-Ivy League honors in 2011 then moved up to the first-team squad in 2012. He proved capable of the big play, averaging 15.2 yards per catch during his collegiate career and scoring at least five touchdowns in each of his three seasons.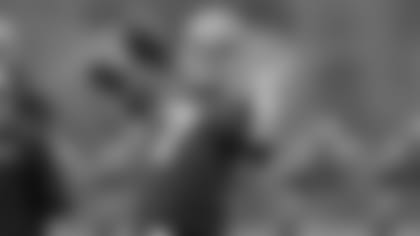 QB Alex Tanney, a record-setting passer at Monmouth, split last season between Dallas and Cleveland
The 6-4, 212-pound Payton was Buccaneer quarterback Mike Glennon's favorite target during Glennon's senior season at N.C. State in 2012. Payton led the Wolfpack with a career-best 51 catches for 798 yards and two touchdowns in 2012; his catch total was cut roughly in half in 2013 but he averaged a sparkling 20.9 yards per grab and scored three more touchdowns. Overall, Payton finished his Wolfpack career with 85 catches for 1,422 yards and five scores.
Thompson (6-4, 234) comes to Tampa after trying out in the Houston Texans' rookie camp. He played three seasons at Louisiana-Lafayette and recorded 36 catches for 284 yards. After replacing San Diego Chargers draft pick Ladarius Green in the Ragin' Cajuns' offense in 2012, Thompson put up a career-best 16 catches for 119 yards.
Hunter, Schum and Smith all joined the Buccaneers this offseason, the first two as reserve/future signings in early January and the last as an undrafted free agent a little over a week ago. Schum and Smith both took part in Tampa Bay's rookie mini-camp this past weekend.