STORY HIGHLIGHTS
Former USF safety Mark Joyce is the latest addition to the camp roster, signing on Monday
Joyce takes the spot opened by the waiver/injury settlement of WR David Gettis
The Bucs have been relatively quiet with the roster since camp opened

Mark Joyce had to wait a little bit longer than expected for his first NFL opportunity, but he didn't have to go far to get it.
Joyce, a Florida native and a former standout safety at the University of South Florida, was signed by the Tampa Bay Buccaneers on Monday, roughly midway through the team's training camp. An undrafted rookie, Joyce had not previously signed with any NFL team, though he did participate in the Buccaneers' rookie mini-camp in May on a tryout basis.
To make room for Joyce on the 90-man camp roster, the team waived wide receiver David Gettis with an injury settlement. Gettis had signed with the Buccaneers in June after a strong performance of his own during a tryout, this one as part of the team's mandatory mini-camp. Gettis spent his first four NFL seasons with the Carolina Panthers, though he appeared in just two games from 2011-13 due to an unfortunate string of injuries.
Joyce (6-1, 200) played four seasons at USF, appearing in 47 games with 22 starts. He was a starter for his final two campaigns with the Bulls, opening 21 of the 22 games in which he played and recording 117 tackles and two interceptions during that span. Overall, he finished his USF career with 181 stops, five tackles for loss, three interceptions, six passes defensed and two forced fumbles.
Joyce hails from Deland, on Florida's east coast, and as a prep senior he helped lead Deland High School to the Class 6A state title game. He crossed the state to launch his college career and with his USF teammates played his home games at Raymond James Stadium, home of the Buccaneers.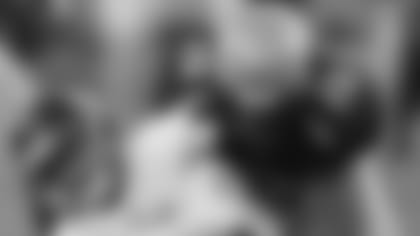 At the University of South Florida, S Mark Joyce played his home games in the same stadium the Buccaneers call home
Roster turnover is quite common during training camp, but the Bucs have been relatively quiet on that front so far.  Joyce is just the fourth player to be added to the roster since camp practices began on July 25; cornerback Anthony Gaitor and defensive tackle Jibreel Black were signed one week ago and cornerback was added two days after that.