New Dolphins GM Dennis Hickey leaves the Buccaneers after 18 years of valued service in the player personnel department
Hickey served as Tampa Bay's director of player personnel for hte past three seasons
Gerald McCoy and Darrelle Revis contribute to Pro Bowl


On Sunday, the Miami Dolphins named Dennis Hickey their new general manager. That exciting new chapter in Hickey's NFL career also closes a long and successful one with another Florida team, the Tampa Bay Buccaneers.
Hickey, who first joined the Buccaneers as a pro personnel assistant in 1996, spent nearly two decades helping the Buccaneers' player personnel efforts. During that time, he progressed through such positions as college scout, director of college scouting and director of player personnel. He held that final position during his final three years with the Buccaneers.
Buccaneers Co-Chairman Bryan Glazer believes Hickey's new team will benefit from his well-earned NFL expertise.
"Dennis was a valued member of our football operations for 18 years and he will provide the Dolphins with a wealth of football knowledge and experience. During his time here, Dennis provided steady leadership and direction for our college scouting and draft preparation efforts. We appreciate his years of service and wish him and the Dolphins continued success," said Glazer.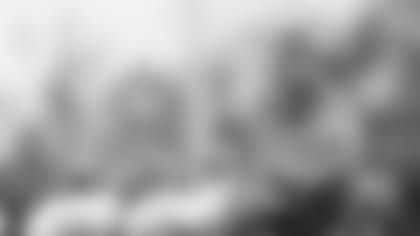 Dennis Hickey helped the Buccaneers produce four division titles and the Super Bowl XXXVII championship.
Hickey, who played collegiately at Tulsa, spent two years as a coach at Blinn Junior College, but his move to Tampa marked his entry into the NFL.  His tenure with the Buccaneers included the 2002 season that culminated in Tampa Bay's victory over Oakland in Super Bowl XXXVII and four campaigns that ended in division titles.  In his final post as the team's director of player personnel, he was responsible for coordinating a staff of scouts and managing the compilation of information on college players in preparation for the NFL Draft.
In one respect, at least, Gerald McCoy and Darrelle Revis were on the right side of the 2014 Pro Bowl.
Mike Tolbert's two-point conversion run with 41 seconds left gave Team Rice a 22-21 victory over Team Sanders in the experimental new version of the NFL's beleaguered all-star game, which pitted two "unconferenced" groups of players chosen by Hall of Fame captains Jerry Rice and Deion Sanders. McCoy and Revis, the Tampa Bay Buccaneers' two representatives in the Pro Bowl, saw victory slip away in the final minute as fellow members of Team Sanders, but they also contributed heavily to what was a dramatic departure from recent games in Honolulu.
Prior to the NFL and NFLPA's joint decision to mix up the Pro Bowl format by doing away with conference divisions, dividing the players in a made-for-TV draft and tweaking the in-game rules, the game had been under increasingly heavy criticism. The effort of the players was criticized, especially on defense and at the line of scrimmage, and the games' combined scores routinely approached or surpassed 100 points.
Not so on Sunday night, when the two teams combined for nine quarterback sacks but only 43 points, the lowest game total in eight years. It was McCoy, in fact, who set the tone at the line of scrimmage by sacking New Orleans Saints quarterback Drew Brees on the second play of the game. McCoy finished the game with a team-high two sacks and teamed with Houston defensive end J.J. Watt to give Team Sanders and often-stifling pass rush.
That pressure up front helped Revis and his fellow Pro Bowl defensive backs produce tighter coverage downfield, which in turn led to six total interceptions (four by Team Sanders) and a whopping 16 passes defensed.  None of the picks ended up in Revis' hands, but a key one on the final play of the opening quarter started with his tight coverage. With Team Sanders up, 7-0, Revis cut in front of the Arizona Cardinals' Larry Fitzgerald on a quick slant at the goal line, tipping away the pass and causing a deflection that was intercepted by the Kansas City Chiefs' Eric Berry.
Berry returned the favor on the same play, lateraling the ball back to Revis during the return. Revis was stopped a little before midfield, but the players were making an effort to take it the distance because the new Pro Bowl rules called for a change of possession at the beginning of every quarter.
McCoy's second sack also came at an opportune time. With the score tied, 14-14, midway through the fourth quarter, the Buccaneer defender shot past his blocker on third-and-10 from the Sanders' 31-yard line and sacked Kansas City quarterback Alex Smith. The play not only killed the touchdown threat but also forced New England kicker Stephen Gostkowski to make his field goal attempt from 53 yards out. Gostkowski's kick drifted left and clanged off the upright, keeping the score tied.
Team Sanders got the ball near midfield after the miss and promptly drove 57 yards for what looked like it would be the game-winning score, especially after Smith was intercepted with 2:29 left. However, Team Rice got the ball back one more time and managed a quick touchdown drive, with Dallas running back DeMarco Murray turning a short pass into a 20-yard score. There was little doubt Team Rice would go for two – even in an improved Pro Bowl, nobody wants overtime – and Carolina's jumbo fullback pounded straight up the middle for the winning points.
Team Sanders could get only as far as the Rice 49 in the final 40 seconds, and Justin Tucker's valiant effort on a 67-yard field goal came up short. But the fact that the game was in doubt right up to its final seconds certainly marked an improvement over recent Pro Bowls. A good part of that improvement was the serious effort put forward by such defensive stars as Gerald McCoy and Darrelle Revis.