STORY HIGHLIGHTS
Alterraun Verner took part in individual-position drills Sunday and hopes to gradually ramp up his activity
S Dashon Goldson was held out of the preseason opener, as planned, but will make his 2014 debut on Saturday night
The Buccaneers released rookie S Mark Joyce, a former USF standout, on Sunday

Alterraun Verner's target is September 7.
That's the day the Tampa Bay Buccaneers open the regular season against the Carolina Panthers, and it's the one game for which Verner is determined to be ready. The Pro Bowl cornerback in his first year with the Buccaneers may very well play in all or some of the team's three remaining preseason games, but he will definitely not do so if it endangers his chances of hitting that 9/7 target.
"We're going to take it day by day, and every day they're going to re-evaluate me in the morning to see if I'm sore from the previous day," said Verner. "So tomorrow we'll look at what I did today and how I'm progressing and we're going to take it from there. There's no real time-table; we're always just gearing for that season opener but I'd definitely like to get back sooner.
"The concern is always for the regular season; that's the one that counts. But you always want to do something in the preseason, especially because this is a new environment, a new team for me, a new scheme. So you definitely want to get some taste of it but it's not going to be at the expense of being detrimental for the regular season. That's going to be the main thing, for all of us to be healthy going into that."
Verner took part in the individual-position drills ("indies") on Sunday but still did not join in the full-team work. That could follow soon if his morning check-ups go well. It's probably a long shot for him to play against Miami on Sunday but certainly the third preseason outing, in Buffalo on August 23, is a reasonable hope. In the meantime, Verner is getting all the "mental reps" he can and, not insignificantly, watching some pretty good football from the players who are getting more work in his absence.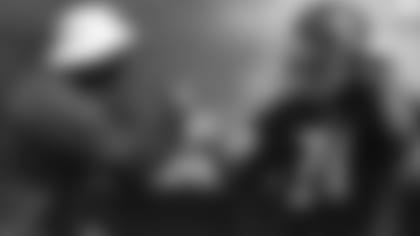 CB Alterraun Verner will be re-evaluated each morning as he eases his way back into full practice activity
"I kind of like everything that everybody has been doing," he said. "Johnthan Banks has actually been standing out a lot to me. Regardless of if I was hurt or not hurt, he probably was still going to be out there playing and I've been impressed just by how coachable he is and everything he's doing now. Rashaan Melvin has been playing really well, very coachable as well. Danny Gorrer and Anthony Gaitor are just always making plays out there. Each person has been doing a little something-something to me that's been very impressive to me and I think they're all taking advantage of the opportunity to take more reps."
Safety Dashon Goldson was also back on the practice field on Sunday after being held out of Friday's opener in Jacksonville. The team is merely following a prescribed and cautious plan to help Goldson return from offseason foot surgery without experiencing any setbacks. However, Head Coach Lovie Smith said on Sunday that his starting free safety will play on Saturday against Miami.
"I'm feeling good," he said. "I think our athletic trainer has been doing a good job. Coach has been taking it easy on me early on in training camp, getting me back feeling right and right now I think I'm feeling really good."
Major Wright, the former Bear who rejoined Smith as a free agent this past spring, got the start on Friday and played well, as did the starting defense as a whole. Echoing Verner, Goldson emphasized the fact that his own light training camp schedule has been good news for Wright and some of the other secondary hopefuls on the depth chart.
"Due to the guys that are banged up, I think the guys have been stepping up big time," said Goldson. "We've got a lot of young guys doing a lot of things for us, especially in the game. It's preseason, it's for a lot of guys to show what they got or what they can bring to the table. I think the young guys stepped up, they played well. They still have to iron out a couple of things and I think we're on a good track right now."
Though Verner sat out the full-team sessions on Sunday, the rest of the Buccaneers' presumptive starting defensive lineup was on the field. That included the rather imposing safety duo of Goldson and 2012 first-round pick Mark Barron. Smith is eager to see those two in action on Saturday.
"You expect great play from them; [I'm] very pleased with both," said Smith. "Mark Barron, of course, has gotten a lot of reps and has played the pass well, the run well. Just a good football player. Dashon Goldson, of course coming back off an injury, but he'll play this week. The plan was to hold him out the first preseason game. Very pleased with his demeanor on the sidelines this past week. We had another coach on the sideline, really into the game. He's going to bring energy and of course great play. So we're pretty excited about that tandem. We need to be strong down the middle of the field. We ask our safeties to do a lot – in the run game and of course in the passing game."
Goldson's health may have had something to do with the Bucs' lone roster move of Sunday afternoon: The release of rookie safety Mark Joyce.
Joyce had joined the Buccaneers last Monday and he briefly saw action in Friday's game in Jacksonville, but the team let him go before the final week of training camp. Joyce was one of two former University of South Florida players added to the roster last week; defensive end Ryne Giddins was signed on Tuesday and was still on the practice field Sunday.
With Goldson less limited, the Buccaneers can still run three pairs of safeties throughout practice, even without Joyce in the mix. After Barron and Goldson, the Bucs follow with Major Wright and Keith Tandy and then Bradley McDougald and Kelcie McCray, all of whom have drawn praise from Coach Smith at various points during training camp.