STORY HIGHLIGHTS
LB Lavonte David will miss a game for the first time in his NFL career, but Alterraun Verner and Doug Martin return to action
The Bucs' hottest player on offense, rookie WR Mike Evans, has a chance to build on an incredible month of November
First-year DE Jacquies Smith has been promoted to the starting lineup, taking over at left defensive end

First-year defensive end Jacquies Smith had one of the most resonant quotes of the week as the Tampa Bay Buccaneers prepared for their Week 12 game against the Chicago Bears. "Everybody has a story in this league," said Smith. "It doesn't really matter how you got here, it's what you do when you get here when you're given the opportunity."
Smith, who joined the Buccaneers as a waiver-wire claim in September after bouncing around with the Dolphins, Jets and Bills, has made the most of his chances in recent weeks, racking up three sacks in the last three games. Now he's getting another opportunity: Smith has been elevated to the starting lineup and will line up at left defensive end against the Bears, providing the bookend to right end Michael Johnson.
"He came in and has earned everything he's gotten," said Head Coach Lovie Smith. "He's taken advantage – it's always about taking advantage of the opportunities you get and he's done that. He's kind of worked himself all the way up, and this will be his first start [at left end]. He'll start opposite Michael Johnson this week."
Grasping at an unexpected opportunity is what the Smith and Smith's Buccaneers are all about as the 2014 season enters its stretch run. Tampa Bay is just 2-8 on the year…and yet just two games out of first place in the downtrodden NFC South. The Bucs got their second win of the year in Week 11 at Washington and are trying to remain a relevant part of the division race with a second straight victory in Chicago. The victory over Washington was the game the Buccaneers had been looking to play all season, with a fast start, a strong finish, a good pass-rush and a rush of takeaways on defense.
"It's kind of the starting spot, as much as anything," said Lovie Smith. "We have so much improvement we still need to make. It's good to have some success, but when you watch the video you see there's so much more we can do. We had a good week of practice. Those guys went back to work and really got better."
Tampa Bay's defense racked up six sacks – two of them by Jacquies Smith – and forced three turnovers against Washington, while also severely limiting the big plays downfield in the passing game. That will be a more significant challenge against the Bears given the presence of wide receivers Brandon Marshall and Alshon Jeffery, but the Buccaneers will have another asset on their side this week. Starting left cornerback Alterraun Verner is returning after missing two games with a hamstring strain.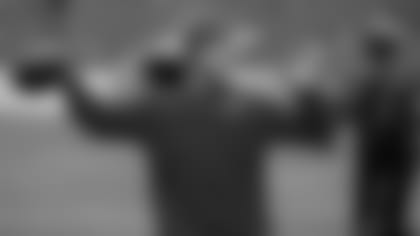 QB Josh McCown hopes to take advantage of one of the NFL's hottest receivers in November
"We're going against a great offensive attack with great skill at the two wide receiver positions, the tight end position, so we'll need that pressure again," said Smith. "It's about that pressure and of course it's about the pass coverage part, too. Getting Alterraun Verner back should help a lot."
On the other hand, that defense will also be without one of its most important players, as All-Pro LB Lavonte David has a sore hamstring that will keep him out of game action for the first time in his three-year career. Danny Lansanah, who earlier this year won a promotion to the starting strongside spot, will now slide over into an even more important role on the weak side – and in the nickel package – while Orie Lemon will take the strongside snaps.
The Bucs' offense also has a returning asset, as running back Doug Martin will play after missing three weeks with an ankle injury. That should give the team a strong rotation in the offensive backfield as Bobby Rainey has had several good outings this year and rookie Charles Sims has shown promise the last two weeks since returning from the injured reserve list.
"It helps us a lot when we can get a player like Doug Martin back into the mix," said Smith. "He'll start for us today. He had an excellent week of practice and he should give the running back position a boost."
The Bucs got just 48 yards from its rushing attack against Washington but did show a good balance between the run and the pass in their play calling. That's a blueprint the team wants to continue to follow, but with more actual success on the ground. Forcing the Chicago defense to respect the rushing attack would help draw attention away from the Bucs' emerging star on offense, rookie wide receiver Mike Evans. Evans has a league-high 458 receiving yards and five touchdowns since the start of November. Obviously, the Bucs want to ride that hot hand without forcing it.
"We've seen him developing and getting out of that rookie year and becoming a veteran that you can count on," said Smith. "You start that with what you do on the practice field. He's really had excellent practices. He's learning the position, and we're talking about all the little fine details. His blocking gets better each week and his arrow is definitely pointed up."
David is the only Buccaneer who will miss Sunday's game due to injury. He is one of the team's seven inactives; the other six are WR Robert Herron, RB Mike James, CB Crezdon Butler, CB C.J. Wilson, T Kevin Pamphile and DE Da'Quan Bowers.
Chicago named these seven players inactive: CB Terrance Mitchell, LB Khaseem Greene, LB Darryl Sharpton, G/T Eben Britton, T Jordan Mills, DE Trevor Scott and WR Chris Williams. Sharpton, Britton, Mills, Scott and Williams were out due to injury. With Mills sidelined, the Bears will start fifth-year veteran Brian de la Puente at right tackle. De la Puente started 27 games over the last three seasons while playing for the New Orleans Saints.
The Buccaneers take on the Bears in Week 12 of the 2014 season on Sunday afternoon, with kickoff scheduled for 1:00 p.m. ET at Soldier Field in Chicago, Illinois. The game will be broadcast on television by FOX and on radio through the Buccaneers Radio Network and its flagship station, US 103.5 FM. That radio broadcast will also be carried live on Buccaneers.com.