STORY HIGHLIGHTS
Oniel Cousins will make his first start as a Buc, replacing injured left tackle Anthony Collins
The Bucs will rely on Bobby Rainey to handle the running game with Doug Martin sidelined
Tampa Bay's defense is determined to force more turnovers

The Tampa Bay Buccaneers' defense, which had been giving up some surprisingly big numbers before the bye week break, kept a lot of those numbers down last Sunday against Minnesota. Now there's one statistic they need to push in the other direction: Turnovers.
Lovie Smith has a strong track record of building outstanding defenses as a coordinator and head coach, and those units have always been particularly good at taking the ball away. So far, the 2014 Buccaneers have not discovered that part of the formula, forcing just 10 through the first seven games. Even one takeaway very likely would have made the difference against the Vikings; for instance, CB Johnthan Banks nearly had an interception on the final drive of regulation, which eventually ended in a Minnesota field goal that forced a short and disastrous overtime period.
"There were definitely improvements [in the defense]," said Smith on Sunday of Week Nine, as his team prepared to take on the Browns in Cleveland. "You just look at the score. You hold an opponent to 13 points, that's normally a pretty good deal. But we're not there yet. Our guys to a man will tell you that's not good defense to us. Good defense is doing that and getting takeaways, too, to try to help our offense out."
Bucking that trend could be a particularly tough task in Week Nine, however. The Browns are sitting on a 4-3 record and one of the main facets of their success has been avoiding big mistakes. Cleveland runs the ball on nearly 50% of its snaps, and when it has thrown QB Bobby Hoyer has suffered only two interceptions. Conversely, the Browns' defense has the NFL's interceptions leader in safety Tashaun Gipson as well as several other proven turnover-producers.
"On the offensive side, they have a commitment to the run," said Smith of Sunday's opponents. "The quarterback is playing good football. They've got good, quick receivers. I think their All-Pro tight end [Jordan Cameron] is not playing today; that should hurt them a little bit. On the other side, the former Gator, Joe Haden, is a great football player. They get good pressure from a 3-4 alignment up front. They will be a big challenge for our group."
The Buccaneers' defense will have a bit of a new look as it tries to get the takeaway train started. Following Tuesday's trade of S Mark Barron to the St. Louis Rams, veteran Major Wright steps in as a new starter and young prospect Bradley McDougald falls in line to get more playing time.
"We've liked our safety play from some of the backup positions; that's what allows you to make a move like that," said Smith. "Major Wright has stepped up and played pretty consistent ball throughout when he's gotten an opportunity. He will get more opportunities; he will start today with Dashon Goldson. And Bradley McDougald, we like his potential. Keith Tandy has been injured; he'll be active today, also."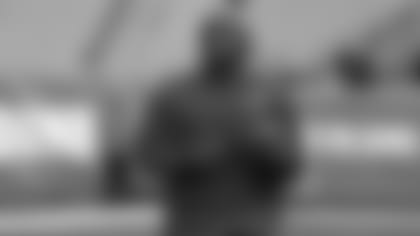 RB Bobby Rainey will carry the load in Week Nine with Doug Martin sidelined by an ankle injury
Tampa Bay's offense was forced to make a few changes this week, as well, thanks to foot and ankle injuries suffered, respectively, by left tackle Anthony Collins and running back Doug Martin. Oniel Cousins, a 2014 free agent acquisition from the Browns, will step in at left tackle, marking the first time since 2007 that the Bucs have needed an injury replacement at that critical position. And Bobby Rainey will make his third start of the season in place of Martin. It looks as if the Bucs will lean heavily on Rainey, as rookie RB Charles Sims, just activated from the injured reserve list, has been declared inactive for the game.
"That [running back] depth has been good," said Smith. "Doug is a quality guy that can do both [catch and run]. Bobby Rainey is in the same situation. Last week in a fourth-and-short situation we put Mike James in there; Mike plays on special teams too. Bobby Rainey is a punt returner. So you can use all those guys in different ways."
The Bucs hope that a competent rushing attack can put QB Mike Glennon in a better position to make use of his receivers, including rapidly rising rookie Mike Evans. The 2014 first-rounder had perhaps his best game as a pro so far against Minnesota, and he even impressed his coach on the game's final play, a game-winning fumble return by Vikings LB Anthony Barr in overtime. Evans didn't get Barr, but he didn't give up after the Viking defender recovered Austin Seferian-Jenkins' fumble.
"As I talk about our team getting better, Mike has a lot to do with that," said Smith. "He will be a force in this league but it's tough when you are dealing with injuries. But he's healthy now, he's making plays. Last couple games he's really come up with big plays, all the way up to the last play of the game, once he had to go from offense to defense, giving one of the best efforts in the game to try to get that guy down there at the end."
Smith expects his entire team to show that sort of effort and resolve on Sunday against the Browns.
"Our guys were anxious to get back on the field, losing a tough one," he said. "The week has gone about how you wanted it to. We have a couple injuries we're dealing with, and that's always the case, but behind the scenes we continue to get better. Eventually, that has to lead to wins."
In addition to Collins, Martin and Sims, the Buccaneers also deactivated LB Brandon Magee, G Kadeem Edwards and CB Brandon Dixon. Collins, Martin and Magee were out due to injury. The Buccaneers carried only 52 players into the game and thus had to name only six inactives instead of the usual seven.
The Browns will be without starting tight end Jordan Cameron, who is inactive. Cleveland's other six inactives are WR Rodney Smith, DB Pierre Desir, RB Glenn Winston, DB Robert Nelson, OL Vinston Painter and DL Phil Taylor.
The Buccaneers take on the Browns in Week Nine of the 2014 season on Sunday afternoon, with kickoff scheduled for 1:00 p.m. ET at FirstEnergy Stadium in Cleveland. The game will be broadcast on television by FOX and on radio through the Buccaneers Radio Network and its flagship station, US 103.5 FM. That radio broadcast will also be carried live on Buccaneers.com.
Get familiar with the key players on the Browns before the Buccaneers face off with Cleveland on Sunday.