X Marks the Spotlight: Mike Evans Wide receiver Mike Evans invited military families to One Buc for a special practice during OTAs. The group included Gold Star families – those who have lost an immediate family member while they were serving active duty throughout each major branch of the military. There were spouses and kids of all ages that got to interact with Evans and his receiver group as they took everyone through some fun, non-contact football drills. "Today we brought out military families, Gold Star families to participate in some football drills and they got to see practice," Evans said. "I got them some food trucks: burgers, wings, ice cream. The kids loved it and I just want to make an impact. I went through a similar situation, obviously my dad wasn't in the military but I know what it's like to lose a parent and I just want to be an inspiration to them and I just wanted to make them happy and put a smile on their face." What made it even more special was the spontaneous participation of the entire team. Each child received a football to grab any autographs they could once practice was over. What ended up happening next brought tears to some parents' eyes. The children lined up with their footballs and every member of the team waited in the line to sign each football so each child walked away with a ball signed by the entire team. The players shook hands and offered hugs and pictures to the parents, as well as some words of encouragement to the kids. Evans even addressed the group to talk about losing a parent himself and what that experience has been like for him.
Rookies Stop, Drop and Bowl with Tampa Fire Rescue The Buccaneers' Rookie Academy participated in their annual bowling tournament with the Tampa Fire Rescue 'rookies' last week. Each Bucs' rookie was paired with a member of the Tampa Fire Rescue who is in training and they all went head-to-head for some fun at Pinchasers Lanes in Tampa. A true camaraderie was built between the two groups, having more in common than they probably thought. Each group is going through a rigorous training regimen for their respective professions, so it was nice to take some time out for some fun. "Train, train, train, just like the rookies for the Bucs," fireman Eric Floyd said of the firemen's schedule. "A lot of studying, a lot training. We have fun in between, but end of the day, it's about safety and protecting the community." **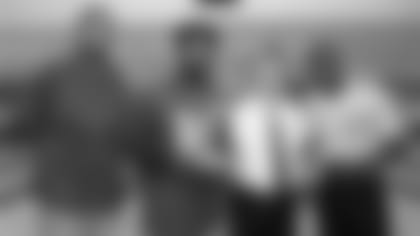 The victorious team was Floyd and his partner, rookie cornerback M.J. Stewart. If you've been following these rookie events, you'll also know that Stewart won the cooking competition a few weeks ago with the best dish. He's a man of many talents, including on the field, and has just wrapped up his first NFL offseason program where he has become more comfortable already.*"I'm a lot more comfortable with the defense," Stewart said. "I'm understanding the ins and outs of everything, so I can go out there and play with a little swag." As far as his bowling skills go, according to Floyd, it was teamwork that made them victorious. The frames were limited due to time constraints but the pair managed scores of over 300 combined as they moved up the brackets, eventually taking home the trophy. "The first game I was a little rusty he helped me out. Final game I brought it home for him, total team effort," said Floyd. *Rookie running back Ronald Jones II may not have been the best bowler, but he definitely had the best celebrations, ending up on Good Morning Football for his antics.
* Other highlights included rookie safety Godwin Igwebuike squeaking past rookie linebacker Jack Cichy and his partner by one point to get into the finals as a solo participant. Igwebuike go another partner for the finals and ended up right behind Stewart and Floyd. The day then concluded with some pizza and an awards ceremony before the two groups went right back to work. Rookies Get Down to Business with Pewter Partners To cap off 'Professionalism Week' in the Rookie Academy, Buccaneers' rookies participated in a networking event with Buccaneers' partners for a networking series. Each rookie was paired up with a business professional and had the opportunity to ask questions, both fun and business-oriented, based on their interests. It is also the start of a mentorship program, where certain rookies will be selected to follow up with partners and even do some job shadowing in the business world. It's all part of an effort on behalf of the Rookie Academy to prepare the newest members of the NFL not only for football, but for life. What's on Deck *6/23 Cops and Cleats – Youth Football Clinic and 7-on-7 Tournament at One Buc Place