On November 16, 1980, Doug Williams threw for 486 yards and four touchdowns against the Minnesota Vikings. It would be 39 years and 22 days before another Tampa Bay Buccaneers quarterback would record four touchdown passes and at least 450 passing yards in a single game. The next gap between such performances was much shorter.
Jameis Winston was the passer who joined Williams in that exclusive club, as he threw for a career-high 456 yards and tossed four touchdown passes in the Buccaneers' win over Indianapolis in Week 14 of the 2019 season. His career high didn't last long, as in Week 15 Winston racked up 458 yards through the air and connected on four touchdown passes in Tampa Bay's win at Detroit. That didn't just make Buccaneers history; it broke new ground in the 100-year journey of the National Football League.
Specifically, Jameis Winston is the first player in league annals to throw for 450 yards and four touchdowns in two consecutive games. It's not surprising that such a feat has never been accomplished before, given that only four other quarterbacks have ever had two such games in their entire careers. Only future first-ballot Hall-of-Famer Peyton Manning has done it more than twice.
Most Games with 450+ Passing Yards, 4 Touchdown Passes, Career, NFL History
·    Peyton Manning, Indianapolis/Denver: 3
·    Jameis Winston, Tampa Bay: 2
·    Drew Brees, New Orleans: 2
·    Tommy Kramer, Minnesota: 2
·    Dan Marino, Miami: 2
While Winston was filling the Ford Field atmosphere with perfectly placed deep balls Sunday, outside linebacker Shaquil Barrett was helping make things difficult on the Lions' passer, rookie David Blough. Barrett had the first of the Buccaneers' two sacks of Blough, which gave him 16.5 sacks on the season, which is a very significant number, one he has been chasing throughout a magical first season in Tampa. To wit:
Most Sacks, Single Season, Buccaneers History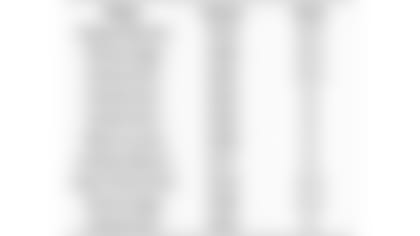 Winston and Barrett have been two of the driving forces for the Buccaneers as they have completely turned their season around in the second half of the 2019 campaign. The Bucs reached the midway point with a 2-6 record but have won five of their last six, including the most recent four in a row, to get back to .500 at 7-7 with two games to go. Winston has an NFL-high 2,166 passing yards in that span and has thrown 14 touchdown, second only to Lamar Jackson's 21. Barrett has 6.0 sacks in that same span, tied for second in the NFL and just a half-sack behind the 6.5 put up by Oakland's Maxx Crosby. Here's more on the 2019 accomplishments of both Winston and Barrett.
Winston's four touchdown passes in Detroit gave him 30 on the season, which are second in the NFL this season to Jackson's 33. That's also a new franchise single-season record, breaking his own mark set three years ago.
Most Touchdown Passes, Single Season, Buccaneers History
·    Jameis Winston, 2019: 30
·    Jameis Winston, 2016: 28
·    Josh Freeman, 2012: 27
·    Brad Johnson, 2003: 26
·    Josh Freeman, 2010: 25
Winston already owned the Buccaneers' single-season passing yardage record before Sunday's game but his big day in Detroit allowed him to surge past the Cowboys' Dak Prescott for the top spot in the NFL in 2019. No Buccaneer has ever led the NFL in passing yards in a full season.
Most Passing Yards, NFL, 2019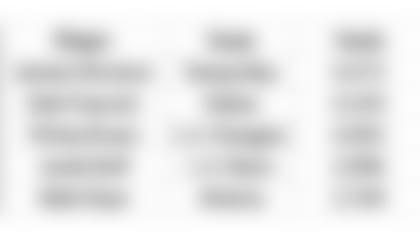 Winston's career high in passing yards was also the third-highest single-game total in franchise history, after the aforementioned 486-yard outing by Williams against the Vikings on Nov. 16, 1980 and a 469-yard day by Vinny Testaverde at Indianapolis on Oct. 16, 1988. Those 458 yards also allowed Winston to vault up two more spots on a list full of impressive names: He now has the third-most passing yards through a player's first five seasons in league history.
Most Passing Yards, Players' First Five Seasons, NFL History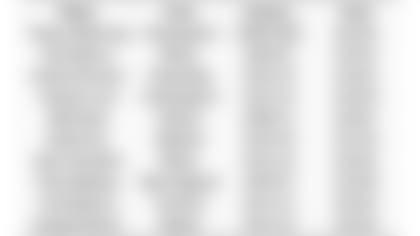 up 221 yards in that period alone. That's the third-highest passing yardage total in a first quarter by any quarterback in the NFL in the past 40 years. The only higher marks were 247 by Indianapolis' Peyton Manning on Sept. 26, 2004 and 229 by Buffalo's Jim Kelly on Dec. 2, 1990. By halftime, Winston had 308 yards, which is the second-most passing yards in any given half for a Buccaneer passer since 1991 (through which such data is readily available), and the most in a first half. It's the second straight week that Winston has had more than 275 yards by halftime.
Most Passing Yards, Single Half, Buccaneers History (Since 1991)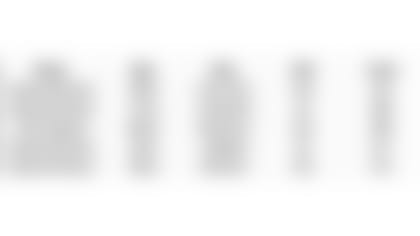 After Sunday's game in Detroit, Head Coach Bruce Arians was asked about Barrett's accomplishments and the fact that he could hit free agency again in March, having played through a one-year contract he signed with the Buccaneers last offseason. Said Arians:
"He ain't going anywhere."
One place it appears that Barrett could be going is the top of the NFL's leaderboard in sacks. He's there at the moment, and if he can hold on to the top spot he would be the first Buccaneer ever to lead the NFL in sacks in a single season.
Barrett also recorded two quarterback hits in Sunday's game, helping him to remain tied for the NFL lead in that category, as well. QB hit statistics are available through the 2006 season, and in that span Barrett's 31 are the most any Buccaneer has had in a single season.
Most Quarterback Hits, NFL, 2019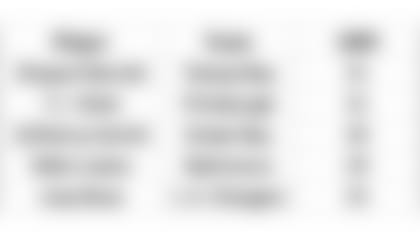 Barrett has had at least half a sack in 11 of the Buccaneers' 14 games this season, including 1.0 or more in each contest in the team's current four-game winning streak. With two games still to go, Barrett has already tied for the most games in which to have a hand in a sack in a single season in franchise annals.
Most Games with 0.5 or More Sacks, Single Season, Buccaneers History
·    Shaquil Barrett, 2019: 11
·    Simeon Rice, 2005: 11
·    Warren Sapp, 2000: 11
·    Jason Pierre-Paul, 2018: 10
Chris Godwin entered Sunday's game with 1,212 receiving yards, which at the time was the eighth-highest single-season total in Buccaneers history. Godwin left the game in the third quarter with a hamstring injury, but not before he added another 121 yards to his total. That bumped him up five spots on that single-season list.
Most Receiving Yards, Single Season, Buccaneers History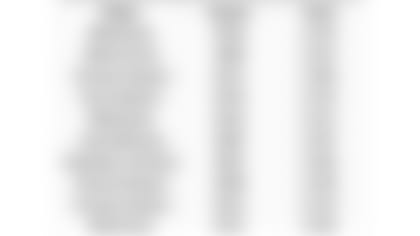 Arians noted on several occasions during the 2019 offseason that he thought Godwin could be a 100-catch receiver in his offense. The hamstring injury may prevent that from happening, but even if he doesn't play in the final two games Godwin will finish with a receptions total that ties for third-most in team history.
Most Receptions, Single Season, Buccaneers History
·    Keyshawn Johnson, 2001: 106
·    Mike Evans, 2016: 96
·    Chris Godwin, 2019: 86
·    Mark Carrier, 1989: 86
·    Mike Evans, 2018: 86
Godwin led the Buccaneers with those 121 receiving yards on Sunday but Breshad Perriman was close behind with a career-high 113. Perriman also had the first multiple-touchdown outing of his NFL career, hauling in scoring passes of 34, 25 and 25 yards. Perriman is just the fourth player in Bucs history to have at least three touchdown catches in a single game.
Most Touchdown Receptions, Single Game, Buccaneers History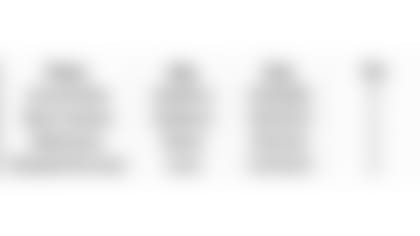 Perriman is the first Buccaneer to have three touchdown catches of 25 or more yards in a single game, and the first player in the NFL to do so in exactly six years. The most recent such performance before Perriman was by Kansas City running back Jamaal Charles, who had touchdown receptions of 71, 49 and 39 yards against Oakland on Dec. 15, 2013. (Charles also threw in a 16-yard touchdown catch and a one-yard touchdown run for good measure).
- Rookie CB Sean Murphy-Bunting scored his first career touchdown on a 70-yard pick-six in the fourth quarter of Sunday's win in Detroit. That was Tampa Bay's fifth defensive touchdown of the year, which ties the franchise's single-season record. The 1981, 2000 and 2002 teams all scored five defensive touchdowns as well.
- Rookie K Matt Gay converted all five of his extra point attempts and hit one of two field goals (with a 54-yard try hitting the left upright) for a total of eight points. That gives him 114 points on the season, the most a Buccaneers rookie has ever scored.
- Rookie CB Jamel Dean broke up two passes in Detroit and second-year CB Carlton Davis broke up another. Those two remain in the top 10 in that category in the NFL this season. Davis is tied with Tennessee S Logan Ryan for the league lead with 18 while Dean has 16 and is tied for fifth.
- The Buccaneers' victory in Detroit allowed them to finish with a 5-3 record on the road in 2019. It was also the 14th win in Detroit in franchise history. That's the most road wins Tampa Bay has against any opponent.
- LB Lavonte David forced a fumble by Lions RB Ty Johnson in the fourth quarter, which was the 20th forced fumble of his career. David's 20 forced fumbles since 2012, his rookie season, are tied for the sixth-most in the NFL in that span. All of the players tied with or ahead of David on that list (Chandler Jones, Robert Quinn, Von Miller, J.J. Watt, Ryan Kerrigan and Khalil Mack) are edge-rushers with 60 or more sacks in that span.