STORY HIGHLIGHTS
LB Lavonte David will be a game-day decision for the second week in a row, but he was encouraged by Friday's work
With three tight ends listed as questionable, the Bucs may have to turn to some recently-added players
DT Clinton McDonald (hamstring) and C Evan Dietrich-Smith (illness) were held out again on Friday

Last Sunday at Soldier Field, Tampa Bay Buccaneers linebacker Lavonte David watched from the sideline as his team took on the Chicago Bears. That was not an enjoyable experience for David, nor a particularly familiar one.
On Friday, as the Buccaneers finished up their week of practice in preparation for Sunday's home game against Cincinnati, David revealed that he had last missed a game due to injury back in high school in Miami. It was his ankle giving him trouble at the time and, had powerful Northwestern High not been playing an overmatched opponent, the coaches might have let him tough it out.
This time around it's a hamstring, which is usually a trickier injury, and the Buccaneers do not have the luxury of a 'gimme' on the schedule (those are virtually non-existent in the NFL). In fact, the Bengals bring a 7-3-1 record to town, and the game is a critical one for both teams in their respective division races. None of that will matter if the Buccaneers' medical staff doesn't clear David to return to action, but he clearly wants to play, and he was encouraged with his limited participation in practice on Friday.
"I'm feeling good and I feel real confident about Sunday," said the All-Pro linebacker. "We're just working right now and when Sunday gets here we'll see how it goes and we'll see what the verdict is."
Buccaneers Head Coach Lovie Smith makes a point of being cautious with hamstring injuries, hoping to avoid turning a missed game or two into a season-long battle. As such, David's confidence on Friday will have to backed up by a convincing pregame workout on Sunday in order for him to gain clearance. Still, Friday's showing at One Buc, after David had missed more than a week of practice and the Chicago game, was definitely encouraging.
"Best outside linebacker in ball out there running around, getting closer to being full speed – that's a good thing," said Smith. "Hamstrings, you have to be careful with them, though. You can feel a lot better and you stop having pain, but you're not quite there yet. Lavonte is close and that is definitely a big boost for our defense."
David was one of 10 players listed on the Bucs' official injury report on Friday, and seven of those were considered questionable. However, Smith is still holding out hope that he will have a full complement of 53 players from which to choose his active 46 on Sunday.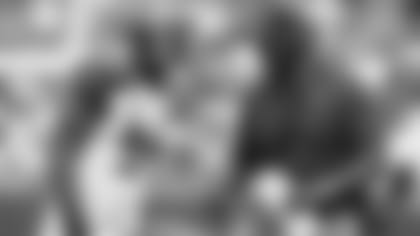 LB Lavonte David missed his first game in three years as a pro last Sunday and doesn't want to make it two in a row
"[We have a] few more guys than we would like on the injury list this time, but hopefully by game time we'll be able to choose from all of them," he said. "Everybody is kind of up right now. We will truly have game-time decisions."
Among those decisions will be a trio of tight ends – in fact, all of the tight ends the Buccaneers had on the roster as of the last game. Brandon Myers (calf), Austin Seferian-Jenkins (back) and Luke Stocker (concussion) are all questionable for the game and only Seferian-Jenkins practiced this week, getting in limited work on all three days. Because that leaves the tight end situation so uncertain, the team promoted Cameron Brate from the practice squad and signed free agent D.J. Williams to bolster the position.
Williams, who previously played for Green Bay, New England and Jacksonville, is obviously trying to absorb the Bucs' system as quickly as possible but Brate, an undrafted rookie out of Harvard, could be in position to help out immediately if any of the incumbent tight ends are out Sunday.
"Cameron Brate, we've seen a lot from him," said Smith. "There's a reason why we've had him on our practice squad the entire time – has good hands, smart guy, good speed. He's young still, but we like a lot of things about him. And that's what you have guys on the practice [squad] for. Hopefully we'll be able to choose from all of them, but tight end is a position traditionally that it's just tough to have everybody throughout the course of a year. You need guys ready to go."
Starting defensive tackle Clinton McDonald did not practice all week due to a hamstring injury. Starting center Evan Dietrich-Smith has been dealing with flu-like symptoms all week and also was held out. Those two are considered questionable while starting safety Dashon Goldson, who also fell ill on Friday, is listed as probable. The best news on the Bucs' injury report was that defensive end Da'Quan Bowers and safety Major Wright, limited earlier in the week due to knee and shoulder injuries, respectively, returned to full participation on Friday.
Cincinnati has ruled out starting weakside linebacker Vontaze Burfict, who will miss his fifth straight game after undergoing arthroscopic knee surgery in late October. Cincinnati's full injury report is here.