STORY HIGHLIGHTS
DE Adrian Clayborn will miss the rest of the season due to a biceps injury
The Bucs re-signed DE Scott Solomon to take Clayborn's spot in the D-Line rotation
Clayborn had a combined 12.5 sacks on 2011 and 2013, during which he played all 16 games

Adrian Clayborn's season is over and the Tampa Bay Buccaneers' defensive line depth has taken a significant hit.
The injury bug has bitten the Buccaneers early in 2014, as Clayborn, the team's starting left defensive end, is headed to injured reserve due to a biceps injury. It's a particularly tough turn of events for Clayborn, the team's first-round pick in 2011 who also missed most of the 2012 campaign due to an early-season knee injury.
The Buccaneers' quickly filled Clayborn's spot on the roster by re-signing defensive end Scott Solomon. The team had waived Solomon earlier in the week while claiming defensive end Jacquies Smith off waivers from Buffalo.
In the long term, the Buccaneers will likely try to make up for Clayborn's absence with more work from second-year end Will Gholston and fourth-year player Da'Quan Bowers. Gholston, in fact, was the Bucs' starting left end for the last two games of the 2013 season, while Clayborn was lining up on the right side.
Things could be a little more complicated in the short term, because the man who replaced Clayborn at right end, free agent signee Michael Johnson, has yet to practice this week due to an ankle injury. It's possible that the Buccaneers will be without both players who started at defensive end in the season opener, which would put more pressure on such reserves as Solomon,
Smith, Bowers, Gholston and Larry English.
Clayborn participated in practice on a limited basis on Wednesday and Thursday, which suggests that he was trying hard to work through his latest injury. After a very promising 7.5-sack season as a rookie in 2011 – the Bucs picked him 20th overall out of the University of Iowa – Clayborn went down three games into his sophomore campaign with a knee injury. He returned last year to start all 16 games and contribute 5.5 sacks. It's safe to say that the Buccaneers considered Clayborn to be an important part of their efforts to rejuvenate the pass rush in 2014.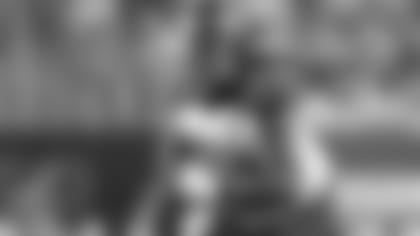 DE Adrian Clayborn had 5.5 sacks last season while starting all 16 games
Solomon initially made the Bucs' 53-man roster out of training camp, thanks in part to a two-sack preseason. He played a large number of snaps in the season opener after Johnson was slowed by his ankle injury.