Throughout the month of May, the Buccaneers have been welcoming new rookies both on and OFF the field.  The Buccaneers have teamed up with Florida Hospital to welcome all newborns, born at any Florida Hospital in the Greater Tampa Bay area into the "Bucs Babies" program, a new club created for the tiniest Buccaneers fans. Florida Hospital newborns will be "rookies" in the inaugural launch of the program.
"We are thrilled to partner with Florida Hospitals to implement this creative program in the Tampa Bay community," said Buccaneers Chief Operating Officer Brian Ford. "You are never too young to be a fan, and we are excited to welcome the newest generation of Bucs Babies and their parents to the Buccaneer family."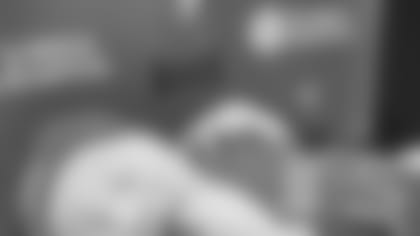 Families will receive an official Tampa Bay Buccaneers baby "uniform", a signed photo by Coach Lovie Smith and a chance for one lucky family to win a VIP Buccaneers Prize Pack to include 4 Club Tickets, VIP Sideline passes and pirate ship passes to one home game.  The Buccaneers Partners & Sponsors also came together to support the program in a big way with "training camp" gear for the families, all delivered to the supporting hospitals by PODS.  The wellness items included diapers, wipes, creams and coupons courtesy of Walgreens, a bib from Verizon Fios Quantum, coupons from Dominos, product samples from Pepperidge Farm and a free subscription and contest offer courtesy of the Tampa Tribune.  Florida Hospital will also host an exclusive birthday party on the Buccaneers pirate ship inside Raymond James Stadium every spring to celebrate Bucs Babies.
"Florida Hospital is committed to creating a healthier community. We are excited to partner with the Tampa Bay Buccaneers on a number of health initiatives throughout the year. So it's only appropriate to kick off the season by drafting all newborns and their families into the Bucs Babies program and presenting them with an official Bucs baby uniform along with health and wellness items," said Mike Schultz, President and CEO of the Florida Hospital West Florida Region. Florida Hospital and the Tampa Bay Buccaneers joined forces September of 2013, by announcing a partnership focused on improving the health and wellness of the Tampa Bay community. Florida Hospital, which operates 23 hospitals across the state, is the exclusive hospital of the Tampa Bay Buccaneers. 
The Bucs Babies program will be offered at the following hospitals: Florida Hospital Tampa, Florida Hospital Wesley Chapel, Florida Hospital Zephyrhills, Florida Hospital North Pinellas and Florida Hospital Carrollwood. The program will last the entire month of May.