STORY HIGHLIGHTS
LB Mason Foster was a full participant in practice on Wednesday, creating hope he'll be able to play against Baltimore
WR Vincent Jackson (rib) was one of five Buccaneers who did not take part in the first practice of the week
The Bucs brought WR Eric Page back, signing him to the 10-man practice squad

When the Tampa Bay Buccaneers left the field after scoring the game-winning touchdown in Pittsburgh on September 28, linebacker Mason Foster gave leaping chest bumps to several of his offensive teammates in celebration. On Wednesday, Foster took the practice field at One Buccaneer Place intending to seek out some more contact with Tampa Bay's offensive players, but with perhaps a little more malice in his heart this time.
Foster doesn't want to hurt his teammates, of course, and practice etiquette won't even allow him to make any real tackles. But he did head into practice hoping to get in a few hits, all for the purpose of testing out his rapidly-healing shoulder.
Foster hasn't played since hurting his shoulder against the St. Louis Rams in Week Two. He returned to practice in a limited fashion last week but was still held out on Sunday in New Orleans. He is expected to take another step forward in his recovery this week, and that just might lead to him getting his helmet back on Sunday.
The issue was far from decided on Sunday, but Foster started the practice week believing he had a shot at playing against the Baltimore Ravens this weekend.
"Yeah, definitely…just keep working," he said. "I feel a lot better and we'll see how this week goes. Each week you try to do more and more to see how far you can push it without setting yourself back. [There was] no setback last week.
"It's going good. I'm just doing everything they tell me and I feel a lot better, so we'll see where it goes from here. You hate missing out on anything but you've got to be safe. I believe in everything we do here, and we've got great trainers so I'm going to keep going along with the plan."
For Foster to be cleared to play, he and the team's training staff will have to believe that he has regained enough range of motion in the shoulder to be effective. This week's practices will provide the answer, and let Foster know if he's ready for the joint to take the pounding of a 60-minute game against a physical team like the Ravens.
"That's the biggest thing, getting it back to playing form," he said. "It feels good walking around and everything, but you've got to test it out. You've got to tackle somebody. It's looking good, I'm feeling good."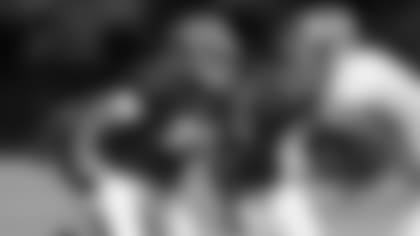 LB Mason Foster has missed three games since suffering a shoulder injury against St. Louis in Week Two
Dane Fletcher, the former New England Patriot who was one of the Bucs' signees during an aggressive run through free agency last March, has started the last three games in Foster's place. Meanwhile, Danny Lansanah has taken over for Jonathan Casillas at strongside linebacker, and in the New Orleans game he also joined weakside starter Lavonte David in the nickel package. The Buccaneers have certainly missed Foster, but when he returns they may find they've formed a very promising trio in David, Foster and Lansanah.
"He's a great linebacker," said Foster of Lansanah. "I always thought he was good since he got here. He makes a lot of plays. He's getting an opportunity to really show it now and people are starting to see it. He can play football, flat-out."
The Buccaneers were pleased with the way Foster was playing football before his injury and are very eager to have him back on the field, hopefully as soon as this Sunday.
"Mason Foster was a full participant today," said Head Coach Lovie Smith after practice. "With his shoulder, in order to do that, yes, we felt pretty good about that. He was able to do everything today and of course that's a good sign. Whenever you can get your MIKE linebacker out there – you miss your MIKE linebacker. It's like your quarterback, you miss your quarterback, the defensive player shave been hearing him. Mason really knows the defense. Communication has been a problem for us a little bit."
In addition to the return of Foster, wide receiver Mike Evans and defensive end Larry English were back in the mix after neither practiced last week.
Evans and English were both limited, but Smith said they were able to do "most" of the work. That's certainly an encouraging step for the rookie receiver, who started the Bucs' first four games but pulled up with a groin injury early in the second half at Pittsburgh in Week Four.
Louis Murphy took over for Evans in that game and then started last Sunday's contest in New Orleans, and in that combined game-and-a-half produced six catches for 134 yards and a touchdown. Evans was tied for the team's receptions lead after the first three games, so his return would seem to give the team a very productive trio in Murphy, Evans and veteran starter Vincent Jackson.
Of course, Jackson was one of five Buccaneers who did not practice on Wednesday as he deals with a rib injury. Strong safety Dashon Goldson was also out after missing all of last week with an ankle injury suffered in Pittsburgh. Starting cornerback Johnthan Banks was a new addition to the injury report and he did not practice either due to a neck ailment. Linebacker Jonathan Casillas (hamstring) and quarterback Josh McCown (thumb) rounded out the injury report.
The Buccaneers' practice squad was tweaked once again at the start of a new week of field work, but this time only one of the 10 spots was switched out. The team released rookie tight end Taylor Sloat and used the space to bring back wide receiver Eric Page.
Page spent all of the 2013 season on the Buccaneers' active roster, serving as the primary punt and kickoff return man. He had four catches for 68 yards and two runs for 14 yards, but his primary contribution was on special teams. Page averaged 10.9 yards on 23 punt returns and 24.9 yards on 22 kickoff returns, ranking 10th in the NFL in both categories.
Page went back to training camp with the Buccaneers this summer under the team's new coaching staff, but he was waived on August 25, during the first round of cuts. He subsequently attended a tryout with the Chicago Bears but has not played with another team in the interim. Sloat spent just one week on the Buccaneers' practice squad, signing last Wednesday after previously taking part in the team's rookie mini-camp in May on a tryout contract.