STORY HIGHLIGHTS
Vincent and Lindsey Jackson introduced the first book in their Danny Dogtags series on Friday at the Youth in Action camp
The camp and the book are designed to help children in military families cope with the unique challenges of that life
The first Danny Dogtags book focuses on dealing with the deployment of military parents overseas

Tampa Bay Buccaneers wide receiver Vincent Jackson is all too familiar with the challenges of growing up in a military family. On Friday, Jackson shared those experiences with Bay Area children walking in his footsteps and launched an innovative book series to help them cope with the sacrifices their families make to serve their country.
The Jackson In Action 83 Foundation hosted the second annual "Youth in Action" Camp for nearly 80 children, ages six to 12, who are members of military families. Hosted at One Buccaneer Place, the free one-day camp included games and activities on the practice fields, lunch in the team dining room and encouraging words from Pro Bowl wide receiver Vincent Jackson about the challenges of growing up in a military household.
"I've known it firsthand, with my dad being gone for a few months, and it's very hard for a young kid to understand exactly why that has to happen, and especially to understand the danger they are in," said Jackson. "It's tough to do, so we try to bring some positivity to it and get these kids continuing to have positive role models around them, give them support, and mentor them to do great things when their parents may be deployed so the family structure stays intact."
At the beginning of Friday's camp, the foundation also announced the publication of a children's book co-authored by Jackson and his wife, Lindsey, a former elementary school teacher. The book was produced in partnership with the Tampa Bay Buccaneers and published by Mascot Books. The first in a planned series of three books designed to help military families discuss issues surrounding the deployment of a parent, the book's main character is a child named Danny Dogtags. The book, titled "Danny Dogtags: Dealing with Deployment," follows Danny as he learns his father is being deployed and tries to understand how to cope with the news. Danny meets a friend from the Buccaneers who surprises him with a trip to a game at Raymond James Stadium.
"This is a wonderful opportunity for our military men and women," said Tech Sergeant Christopher Breen, a parent of one of the camp participants. "For the Tampa Bay Bucs to give back to their children while they're deployed, I think it's just great that the Bucs organization takes time to pay tribute to the men and women who serve this country."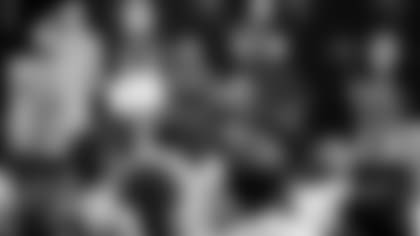 Lindsey and Vincent Jackson read the first Danny Dogtags book to the Youth in Action campers on Friday
Vincent and Lindsey read the book to the "Youth in Action" campers, who each received their own copy. "Danny Dogtags: Dealing with Deployment" is available for purchase through the official team store at Shop.Buccaneers.com and also at local major book retailers. All proceeds from the book sales benefit the Jackson In Action 83 Foundation, which supports military families who serve both at home and abroad.
About Vincent Jackson and the Jackson In Action 83 Foundation
Born in Fort Polk, LA, Vincent Jackson – a self-proclaimed "military brat" – is the son of two parents with a combined 25 years of active-duty service in the United States Army. Jackson learned the significance of hard work and self-discipline throughout his adolescence, which included time spent during his parents' service in Phoenix, AZ; Gräfenberg, Germany; and Colorado Springs, CO. Those experiences taught Jackson lifelong lessons of perseverance and sacrifice, and as a professional athlete, he is committed to making a difference in the lives of those whose path he's walked.
Now entering his 10th NFL season, Jackson has dedicated his community outreach to supporting military families and children who spend significant time away from their parents. Active in giving back through both Buccaneers events and personal initiatives, Jackson – a true product of his upbringing – is passionate about raising community awareness on the challenges that exist for developing healthy relationships between deployed U.S. service members and their children. On Veterans Day in 2012, he officially launched the Jackson In Action 83 Foundation to support military families, with a focus on the educational, emotional and physical health of the families' children. The foundation's commitment to youth health and wellness has been showcased through a variety of initiatives, including the "Youth in Action" Camp; the Danny Dogtags children's book series; and the "Jackson in Action" Front Row Fans section at Raymond James Stadium, which provides a special gameday experience for dozens of local military families at every Buccaneers home game.
Named the Buccaneers' 2013 Man of the Year for excellence both on the field and in the community, the wide receiver tackled youth education last season through his Foundation's "Salute to Reading" program, an incentive-based initiative geared towards third, fourth and fifth-grade classes in schools comprised significantly of children of MacDill Air Force Base (Tampa, FL) personnel. Throughout the fall, Jackson invited the program's top achievers to One Buccaneer Place for a special tour of the team's training facility led by Jackson as a reward for their efforts, and in the spring of 2014, Jackson hosted a celebratory event for the students who achieved the highest reading marks out of the participating classes.
While Jackson is a frequent visitor at MacDill Air Force Base to greet active duty servicemen and servicewomen, the wide receiver's military appreciation efforts also include visiting Pearl Harbor and greeting World War II survivors, hosting a large military group outing to a Tampa Bay Lightning game, and helping to coordinate surprise reunions between military families and loved ones serving overseas. Jackson's unending commitment to rally the community and show support for those who serve others remains unwavering, and he continues to serve as an inspiration to the children and families enduring the challenges of a military lifestyle, a daily test the Pro Bowler credits for his own physical, mental, and emotional health.