STORY HIGHLIGHTS
FB Jorvorskie Lane will move to injured reserve following a right leg injury sustained Sunday in Chicago
Lane played in nine games and started four this season, rushing three times for 58 yards
Coupled with some injuries at the TE position, Lane's misfortune leaves the Bucs light on lead blockers

Jorvorskie Lane's first season as a Tampa Bay Buccaneer has come to an early end.
On Monday, the Buccaneers placed Lane on injured reserve as the result of a right leg injury he suffered during Sunday's game in Chicago. Lane was hurt while rushing for two yards in the second quarter and had to be taken off the field on a cart. Replays at the time appeared to show that the injury was serious, and guard Logan Mankins quickly motioned for the team's training staff to come tend to his teammate.
"I was just cutting back and the defensive end and our tight end just fell on my leg," Lane recounted, indicating that he never felt much pain. "It's nothing you can control; it's just one of those things. My pain tolerance is [high]. I didn't even know it, really. I looked down at it and I just laid back down, and Logan told them, 'Come get him.' So I didn't really know."
In the locker room at One Buccaneer Place on Monday, Lane said he would have reparative surgery on his leg "ASAP," and he was not yet aware of the expected recovery time would be.
"I'm just going to do my operation and come back healthy for next year," he said. "I'm ready to get it done so I can get in the healing process and look forward to next year. That's where I'm at with it."
Lane was the only fullback on the Buccaneers' 53-man roster and his mishap coupled with various injuries during the game to tight ends Brandon Myers, Austin Seferian-Jenkins and Luke Stocker hampered the team's rushing attack. Stocker, in particular, has been used frequently as a lead blocker in the running game when Lane has previously been unavailable.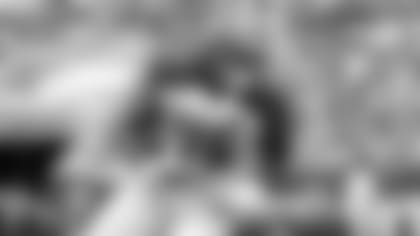 FB Jorvorskie Lane, a rugged lead blocker, was hurt on his third carry of the season Sunday in Chicago
The Buccaneers did not immediately fill the open spot on their roster but it's clear that Head Coach Lovie Smith expects the loss of his lone fullback to be a hurdle the team will have to overcome.
"I don't want to start giving you a whole lot of reasons why we weren't able to run the football, but yes, that hurt us yesterday with our tight end situation," said Smith. "All three of our tight ends went down for periods of time and we lost our fullback. So it's hard to have a true running attack that we envisioned coming into the game. But you need to be able to adjust. Hopefully we'll get some of our tight ends back this week.
"We have one fullback on our roster and he's done some good things. Jorvorskie Lane, [losing him] did hurt a lot. We'll kind of see a little bit later on. As I mentioned, the tight ends too. You put that fullback and tight end position together and we normally play about four, using them in different roles, and that affects your offense quite a bit."
Lane played in nine games this season and started four, contributing 58 yards on three carries as well as one three-yard catch. His 54-yard ramble in the season-opener against Carolina – on essentially the same play-call as the one on which he was hurt in Chicago – remains the team's longest rushing play of the year.