On a day that will surely see some high-profile players on the move around the NFL, the Tampa Bay Buccaneers took some time to finish up a little pre-free agency roster work in the hours before the market opened its doors.
On Tuesday afternoon, the Buccaneers announced that they have signed cornerback Deveron Carr and wide receiver Eric Page to one-year contract extensions. As was the case when the team re-signed running back Bobby Rainey last week, the new deals for Carr and Page essentially take the place of the one-year tender offers they would have received as exclusive rights free agents (ERFAs).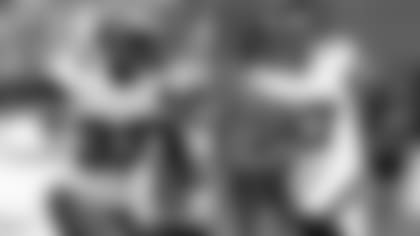 CB Deveron Carr (left) played in nine games as a rookie in 2013 while WR Eric Page handled most of the Bucs' return duties
The Buccaneers also announced the release of kicker Lawrence Tynes on Tuesday.
Carr and Page would have hit that limited form of free agency at 4:00 p.m. ET on Tuesday, the start of the new league year and the opening bell for unrestricted free agents (UFAs) to begin shopping their talents. Unlike those UFAs, ERFAs can negotiate only with their original teams, which means Carr and Page were almost certain to return to the Buccaneers as long as the team chose to extend the minimum salary tenders. Extending their 2013 contracts by one year accomplishes the same thing without the need for those tender offers.
Carr joined the Buccaneers as an undrafted free agent out of Arizona State last spring. After recording two tackles and two passes defensed during the preseason, he started the regular season on Tampa Bay's practice squad but was promoted to the 53-man roster one week later. Carr eventually saw action in nine games, primarily on special teams.
Page signed with the Buccaneers last April after first entering the league as an undrafted free agent with the Denver Broncos. He played collegiately at Toledo. Page was the Buccaneers' primary return man during the 2013 season, averaging 10.9 yards per runback on punts and 24.9 yards per attempt on kickoffs. He appeared in all 16 games and also contributed four catches for 68 yards and one tackle on special teams.