STORY HIGHLIGHTS
With draft depth at offensive line, should the Bucs focus on receiver or a potential trade in Round One?
How will the depth chart eventually shake out at running back behind Doug Martin/
Is the Buccaneers' early three-game road swing a trouble spot on the newly-released schedule?

Each week, Senior Writer/Editor Scott Smith will dip into the inbox to answer questions from  Buccaneer fans.  This week, Smith fields questions on draft options, the running back competition and schedule oddities.
Fans can submit questions for upcoming mailbags via Twitter to @ScottSBucs (#BucsMailbag), through a message on the Buccaneers Official Facebook Page or via email at **tbbsocial@buccaneers.nfl.com*.  The One Buc Mailbag runs every Thursday and is not necessarily meant to reflect the opinions of the team's management or coaching staff.*
It seems like there are several decent quality Linemen in the draft so later rounds would make more sense. I think Sammy Watkins would be a gift , for the potential excitement he would bring, also drawing some attention away from V- Jax. If he is gone by the time the Bucs pick they should trade down and acquire some more picks.
- Shelly D., via e-mail to tbbsocial@buccaneers.nfl.com
Well, I don't really see a question in there, Shelly, but since you emailed this to me I assume you're looking for my reaction/feedback.  So here goes.
Look, I've admitted before that I don't watch hours of game tape on draft prospects, and that's true of a lot of the analysts you read.  So I can't really tell you definitively, based on my own opinion, who the best lower tier linemen are.  I can say this, however: When I spoke to Lovie Smith at the Combine back in February, he specifically noted, without me prompting him, that the offensive line group seemed quite deep.  This was on the first day of workouts, and only the linemen and some kickers and tight ends had been on the field to that point, so it's natural that position would be on his mind.  Still, he saw depth, so I would take that as confirmation of your first point.
That said, let's clarify what you mean by "later rounds."  For instance, it seems likely that the Buccaneers could target a different position with pick #7 (Wide receiver? Quarterback? Pass-rusher?) and still get a very good guard prospect at pick #38 near the top of the second round.  The Bucs have done this before to good effect, with Cosey Coleman in 2000 and, if you want to go back much farther, Greg Roberts in 1979.  Even Arron Sears, a second-rounder in 2007, looked like he was going to be a very good player before his life and career were interrupted by personal issues.
If the second round doesn't count as "later," then maybe the third, where the Bucs have hit in the past on the likes of Jeremy Zuttah and Frank Middleton.  Because of the overall depth of this year's class – not just along the line – I've got to believe some quality interior linemen will still be available at that point.  Perhaps a Trai Turner of LSU or a Chris Watt of Notre Dame (both 6-3, 310-pound guards) will be available at pick #69; in this year's class, this could be second-round talent available a round later because of the 100 or so talented underclassmen who declared for the draft.
That said, I'm of the opinion that it's hard to find franchise tackles outside of the first round.  It happens, of course, and the Bucs know that having just finished a very nice seven-year run with Donald Penn, an undrafted free agent plucked off a competitor's practice squad, at left tackle.  I just don't think it's something you can count on happening.  It's the exception, not the rule.  Here are last year's Pro Bowl tackles, with the round each one was drafted in following in parentheses: Branden Albert (1st), Duane Brown (1), Jordan Gross (1), Jason Peters (undrafted), Tyron Smith (1), Joe Staley (1), Joe Thomas (1), Trent Williams (1).  Many of those guys were not just first-rounders but top 10 picks.
My point here is, if Jason Licht and Lovie Smith believe now is the time to draft a top-notch tackle that will be an OL anchor around here for years – a Paul Gruber or Davin Joseph – then I think they have to target that position in the first round.  Whether or not that is the plan, I'm of the opinion that it's time to at least devote some decent draft resources to the offensive line.  The Bucs have not drafted a single offensive linemen since 2009, and they haven't used a pick higher than a third since 2007.
I agree wholeheartedly with your next point.  Sammy Watkins falling to #7 would indeed be a gift, and not one I think is coming down the chimney.  Even if every team ahead of the Bucs decides that they need something more than a receiver, I have to believe that another team would trade up to get Watkins (and that doesn't have to exclude the Buccaneers!).  I'm of the opinion that Watkins goes no lower than fourth and as high as second.
Are you sure you want to trade back if Watkins is unavailable, though?  The draft cognoscenti seems pretty darn high on Texas A&M wide receiver Mike Evans, too.  I've even read some opinion of late that the Bucs might have to trade up if they want to land Evans.  I'm not sure I'm buying that argument, however.  I think if even one team drafts a quarterback before the Bucs that Evans will last to #7.  Otherwise one of Jadeveon Clowney, Khalil Mack, Sammy Watkins, Greg Robinson and Jake Matthews will have slipped out of the top six.  And that's not even considering the possibility that two or more QBs will go in the top six, or that one team won't make a move to make sure it gets the top corner (Justin Gilbert, it seems) or top defensive tackle (Aaron Donald).
Now, the trade-down option does look rather attractive on paper, and Licht has made it clear the team will consider such offers.  The question is, will such offers arrive?  The problem with a really deep draft class is that it encourages teams to stay put and make use of that depth without giving up later picks.  What you need is for a team to fall in love with a very specific player, and the most likely option in that regard – at least for the Buccaneers at #7 – is a quarterback.  If Johnny Manziel or Blake Bortles is available at that spot and the Bucs have decided against grabbing their QB of the future, this could be a prime trade-down position.
When you start discussing all these different options, you begin to see what Derrick Brooks meant when he said in our most recent Pewter Panel that he thought the Buccaneers were in a very good position in this draft.  Say what you want about specific players that have been rumored to be the team's target at #7 – Manziel in particular seems to be a very polarizing figure – there are an awful lot of very intriguing possibilities.  You may have your personal favorite, but the possibilities appear to include a game-changing receiver, a quarterback of the future, a franchise left tackle, one of this year's two premier pass-rushers or a trade that nets additional picks in a very deep class.  I may prefer one or two of those scenarios over the other, but I could get on board with any of them.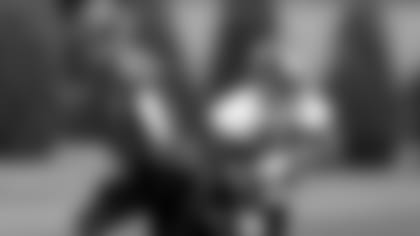 Doug Martin will take the lead in the Bucs' running attack again this year, but he'll have plenty of help
The story on Buccaneers.com about the running backs says a lot about Doug Martin and Bobby Rainey but doesn't say much about Mike James (from The U!).  I know Doug is still the number one guy, but has Rainey passed James on the depth chart. I think Mike James could be great if he is given the chance. Go Bucs! (And Canes!)
- Paul R., via email to tbbsocial@buccaneers.nfl.com
So, you might be a University of Miami fan, huh? The hints are subtle, but I'm picking something up there.  And excuse me if I'm a little out-of-sorts here, but this isn't a draft-related question.  I'm not sure I know what to do with those anymore.
I can answer your main question very directly, though: No, Mike James hasn't passed Bobby Rainey on the depth chart because there is no depth chart at this time of the year.  Now, I'm not being cute or evasive – I know that when you practice somebody has to take the first rep and somebody has to take the second and the third.  And somebody on the coaching staff has to decide what that order will be, which creates, if not a depth chart, at least an early pecking order.  At some spots, such as at quarterback, it becomes necessary to say, "Yes, this is the guy who is the starter to begin the competition."  At others, like the receiver spot opposite Vincent Jackson, it's safe to say, "Hey, that spot is wide open and we're going to be rotating a lot of players in with the first team during these practices."
So, yes, Lovie Smith has specifically said, on more than one occasion, that Doug Martin is the starter, although he intends to use all three of those backs (and that's not to discount the possibility that Jeff Demps or Michael Smith wins some kind of role).  It will be important, at some point, to determine if Mike James or Bobby Rainey is next in line because that player is likely to get a few more carries and targets than the man at #3 on the depth chart.  But there's a reason that teams don't release depth charts these days until they're absolutely forced to by the arrival of the first preseason game.  At a lot of spots, the hierarchy is very much a work in progress.  James and Rainey probably won't win or lose a spot during this week's mini-camp or the upcoming OTAs, but they will during training camp and the preseason.
As for the article you reference (I assume you mean this one), I think the main text is balanced but I agree that Coach Smith's quotes talk about Martin and Rainey but not James.  There's a really good reason for this, however: James isn't practicing this week.  While Martin got clearance two weeks ago in his return from a 2013 shoulder injury, James is not quite ready to get back on the field following his 2013 ankle injury.  He says he's very close and I expect you'll see him involved during the OTAs in May.  Smith was obviously commenting on the backs he's seen in action this week.  I'm with you, Paul – I think once Coach sees James in action, too, he's going to be very impressed.
This schedule, man…I don't know. What's with the three road games in a row right away? And I was really hoping we'd get a sunday or monday night game. What do you think?
- Geoff M., via email to tbbsocial@buccaneers.nfl.com
I obviously just got this email very recently, as the Bucs' 2014 schedule didn't drop until last night at 8:00 p.m.  As always, it was a lot to take in all at once, but obviously a couple elements of that schedule jumped right off the page for Geoff.
My initial reaction to the schedule was that it was…weird.  You've probably seen by now the note that this is the first time the Bucs have ever had two home games to open a season AND to close a season.  It's really not all that common to do either one of those things, but I never expected to see both of them in the same year.  It's nice to start at home, and the Bucs are going to really like those two games at Raymond James Stadium in late December if they're in the playoff hunt.  The flip side, of course, is that means they'll play eight of 12 away from home in the thick of the season.  The Bucs already knew they were going to play all 16 of these games at some point, so maybe the order doesn't matter much.  But it feels like it does, to me at least.
Those three straight road games?  Eh, that doesn't bother me too much.  They fall early in the year, where presumably the team will be dealing with less overall fatigue, and two of the three trips are pretty short.  One of those is the Thursday-nighter in Atlanta and let me tell you, if you have to play a night game on the road you have to love that it's so close to home.  That's about an hour-long flight from Atlanta, so it won't be the middle of the night when the Bucs get back to Tampa.  And, that gives the team several extra days on the schedule before they have to get ready to travel again to Pittsburgh.  Honestly, I don't see that stretch as being particularly grueling.  I'd say I'm a bit more concerned about playing four road games in a five-week stretch during what I hope is the thick of a playoff chase.
As for prime time, it looks like the Bucs will have to play themselves onto the national stage. There's that one game early against Atlanta, and after that it's 13 straight 1:00 kickoffs. For now, at least.  A few games will be flexed between Weeks Five and 10, and then more between Weeks 11-16.  That won't mean any Monday night dates for the Bucs, but it could result in a Sunday-nighter or two if Lovie Smith gets this team pointed in the right direction quickly.  I actually thought another prime-time game was a possibility even after that 4-12 season in 2013 due to the arrival of Lovie Smith and the promising roster turnover in free agency, but it was not to be.
There is one aspect of the schedule that does disappoint me, however.  I knew it was something of a long shot, but back in February I campaigned for a December Saturday game in Tampa.  My pleas fell on deaf ears, as those two Saturday games in Week 16 went to San Francisco (hosting San Diego) and Washington (hosting Philly).  I get it – San Francisco has a new stadium and several deep playoff runs on its recent resume and those NFC East intradivision battles always get a lot of love from the schedule-makers.  I'm not surprised, but I'm a little bummed.
Oh well, let's just roll of a 12-4 season under Coach Smith and see what those schedule-makers have to say in 2015!