STORY HIGHLIGHTS
Mike Glennon was the highest-rated rookie QB in the NFL in 2013 despite working with a cast depleted by injuries
A new coach and general manager will probably lead to significant roster turnover, which means likely activity in free agency
Good depth at wide receiver in the 2014 draft could impact the Bucs' decision-making in the second round

Each week, Senior Writer/Editor Scott Smith will dip into the inbox to answer questions from  Buccaneer fans.  This week, Smith addresses such topics as the decision at starting quarterback, the Bucs' approach to strengthening the depth chart and the possible targets early in the second round of the 2014 draft.
Fans can submit questions for upcoming mailbags via Twitter to @ScottSBucs (#BucsMailbag), through a message on the Buccaneers Official Facebook Page or via email at *tbbsocial@buccaneers.nfl.com. Following this introductory edition, the One Buc Mailbag will run every Thursday, beginning this week.*
Will Mike Glennon be starting quarterback this year?
- Sam Smith, via Facebook message
That's the question du jour, isn't it?  On one hand, I get why that is.  Glennon started 13 of 16 games last season and the Buccaneers finished 2013 with the 32nd-ranked passing attack in the NFL.  The quarterback is always going to get a larger share of the glory and of the blame than he deserves, but it comes with the territory. If you're the man at the helm of an ineffective offense, your job security is inevitably going to come under scrutiny.
On the other hand, however, I don't get it. Let me ask you this, Sam: Is there a similar debate going on right now in Buffalo? Doesn't seem that way; E.J. Manuel says that Bills Head Coach Doug Marrone has already told him he will be starting in 2014. How about the Jets' camp? Yes, there have been some rumblings about Geno Smith not being a lock for the job next fall, mostly because the team brought in a new G.M., John Idzik, and he gave a noncommittal answer to that question early on. Considering that it's the New York media we're talking about here, the din has been fairly low, however. The consensus seems to be that, while Smith had an up-and-down rookie season, he needs a shot to prove he's the man after a full offseason to develop his NFL game.
I'm sure you know what Manuel, Smith and Glennon have in common, Sam: They were the first three quarterbacks drafted last April, in that order. They were also the only three rookie passers who started the majority of their team's games in 2013. Of those three, Glennon finished with the best passer rating, at 83.9, topping Manuel's 77.7 and Smith's 66.5. For that matter, Glennon's passer rating was better than the ones posted by two established second-year starters, RGIII and Ryan Tannehill, not to mention such veterans as Ryan Fitzpatrick and Joe Flacco.
I am well aware that passer rating isn't the end-all be-all of quarterback evaluation.  It has its flaws.  And even within its own construct, it can mask some underlying issues.  Glennon's rating is pretty respectable, and that's largely due to his strong 19-9 TD-INT ratio and his reasonably good 59.4% completion rate.  But his yards per attempt was 6.27, lowest among qualifying passers.  That has to improve going forward for Glennon to have a solid career as a starting NFL quarterback.
My guess: He gets a chance to improve on that and other aspects of his game in 2014, just like Manuel and Smith do. Let's not forget that the Buccaneers' offense was plagued by injuries last year. The expected tight ends were wiped out early, running back Doug Martin was subtracted from the attack before midseason and guard Carl Nicks – who would have helped the rushing and passing games enormously – suited up for just two contests. When Mike Williams went down with a hamstring injury and expected slot receiver Kevin Ogletree failed to pan out, Glennon was left with the stellar Vincent Jackson and not much else in the way of established receivers.
Let's say the Buccaneers rectify a good portion of that by the start of next season. Mike Williams is back in the lineup and another receiver that has to be accounted for is in the mix in three-receiver sets. The front line is healthier and more effective. Shouldn't Glennon get a chance to work with this improved group, not to mention a brand new offensive scheme under new coordinator Jeff Tedford? I think so.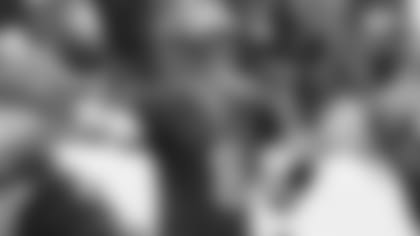 QB Mike Glennon started 13 games as a rookie in 2013 and threw 19 touchdown passes against nine interceptions
Of course, you didn't ask me if I thought Glennon should get the chance to start in 2014, did you Sam?  You asked if he would. Only Lovie Smith and Jason Licht can answer that question, and they are currently in the midst of a very thorough roster evaluation. But again, my gut feeling is that,in the end Smith and his coaching staff concentrate on using the available resources – especially high picks in the first two rounds of the draft – to strengthen the cast around their young quarterback and see what he can do in 2014.
Hi Scott,
I'd like to ask a question about our 2014 TB Bucs.  We have a lot of very good talent accumulated on the team in the past year.  Will the Bucs look to strengthen the 2014 squad by building on the talent that we already have or by making some trades and find younger talent via the draft? Thank you and Go Bucs!
- Mark House, via tbbsocial@buccaneers.nfl.com
I think your view on the Bucs' roster is widely shared, Mark.  This 2014 lineup projection on Pro Football Focus, for instance, includes a phrase I've seen a lot since last year's 4-12 finish: "a team with more talent than its record would suggest."
It wasn't enough talent, though. There were contributing factors to the Buccaneers' unexpected slide last year that went beyond the depth chart; subtract a couple bad breaks and bizarre distractions, and this might have been a .500 team. Of course, nobody's trying to build a .500 team, so the new Smith/Licht regime will certainly be looking to upgrade some positions.
That said, I don't think the two choices in your question are mutually exclusive. Yes, I think the team will look to build on the existing talent – Gerald McCoy, Lavonte David, Darrelle Revis, Mark Barron, Adrian Clayborn, Dashon Goldson and Johnthan Banks sure seems like a nice starting point on defense, especially – but that's kind of obvious, isn't it? Will they do so by "making some trades and find[ing] younger talent via the draft?" Maybe and yes.
I'm not going to go too far out on a limb in predicting any trades. Other than draft-weekend swaps, those remain relatively rare in the NFL. The Buccaneers' former G.M., Mark Dominik, used the trade option more than many of his peers – Revis being the most recent example – but we don't know yet if Licht will favor that option or not.
The Bucs will certainly be looking to the draft as the main source of core talent, not just this year but every year. Licht was adamant about that in his introductory comments and in the first interview he conducted with us on Buccaneers.com. That's the stated approach of most teams, of course, but it has only become more important since the new rookie salary cap was put in place in 2011. Teams have to find their foundation in the draft if they want to keep their salary cap under control and still field a winning team.
Free agency? I'm sure of it. Remember that the Buccaneers have only five picks heading into this year's draft. Those could end up being five important players, but the team will have more turnover than that in 2014. That happens pretty much every time a new coaching staff arrives; good players are good players, but there will necessarily be differences in what Lovie Smith and Greg Schiano are looking for to fit their schemes. Add to that the fact there are currently 19 players from the 2013 Bucs team set to become unrestricted free agents on March 11, and you're certain to see some significant roster reshaping. Yes, I expect the Bucs to re-sign some of the players on that list, but some of them will certainly leave.
Licht emphasized that the Buccaneers will be looking for "value" on the free agent market. To me, that says we're not likely to see the team involved in that first rush of big contracts, such as it was in recent years with Carl Nicks, Vincent Jackson and Dashon Goldson. (Also another reason why I think Glennon remains the top quarterback on the depth chart this summer.) Rather, I think you'll see the available cap resources put toward a series of midlevel moves, with the aim of, as you say Mark, building on the talent that is already in place.
You guys reference mock drafts a lot, but most of them only cover the first round.  If a lot of those mock drafts are right and the Bucs use their first pick on someone to help the pass rush, what would you like to see them do with their SECOND round pick?  Personally, I think we need a tight end to help out the passing game.
Gene R., via tbbsocial@buccaneers.nfl.com
Well, there are some analysts out there who publish two or three-round mock drafts.  That's an impressive amount of work, and certainly entertaining (which, to me, is all that mock drafts really are – entertainment), but those picks have very little chance of being on the mark.  Most first-round mocks only get a small handful of their predictions right.
And you know what, any guesses I make here have just about the same chance of being correct. In a word, slim. But, hey, why not?
Sticking to your scenario that the first-round brought a pass-rusher, I'm going to go in another direction. I know it's not unheard-of for the Bucs to hit the same position with their first two picks (DTs Gerald McCoy and Brian Price in 2010; DEs Adrian Clayborn and Da'Quan Bowers in 2011; even, in a way, CBs Darrelle Revis and Johnthan Banks in 2013), but in this case I see the offense getting some prime help before it's too late. After this second round pick – which is sixth in the round and #38 overall, by the way – the Bucs won't pick again until the fourth. Let's address some areas of need on offense at this point.
In that respect, you're on to something, Gene. I would agree that a dynamic, two-way tight end would be a nice addition. However, I think there's a good chance the Buccaneers look to address that spot either through free agency or by developing a player already on the roster. To me, the hot spots to address on offense are guard and wide receiver.
On paper, the Bucs have a strong pair of starting guards in Davin Joseph and Carl Nicks, both of whom have been to multiple Pro Bowls, but injuries have been a problem there for years and both will be at least 29 when next season starts. It might be time to start thinking about the future at that spot, and high in the second round is a great place to target an interior linemen. With a few exceptions here and there, interior offensive linemen generally don't go in the top half of the first round – the tackles get all the love there – so the best ones remain available late in Day One or even early in Day Two. Maybe UCLA's Xavier Su'a-Filo or Stanford's David Yankey is available. Perhaps Notre Dame tackle Zack Martin, considered a better prospect at guard by some, is on the board and worth a look. (I'll be honest – I'm not going to pretend I've independently scouted any of these prospects. I'm thinking of Buccaneer needs, a topic on which I have a better grasp, and matching them up against what appear to be the consensus top available prospects).
Now, I have to admit to being intrigued by Clemson wide receiver Sammy Watkins, a likely top-10 pick. I wouldn't mind hearing his name called when the Bucs are on the clock (and there appears to be some available defensive end depth at the top of the second round if the team went offense in Round One). However, your scenario says no to that idea, so now I'm looking for a wideout here at the top of the second. And while guard seems like a good target, wide receiver might be more likely because the depth at that spot is outstanding.
Check out this collection of mock drafts on NFL.com. Four different analysts make their picks, and all of them include at least six receivers in the first round. Between them, they identify 10 different wideouts as possible first-round picks. However, besides Watkins going first, there is little agreement on how the others will fall. For instance, two of the four have Florida State's Kelvin Benjamin going 15 or 16, while the other two have him slotted at 30 or 32. Receivers who are on at least one of those four first-round lists but not all of them – in other words, players who, by the combined wisdom of these analysts, have a good chance of being available early in Round Two – include Penn State's Allen Robinson, Oregon State's Brandin Cooks, Fresno State's Davante Adams, Colorado's Paul Richardson and the LSU pair of Odell Beckham and Jarvis Landry.
Depth meets need, and I see the Buccaneers picking up a wide receiver under the scenario you propose, Gene.