STORY HIGHLIGHTS
LB Ka'Lial Glaud's versatility could help him as he battles the other young linebackers for a roster spot
DT Clinton McDonald could have a big impact on the Bucs' defense without putting up huge sack numbers
Placing any predictive value on preseason game results is a dubious pursuit

Each week, Senior Writer/Editor Scott Smith will dip into the inbox to answer questions from  Buccaneer fans.  This week, the topics include the depth chart at linebacker and where Ka'Lial Glaud fits into it, the amount of difference new DT Clinton McDonald will make in the defense, and – once again – what it all means when it comes to preseason football.
Fans can submit questions for upcoming mailbags via Twitter to @ScottSBucs (#BucsMailbag), through a message on the Buccaneers Official Facebook Page or via email at **tbbsocial@buccaneers.nfl.com*.  The One Buc Mailbag runs every Thursday and is not necessarily meant to reflect the opinions of the team's management or coaching staff.*
1. I don't think I've heard anything all camp about Kalial Glaud. Are Rutgers guys not in favor over there anymore lol? I thought he looked good enough last year to stick around. I mean, he was pretty good on special teams, right? (It's kind of hard for me to tell). I'm not a Rutgers guy or anything, so I'm not sure why I care …. I think I paid attention because I like his name. You told someone a couple weeks ago that you were going to give us more coverage of undrafted free agents- well, how about something on Mr. Kalial Glaud and his chances of making the team?
Cory Stephens, via email to tbbsocial@buccaneers.nfl.com
Well, I'm pretty sure Ka'Lial Glaud's college has nothing to do with whether or not Lovie Smith and company choose to keep him on the 53-man roster.  Same is true for Tim Wright, Damaso Munoz and Andrew DePaola.  In fact, Munoz and DePaola were signed by Smith's staff, not the previous one (although DePaola had also been signed twice before by that previous regime).  Smith and his coaches started their evaluations of everyone on the roster with a fresh slate, though they obviously reviewed tape of their 2013 game performances.  If Glaud was indeed a good contributor on special teams last year (he's credited with just one tackle, but that doesn't always tell the full story), that certainly would have played in the decision to keep him around for this offseason.
I think you're right that we haven't heard much about Glaud this summer.  I don't remember Coach Smith being asked about him in camp, so I made a point today to see what Linebackers Coach Hardy Nickerson had to say about Glaud.  Here's what he told me:
"I think Ka'Lial Glaud is a very versatile player.  He's a very smart guy.  He's a guy that's picked up everything really, really quickly, and he's a guy that can play all three positions – MIKE, WILL and SAM.  I think so far he's had a really good camp and he's been able to show that versatility and show that he's a guy that can be depended on and has the ability to make some plays as well."
Well, that sounds pretty good, doesn't it?  I did not ask Nickerson about Glaud's chances of making the roster because I don't think Buccaneer coaches are keen to spill that kind of information right now.  I do think if you were Ka'Lial Glaud and you were wondering where you stood, you'd feel better after hearing those words from Nickerson.
Still, you'll have to go with my best guess, Cory…and I actually think Glaud has a good chance at landing on the 53-man roster again.  Last year, he started the year on the practice squad and then got a promotion about halfway through, seeing action in seven of the last eight games.  He did get a little playing time on defense toward the end of the year, contributing three tackles.
As I've said before, I believe Smith and his coaches have a specific number of players they would like to keep at each position.  They might stray from those guidelines here or there, borrowing a spot from one position in order to keep an extra player at another position they don't want to let go.  You might have to keep one less cornerback, for instance, if you choose to keep five safeties.
I'm guessing that number at linebacker is six.  The three starters have remained consistent throughout training camp and, so far, the preseason: WLB Lavonte David, MLB Mason Foster and SLB Jonathan Casillas.  Since free agent acquisition Dane Fletcher has been seen as another competitor for a starting position and is a special teams ace, he's pretty certain to stick around.  And out of all the young reserves trying to stick, the one who has gotten the most public praise from Coach Smith is Danny Lansanah (who's not actually that young, at age 29, but he doesn't have much NFL experience).  Smith not only gave Lansanah praise, he gave him some snaps with the first-team defense last week.  That strikes me as a very good sign that Lansanah is ahead of the pack among those reserves.
So if that's your first five, then who's your sixth?  The candidates are Glaud, Munoz, Nate Askew and Brandon Magee.  Askew is a talented football player but he's still learning the position after switching from wide receiver to defense in his senior year at Texas A&M.  Unless he's an absolute monster on special teams, and thus in the team's regular-season plans, he seems far more likely to be a candidate for the practice squad, where he'd have time to hone his craft before being thrown in the fire.  Magee is another interesting player in that he also has a possible Major League Baseball career to pursue, but he also seems like more of a developmental player.  The Bucs got Munoz out of the CFL last February after he played three seasons with the Edmonton Eskimos.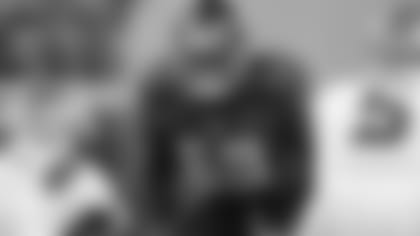 LB Ka'Lial Glaud is versatile enough to play all three linebacker positions in the Bucs' defense
That's a whole lot of unusual backstories for the Bucs' linebacker reserves – baseball, position switches, Canadian football, years out of the league – but it might be the guy with the more conventional path to Tampa who sticks.  Glaud would seem to have the NFL experience edge over Munoz, Askew and Magee, and he's obviously shown his position coach some good things.  If the Bucs' keep six linebackers, I suspect he's the favorite to be #6.
If I'm reading this correctly, you're asking me if McDonald is going to be an elite-level producer for the Buccaneers or just another effective cog in the machine.  I'll say, I like that these are the only two choices; the Bucs will have made out well in that signing if he falls anywhere in that continuum, though I'm sure they're hoping he's more towards the latter than the former.
It's an interesting question.  The crux of the matter is whether or not McDonald's 5.5 sacks in reserve role for the Seahawks last year was a harbinger of even greater things if he were to get more playing time.  And he's going to get more playing time this year.  As a starter for the Buccaneers, he's almost certain to see more than the 55% playing time he got last year in Seattle, even if the Bucs do end up rotating four players at the inside spot on game day.
My answer: Clinton McDonald has an impact closer to "BIG" than "effective," but that will be reflected more in Gerald McCoy's numbers than his own.  I think the Bucs would be perfectly happy with 5.5 sacks from their nose tackle (and occasional fill in at under tackle) if that's in addition to a monster season from McCoy.  If McCoy gets, say, 12 sacks (which is a modest guess given that he had 9.5 last year and has looked amazingly quick so far this summer), that would be 17.5 from your tackles alone.  That would be incredible production from that position.
And McDonald's presence should help McCoy raise his game, already at an All-Pro level, even higher.  Both McDonald and new right end Michael Johnson should reduce the number of times McCoy sees double teams, and he's going to win a lot of his one-on-one matchups due to an incredibly quick first step.  I just don't see much of a bust factor in McDonald – he's a real professional in his approach and he can make a difference simply by being difficult to move in the middle.  So give me that "BIG" impact, Chris, but don't judge the final outcome of that prediction by McDonald's sack total.
Click here to WATCH the Bucs vs. Bills Game LIVE Online via NFL Pre-Season LIVE!
Mr Smith,
I am a die hard Buc's fan but I am beginning to get a bit concerned. My thoughts about week 2's preseason game and the (lack of) performance by the Buc's. I wrote the following notes during the game:
Offense = Anemic at best, pathetic at worst Defense = Flashes but lacks consistency Special Teams = Nothing Special Total = Not much to get excited about, Poor 3rd down defense, allowing too many big plays (10 yds or more) on defense. Offensively no consistency, no ability to sustain drives, blocking still an issue, QB has a bad case of happy feet.
May be only the 2nd preseason game but I am not seeing very much to be excited about or for that matter not much to look forward to. As a diehard Buc's fan I am saddened by the fact that I see no real improvement from last years debacle.
Your thoughts?
Mike Wilson, Roanoke, Al
Mike, Mike, Mike…so much angst for mid-August.  Relax, my good man.  I can't tell you for certain that this season will be a significant improvement over the last one (though I truly believe it will), but I can tell you that these first two games don't prove otherwise.
I wrote at some length in last week's mailbag about the inadequacy of preseason games in providing any real assessment of how good a team is going to be.  My opinion on that hasn't changed over the last week, nor will it ever.  If the Bucs were 2-0 and had outscored their opponents 80-10 so far, I wouldn't be thinking we were some kind of playoff lock, either.
I know I've beaten this particular drum a few times, and perhaps I'm starting to sound like a broken record or, worse, a Buccaneer apologist with blinders on.  So instead of me belaboring the point once again, allow me to call in some outside help.  Here's a detailed analysis of the "importance" of preseason results by Grantland's fantastic NFL author, Bill Barnwell.
Barnwell's article is entitled, "The Sound and Fury of the NFL Preseason," and if you know the source of that reference you probably know where Barnwell is going with this.  It's either a direct reference to the famous soliloquy in Shakespeare's Macbeth or it's supposed to evoke the title of William Faulkner's The Sound and the Fury, which is of course a reference to Macbeth.
The couplet at the end of the soliloquy in question goes:
"Told by an idiot, full of sound and fury,
Signifying nothing."
Don't worry about that "idiot" part, Mike.  I'm definitely not calling you an idiot.  That's just Shakespeare describing the "tale" that is told by life.  The important (and depressing) point is that no matter how much commotion "life" makes, it doesn't really mean anything.
That's far less depressing when we apply it to NFL preseason football, as Barnwell does.  He gets very specific, too.  He offers up four ways that offensive performances, in particular, are lacking across the board in the preseason and are not representative of what you will see in the regular season: 1. Scoring goes down; 2. Teams aren't as efficient on offense; 3. Quarterbacks aren't as good as they are in the regular season; 4. The preseason is schematically bland.  He's got numbers and anecdotal evidence to back these contentions up.  Writes Barnwell: "Studies have suggested there is no meaningful relationship between a team's performance in the preseason and their subsequent record in the regular season since 1994."
Barnwell even did some new analysis to see if teams that were particularly strong or particularly weak in a given preseason were predictive of similar results in the regular season.  Nope.  The difference between the regular-season success of 4-0 and 0-4 preseason teams is "negligible."  I urge you to read the whole article if you want further evidence, but I think you get my basic point.
Now, of course, that's not really how we absorb these games as fans, is it?  Having been without NFL games for six months, and without Buccaneer games for closer to eight months, we eagerly sit down to watch our reconstructed team and see what they can do.  We want to see fireworks, across-the-board improvement and strong evidence that everything is going to be so much better.  Of course that's what we do – I do it, too.
And, sure, you can probably catch a thing or two here or there that says something about what this team is going to be like.  I thought the Jacksonville game was a pretty good indication that the defensive line is going to be deeper and more productive this season, for instance.  So let's take a quick look at your specific points of analysis here, Mike.
Anemic and/or pathetic offense: Well, the first team definitely struggled in Jacksonville, largely due to a rough offensive line performance.  It was better, if not overwhelming, against Miami, but then the second and third teams struggled.  We don't really have to worry about what the reserves did, and since the first-string unit got better, I found that encouraging.  Give these guys four quarters to get in a groove – and let them use the actual offensive playbook, for goodness sake – and we'll be seeing something quite a bit different.
A defense that "flashes" but lacks consistency: I have to say your standards are set pretty high, Mike.  The starting defense – again, that's what matters here in terms of predicting the regular season – hasn't allowed a touchdown in about 2.5 quarters of work.  The run defense has been dominant; the pass defense needs more sacks but hasn't given up big plays. I'd actually say this starting defense has been consistent but has lacked flash so far.
Nothing special about the special teams:  Sample size.  I mean, they've made the only field goal and the only three extra points they've tried.  They've averaged 8.3 yards per punt return (which is okay) and allowed 5.7 (which is pretty good).  The kickoff return game hasn't done much yet, but Solomon Patton had a couple nice moments.  This group hasn't really had a chance to do anything magnificent yet.
Your other concerns: That "poor" third-down defense is allowing a conversion rate of 29.6%; that defense that allows too many big plays has given up 20 plays of more than 10 yards through two games, which is exactly one more than Tampa Bay's "anemic" offense has managed; that QB with happy feet (assuming you mean Josh McCown) has actually taken two sacks he probably shouldn't have because he didn't run.
Now, I agree with you that the offense has been unable to sustain drives, and so does McCown.  He says that's a major step the team wants to take this week.  And, yes, the blocking will remain an issue until the starting offensive line is set and has proved it is up to the task.  But it got better from Week One to Week Two, and that's what the preseason is for.
What the preseason is not for is to make you sad about the upcoming season, Mike.  The amount of time and detail you put into your email tells me that you really are a very strong Buccaneers fan, so I truly hope you get to see the much-improved team you've likely been expecting the last six months or so.  I can't promise it's going to happen, but I can hopefully convince you that the two preseason games the Bucs have played so far shouldn't have you so bummed out.  Come on, say it with me: "Go Bucs!"