STORY HIGHLIGHTS
The Bucs have won six straight games against the Vikings, though Minnesota still leads the all-time series
Big performances by a long list of running backs have driven Tampa Bay's recent victories
The last Bucs-Vikes meeting was a Thursday-night affair in Minneapolis, won by the visitors

When it comes to the Minnesota Vikings, absence has made the Tampa Bay Buccaneers' hearts grow fonder.
The Buccaneers' joined the league in 1976 and, after one year in the AFC West, were moved to the NFC Central. For the next 25 years, they shared the "Black and Blue" division with the Vikings, Chicago Bears, Detroit Lions and Green Bay Packers. They played each of those teams just once in '77 before the schedule was expanded to 16 games in 1978 and every team started having home-and-home series with their division rivals. That meant there were two Bucs-Vikings matchups every year from 1977-2001, excluding the strike-shortened season of 1982. During that time, the Buccaneers won just 17 of 48 meetings and rarely found success in Minneapolis.
Since the Bucs divorced their former division foes during the 2002 expansion and realignment – hooking up instead with the more geographically sensible trio of Atlanta, Carolina and New Orleans to form the new NFC South – the Bucs have rather enjoyed their occasional weekend visits with the Vikings. In fact, Tampa Bay is currently riding a six-game winning streak against Minnesota, a run that started with the final NFC Central matchup between the two and has included three happy flights home from Minnesota.
Overall, that means the Vikings lead the all-time series, 31-22, and even with Buc wins in the now-defunct Hubert H. Humphrey Metrodome in 2005, 2011 and 2012, Minnesota holds an 18-9 edge in the games they've hosted. This Sunday's game will be played in Tampa, however, and the winner will break a 13-13 tie in games played on the Bucs' home turf.
Tampa Bay's current winning streak against the Vikings equals their longest active run of victories against any team; they've also captured six in a row against Cincinnati (a streak that will also be put to the test in Tampa on Nov. 30). One more win for the Buccaneers would be historic for the franchise, as they have never put together a seven-game winning streak against any opponent.
Again, the series dates all the way back to 1977, and it started off a bit strangely, with the road team winning each of the first five meetings. The Bucs' first introduction to the "Purple People Eaters," as the Vikings' star-studded defensive line was known, was on Sept. 24, 1977, when one of those PPE's – Hall of Fame-bound Carl Eller – started the scoring by sacking QB Randy Hedberg for a safety. Hedberg and Gary Huff combined to complete just five of 17 passes, only two more than they threw to Viking defenders. Minnesota, coming off its fourth Super Bowl appearance (and fourth Super Bowl loss) beat the Bucs, 9-3 in Tampa.
Tampa Bay evened the series the following September with what was just the second road win in franchise history. Playing in Metropolitan Stadium in Bloomington, the Buccaneers again completed just five passes (in 19 attempts by rookie Doug Williams), four of those to WR Morris Owens, who scored on a five-yard pass in the third quarter to make it 16-7 in the visitors' favor. After a Minnesota field goal in the fourth quarter, an interception by Cecil Johnson and a huge fourth-down stop by Billy Cesare preserved the victory. Lee Roy Selmon had three sacks. The Buccaneers won in Minnesota again the next year in a game that had way more raw yardage but fewer points; Ricky Bell's three-yard TD run in the fourth quarter won it, 12-10. In between the Vikings won both games in Tampa, including a heartbreaker in 1979. Doug Williams scored on a 13-yard scramble with 17 seconds to play but the Vikings blocked Neil O'Donoghue's extra point attempt to hold on to a 23-22 victory and delay the Bucs from clinching their first playoff berth.
The two teams split their two-game set almost every year from 1978-84, with the Vikings getting a sweep in 1980 and taking the only matchup in the aforementioned '82 strike campaign. Minnesota's home win in '80 was remarkable in that it featured 1,023 yards of offense, 573 of it belonging to the Buccaneers. That remains a franchise record 34 years later, as does Williams' 486 passing yards, but it wasn't enough to avoid a 38-30 loss. The Vikings needed overtime to get their half of the split in 1983, giving the Bucs their first-ever sudden death loss (they were 2-0-1 in their first three OT experiences) after Tampa Bay's Bill Capece missed a 33-yard field goal try in the extra period. Minnesota's Benny Ricardo was good from 42, however, and the Vikings won, 19-16.
Ditching the timeline for a minute, it's worth noting that the Bucs have more overtime wins against the Vikings than any other club. They've taken Green Bay to extra time the most, with five OT games, but they are 2-2-1 against the Packers and 3-1 against the Vikings. Those three wins all came in a six-season span, from 1990-96, and all by almost identical scores. A Wayne Haddix interception off Rich Gannon (this not being the last time the Bucs' defense would victimize Gannon, as many Tampa Bay fans will happily recall) set up the winning field goal in a 23-20 decision in the Metrodome in 1990. Four years later in the same location, long-snapper Ed Brady recovered a muffed punt at the Vikings' four-yard line to set up Michael Husted's game-winner in a 20-17 Bucs win. The next time the two teams met was in Tampa, but the final score was the same, as Husted again delivered the game-winner though this time from 51 yards out. The Bucs looked like they might be doomed when TE Jackie Harris fumbled and S Orlando Thomas recovered, but WR Lawrence Dawsey subsequently stripped the ball from Thomas' grasp and G Ian Beckles recovered for Tampa Bay.
The Bucs were on the better side of another shootout with the Vikings in 1984, as James Wilder put up 129 yards of offense and two touchdowns in a 35-31 decision. Wilder had 192 yards and two more scores when the teams met again in Minneapolis a month later, but Jan Stenerud's 53-yard field goal with two seconds left won it for the Vikings, 27-24. That win kicked off a five-game run for Minnesota, one of three such streaks they posted between 1984 and 1993; it is that period of dominance that accounts for the Vikings' advantage in the all-time series. The worst of those (from a Buc perspective, was a 49-20 decision in Tampa in which Wade Wilson completed 22 of 30 for 335 yards and three touchdowns. Although his name may not have the same historical staying power as such former Tampa Bay foes as Brett Favre or Barry Sanders or Cris Carter, Wilson was a noted Buc-killer during his career (1981-89). He threw for more yards and touchdowns against Tampa Bay than any other team and finished with a career 104.0 passer rating against the Bucs' defense.
There were a few bright spots during that stretch for Tampa Bay, including their only season sweep over the Vikings in 1990. In addition to the overtime win described above, the Bucs also won, 26-13, at home in a game in which QB Vinny Testaverde had a rough day throwing (12 of 30 for 148, one TD and two INTs) but made up for it with the best rushing day ever by a Buccaneer passer. He ran seven times for 105 yards, including a 48-yard touchdown scamper that started the scoring.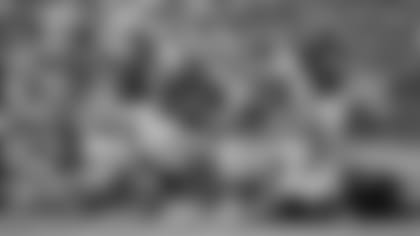 FB Mike Alstott helped the Buccaneers hand Minnesota its only regular-season loss of the 1998 campaign
The two teams mostly alternated victories during the second half of the '90s, but there were two very notable wins for Tampa Bay in that stretch. In 1996, former Vikings Defensive Coordinator Tony Dungy took over as the Bucs head coach but saw his team lose its first five games. After a Buccaneer bye week, the 5-1 Vikings came to town and the Bucs chose that opportunity to give Dungy his first win, 24-13, powered by Trent Dilfer's three TD tosses, one to rookie FB Mike Alstott. The Bucs were an established playoff contender under Dungy by 1998 but were off to a ragged 3-4 start before Randy Moss and the high-powered Vikings came to town on November 1. The Bucs won one of the most memorable regular-season games in franchise history, 27-24, on Mike Alstott's six-yard touchdown run in the fourth quarter, and that would prove to be the only regular-season game Minnesota lost in 1998.
After a string of such close Bucs-Vikings games, the NFL chose to put the 1999 edition on Monday Night Football. Rookie QB Shaun King, in for the injured Dilfer, got the start and threw two touchdown passes and CB Donnie Abraham started the scoring with a 55-yard pick-six. The Bucs got a much-needed 24-17 win that eventually propelled them to the NFC Central title.
The Bucs said goodbye to their NFC Central foes in 2001 with a dominant 41-14 decision powered by Alstott's 129 rushing yards and three touchdowns. They welcomed the Vikings back to town – now as an inter-divisional foe – the next year and walloped them again, 38-24. QB Brad Johnson had one of the finest afternoons ever for a Buccaneer quarterback, completing 24 of 31 passes for 313 yards, five touchdowns and no interceptions, leading to the third-best single-game passer rating in franchise history (148.3).
And with those two games began the Bucs' current streak of six straight. The 2005 matchup in Minnesota was actually the season opener, and part of rookie RB Cadillac Williams' record-breaking three-game debut. Of his 148 rushing yards in his first NFL game, 71 came on a game-clinching breakaway in a 24-13 final. The Bucs' next trip to Minnesota, in 2011, was the second game of the season, and it included another fine RB performance, this time LeGarrette Blount's 71 yards and two scores. Finally, the two teams' most recent get-together was a Thursday-night affair in 2012 in which yet another Buccaneer back took center stage. This time it was then-rookie Doug Martin, who began an impressive midseason surge with 214 yards from scrimmage as the Bucs got their first prime-time road victory since 2003. Martin became the first Buc back in more than 10 yards to score on both a run and a reception in the same game, helping the Bucs prevail, 36-17.
Bucs-Vikings Game-by-Game Record:
Minneapolis
Series Notes:
Overall Season Series: Minnesota leads, 31-22
Bucs' Home Record: 13-13
Bucs' Road Record: 9-18
Current Streak: Win 6 (2001-12)
Buccaneers' Longest Winning Streak: 6 (2001-12)
Vikings' Longest Winning Streak: 5 (three times, most recently 1991-93)
Regular Season Point Total: Buccaneers 971, Ravens 1,130
Most Points in a Game for Tampa Bay: 41, twice, most recently…Buccaneers 41, Vikings 14 (2001)
Most Points in a Game for Minnesota: 49…Vikings 49, Buccaneers 20 (1988)
Most Points, combined: 69…Vikings 49, Buccaneers 20 (1988)
Fewest Points in a Game for Tampa Bay: 0…Vikings 15, Buccaneers 0 (1993)
Fewest Points in a Game for Minnesota: 9…Vikings 9, Buccaneers 3 (1977)
Fewest Points in a Game, combined: 12…Vikings 9, Buccaneers 3 (1977)