STORY HIGHLIGHTS
Buccaneer players followed up Sunday's practice by putting a group of Special Olympians through their own training camp
The Special Olympics organization is committed to empowering people with intellectual disabilities, and athletics is a big part of that
Tired from a long practice, Buc players were reinvigorated by the interaction with their training camp guests

Not long after the Tampa Bay Buccaneers wrapped up their first padded practice of training camp, General Manager Jason Licht remained on the field behind One Buccaneer Place, a keen observer of the scene in front of him. There, more than half an hour after the final whistle had sounded, athletes were still practicing their tackling, improving their footwork and catching passes as the sun began to set on the third day of camp.
"Lovie and I are keeping an eye out on a couple of these guys," Licht said with a smile. "They're pretty impressive."
Anyone in attendance could clearly see that the Buccaneers' new GM was no stranger to the annual tradition taking place: a much-anticipated visit from Special Olympics Florida. On Sunday, more than 80 athletes from Hillsborough, Pinellas, Pasco, and Polk counties were on hand for the team's afternoon practice, which included enjoying football drills with Buccaneers players after the team's session had concluded.
"Just seeing them out here having a good time, enjoying themselves, it really takes the load off a long practice," said defensive end Michael Johnson. "It really lets us relax and kick back and have some laughs and smiles, so it helps me as much as it helps them."
One of those drills included showing off a player's best end zone dance with the help of a huge contingent of Buccaneers, including Licht, Johnson and Head Coach Lovie Smith.
"The Buccaneers are all about promoting family and helping the community, and with Special Olympics Florida, hosting them every year, this is incredible," said Licht. "We're having a great time out here with these athletes."
Also volunteering their time to the impactful event were Connor Barth, Jeff Demps, Andrew DePaola, Mike Glennon, Michael Koenen, Mike James, William Gholston, Ka'Lial Glaud, Josh McCown, Gerald McCoy, Clinton McDonald, Patrick Murray, Patrick Omameh, Chris Owusu, Eric Page, Bobby Rainey and Alterraun Verner. In addition, Buccaneers Cheerleaders took photos, signed autographs, and visited with the Special Olympians.
"I can tell you from the heart that this is, without a doubt, my Special Olympic athletes' favorite event of the year," Glenn Fite, Jr., Hillsborough County Director, Special Olympics Florida. "They are exposed to many wonderful opportunities, but they look forward months in advance to be able to come out here and to have that close interaction with the Buccaneer players, and that's what does it for them, having that close contact with the men that they idolize, that they want to be like and those that inspire them."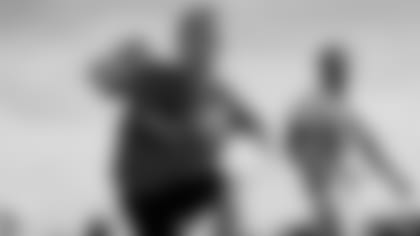 Local Special Olympians look forward to their visit to One Buccaneer Place for months
Special Olympics Florida is a local chapter of the national charitable organization that is committed to empowering people with intellectual disabilities. The nonprofit group helps athletes become more healthy, confident and capable leaders, both on and off the field, through year-round sports training and competition in a variety of Olympic-type sports.
On Sunday, consider that mission accomplished.
"Literally, two and a half, three months before, it's like, 'When is the Bucs event happening? How can I make sure my kids are on the list?' added Fite. "There's a lot of excitement leading up to it, and then it just grows from there.
"And then I'll be hearing about this for another couple of months."