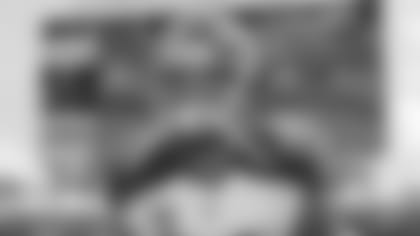 Vincent Jackson, former wide receiver for the Tampa Bay Buccaneers and San Diego Chargers, has made his retirement from the NFL official. Before hanging up his cleats, Jackson cracked the top 10 in receiving for both of the franchises fortunate enough to employ his services.
Jackson is inarguably one of the three or four best free agent acquisitions in Buccaneers history. He signed a five-year deal with the Buccaneers in March of 2012 and, unlike most veterans who get a deal of that length, actually completed it. That alone speaks to how valuable Jackson was in Tampa Bay's offense and – not insignificantly – in the Bucs' locker room. The consummate professional, Jackson led his younger teammates by example with the type of work ethic that allowed him to remain productive well into his 30s.
A second-round draft pick by the Chargers out of Northern Colorado in 2005, Jackson played his first seven seasons in San Diego. That stretch included three 1,000-yard campaigns and Pro Bowl invites following the 2009 and 2011 campaigns. After signing with the Buccaneers, Jackson added three more 1,000-yard seasons and another trip to the Pro Bowl in 2012. He is one of three players in Tampa Bay franchise history to record three consecutive 1,000-yard seasons (2012-14), joining Joey Galloway and the young receiver he helped mentor, Mike Evans.
Jackson ranks ninth in Chargers annals with 4,754 receiving yards and fourth on the Buccaneers' chart with a nearly identical total of 4,326 yards. He was a potent downfield threat throughout his career, averaging 16.8 yards per catch and racking up 57 career touchdowns. His first season as a Buccaneer, which included 1,384 receiving yards, an NFL-leading 19.2 yards-per-catch average and eight touchdowns, ranks as one of the best campaigns by a receiver in the franchise's 42 seasons.
Injuries limited Jackson to 15 games over his final two seasons, and he did not play in 2017 after his Buccaneer contract expired. However, he has remained very active in the Bay area community – as he was during his playing career – through his foundation, which focuses on military families, particularly the well-being of the children in those families.
Vincent Jackson, who has now officially called his NFL playing career to an end, will be remembered as one of the best players in Buccaneers franchise history.