STORY HIGHLIGHTS
After a fast start in Pittsburgh and a middle-game surge in New Orleans, the Bucs are looking for a complete game
LB Mason Foster and WR Mike Evans are back from injuries to help
The Ravens will have replacements at left tackle and left guard

Two weeks ago in Pittsburgh, the Tampa Bay Buccaneers got off to a hot start, hit a lull in the middle of the game and then stormed back at the end to win it. Last Sunday in New Orleans, the game unfolded in almost exactly the opposite fashion, with the Buccaneers falling behind quickly, rallying in the middle to take a double-digit lead in the fourth quarter and then losing in overtime.
The Buccaneers easily could have won both or neither of those games, and indeed a high percentage of NFL games come down to the wire. But if they are going to win often enough to challenge for a playoff spot, the Bucs need to find a more consistent level of play from start to finish.
"We are developing, we're improving each week," said Head Coach Lovie Smith prior to Sunday's game against the Baltimore Ravens. "It is how you finish, and how you play throughout the game. We haven't put together a full 60 minutes yet, but we're getting close. With the injured players we're getting back this week, this should be our best game."
As for the pending reinforcements, most notably the Buccaneers will have rookie wide receiver Mike Evans and middle linebacker Mason Foster, back in the starting lineup. Foster hasn't played since sustaining a shoulder injury in the second week of the season – he missed the Bucs' entire three-game road swing – while Evans was out of last week's game with a groin injury but was a pleasant surprise with what he could do in practice this week.
"[Evans] has come back quicker than we thought, he's looked pretty good in practice this week and we're excited about playing him today," said Smith. "[Foster's] status is that he's good to go, has had a good week of practice. We've missed our MIKE linebacker, the guy that makes all the calls, makes all the checks."
Evans' return should help an offense that has shown some serious signs of life over the past two weeks, as should the fact that WR Vincent Jackson has been cleared to play despite his "questionable" status on the injury report. While the running game has still not found a groove, the passing attack was enough to win in Pittsburgh and take a shootout with Drew Brees into overtime. Second-year QB Mike Glennon, who will make his third straight start in the absence of the injured Josh McCown, has been central to that success, showing outstanding poise in a pair of hostile environments.
"Mike's done everything you need the quarterback position to do: Make good decisions, take care of the ball – his ball security's been good – but then making the critical throws," said Smith. "He's been mobile in the pocket, had full command of the offense and given us a chance to win each week. He'll still tell you there are some plays we've left on the field, and every position can make an improvement."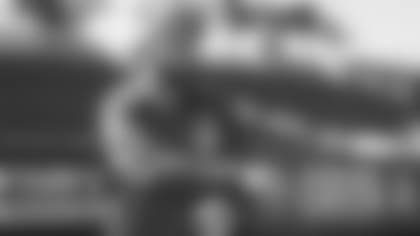 LB Mason Foster returns to start in the middle after missing the last three games with a shoulder injury
As for Foster's return, it potentially turns the Bucs' linebacking unit into a strength for a defense that needs a spark. Unrelated to Foster's absence, the Buccaneers elevated Danny Lansanah into the starting lineup on the strong side in Week Four. He played well enough to add some nickel duties in the middle last weekend in New Orleans, and he has two interception-return touchdowns in the last three weeks. With Foster back to join All-Pro Lavonte David, the Bucs can now fill out the middle level of their defense with Lansanah and possibly have three playmakers on the field.
"[Foster had] an excellent week of practice, I might say," said Smith. "But while he was gone we found out something about Danny Lansanah. We'll play both of them – we have a three-linebacker group and we feel real good about having them on the field."
Foster and the rest of the Bucs' defense will face a Ravens' offense that has been particularly good at sustaining long drives. QB Joe Flacco has led 11 touchdown drives of 80 or more yards already this season, and he's done it with a committee of running backs (Justin Forsett, Lorenzo Taliaferro and Bernard Pierce) and a pair of big-play receivers on the outside. One of those receivers is Steve Smith, the long-time Carolina Panther who is in his first year in Baltimore and is among the league leaders in receiving yards. The Buccaneers are quite familiar with Smith, as is Lovie Smith from his time as the Chicago Bears' head coach.
"He poses the same [challenges] he's posed since he's been in the league," said Lovie Smith. "For a running football team, he can block as well as any of the receivers around. As a pass-catcher, he can beat you deep, an excellent route-runner, tough competitor. It will be a big challenge for our guys, and we know who he is."
Smith hopes the Buccaneers' defense has another new helper this week: The Raymond James Stadium crowd. After three games on the road, the team is looking for the boost it can get from the roar of the stands.
"There's nothing like playing at home," said Smith. "We've played better football [in recent weeks] than we played our previous times at Raymond James Stadium. So there's a better product we're going to put on the field, and we really need our fans to help us out. We need to get off to a good start. You need the home crowd, it's as simple as that. [The Saints] home crowd helped them last week. But, of course, it's up to us to start fast and keep them in the game, and that's what we're going to do."
Though Jackson and Evans overcame their ailments to suit up on Sunday, the defense will still be without starting free safety Dashon Goldson, who is recovering from a Week Five ankle injury. He will once again be replaced in the starting lineup by Major Wright. Starting cornerback Johnthan Banks is also out due to a neck ailment; he'll be replaced by fifth-year veteran CB Crezdon Butler, who will be making his first NFL start.
In addition to Banks, Goldson and McCown, the Buccaneers also deactivated LB Jonathan Casillas, DE Larry English, T Kevin Pamphile and G Kadeem Edwards.
The Ravens have declared the following seven players inactive: WR Marlon Brown, LB Arthur Brown, T Eugene Monroe, G/T Kelechi Osemele, TE Ryan Taylor, DT Timmy Jernigan and DE Chris Canty. Monroe, Osemele, Jernigan and Canty were out due to injury. Monroe and Osemele represent the left side of the Ravens' starting offensive line; undrafted rookie James Hurst will make his third straight start at left tackle while Gino Gradkowski will step in next to him at left guard.
The Buccaneers take on the Ravens in Week Six of the 2014 season on Sunday afternoon, with kickoff scheduled for 1:00 p.m. at Raymond James Stadium in Tampa. The game will be broadcast on television by CBS and on radio through the Buccaneers Radio Network and its flagship station, US 103.5 FM. That radio broadcast will also be carried live on Buccaneers.com.
Steve Smith is coming to town again, this time as a Raven, but he may have a hard time putting up his usual strong numbers against the Bucs if Alterraun Verner is at the top of his game.