X Marks the Spotlight: Jason Pierre-Paul
Defensive end Jason Pierre-Paul was the Community MVP after participating in multiple events recently. He was awarded the community championship belt, which he proudly showed off in the locker room. Since moving to Tampa before the start of training camp, Jason has dove right in to embracing the Tampa Bay area and Bucs fans alike. When the Tampa Bay Buccaneers Foundation launched its elementary school fitness and middle school flag football programs, Jason was on hand with students from a number of local schools at AdventHealth Training Center, taking them through flag football scrimmages and drills. The program impacts nearly 200,000 students in both Pinellas and Hillsborough counties, making it the largest youth initiative the Bucs have undertaken.
DeSean Jackson and Brother Byron Inspire Youth Using Family Values
Wide receiver DeSean Jackson brought his Play4Life Academy to Tampa Bay on September 25 when he visited Egypt Lake Elementary School. The program was started by him and his brother Byron and aims to help children develop their own roadmap to success using principles they were taught growing up.
"It's a great opportunity," DeSean Jackson said. "Me and my older brother, Byron, partnered up with the Bucs and our Play4Life Academy. It's the first of many. We have two more we are doing in October and November. It's really just getting active in the community and trying to give back some of the qualities that our father instilled in us at a young age with the principles that we drive ourselves on as a family. We're just trying to get in the community and let these kids know that it's possible to make it. A lot of times, kids are filled with doubt and there's a lot of negativity in the world and we just want to bring the positivity out in them and support them as well."
Not only does the program support children, but it involves the parents in the curriculum as well with Parent University. It's a tribute to DeSean and Byron's late father, who passed away after DeSean's first year in the NFL and bridged a cause that was personal to DeSean to the Bucs' larger player-led Social Justice initiative. To read more about DeSean's efforts and the Play4Life event, click here.
O.J. Howard Partners with UnitedHealthcare to Donate Shoes to the Boys & Girls Clubs of Tampa Bay
Bucs' tight end O.J. Howard delivered new sneakers to children at the Boys & Girls Clubs of Tampa Bay on September 25 at the Joe & Anne Farcia Salesian Youth Center in Tampa. Together with the Dreambuilders Foundation and UnitedHealthcare, Howard was able to give out 200 pairs of shoes. It was part of a larger effort that included a complete beautification project by UnitedHealthcare. The Boys & Girls Clubs of Tampa Bay focus on academic success, healthy lifestyles and improving character and leadership skills across 12 clubs, three teen centers and six school sites. It impacts more than 17,000 young people in both Hillsborough and Pasco counties.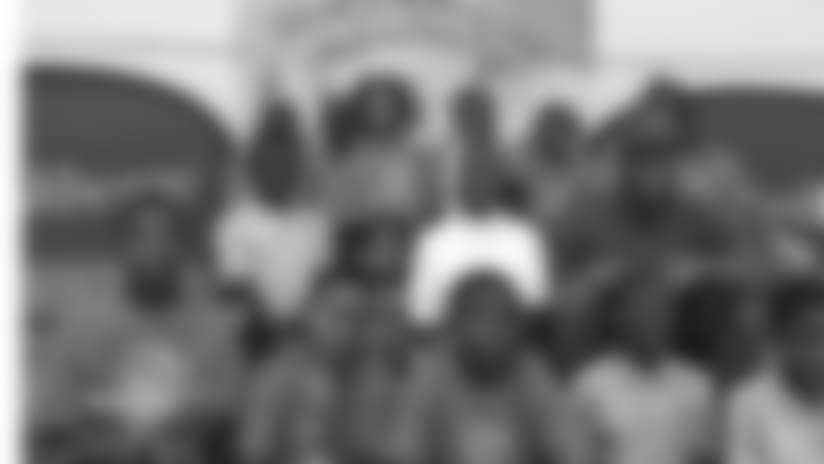 Players Tour the U.S. Coast Guard Sector St. Petersburg in Partnership with USAA
Buccaneers players including Alan Cross, Evan Smith and Leonard Wester we welcomed aboard a U.S. Coast Guard ship and got to experience a day in the life the U.S. Coast Guard in St. Petersburg. They participated in a meet-and-greet with active duty military personnel stationed at the St. Pete sector before being taken out on a 45-foot response boat. They also got treated to a tour of a patrol boat along with a visit to the command center.
10/13 – Grrridiron Girls Clinic
The Tampa Bay Buccaneers Foundation and NFL's first female coach, Dr. Jen Welter, are bringing a day of fun, football and empowerment for girls in Tampa Bay.
10/16 – Ready-4-Work Ex-Offender Support with Abe Brown Ministries
As a part of the Bucs' Social Justice Program, Buccaneers players will be visiting Abe Brown Ministries in Tampa to discuss how recently released offenders assimilate back into society after being incarcerated through ministry programming.
10/21 – Treasure Chests 5K & Fun Run powered by Jabil
The 6th Annual Treasure Chests 5K benefiting breast cancer research and patient services in the Bay area is happening before the Bucs' Week 7 matchup with the Cleveland Browns. To register, click here.