Ahead of the Buccaneers' matchup with the New York Giants on Sunday, the winner of Week Three's Coach of the Week, presented by Tampa Electric, is Trey Burdick, head coach at Sunlake High School in Land O'Lakes. On Thursday, Burdick took a tour of AdventHealth Training Center as well as enjoyed lunch at the facility. As part of the award, his program was also presented with a $2,000 grant from the Tampa Bay Buccaneers Foundation for the Seahawks football program.
"Just ecstatic, they knew it was good for our program," Coach Burdick said of his players' reaction to learning he had won the award. "They knew the award was awesome and the tour was awesome but also the grant is unbelievable. They know how important that's going to be for our program."
The giant check was presented by Bucs Head Coach Bruce Arians himself and will go towards basic needs for the football team in Land O'Lakes.
"Football is a really expensive sport, so we have constant money demands," Burdick explained. "As everyone knows, education is dealing with constant cutbacks and so sports are no different. That money is going to go towards new sleds, helping out with new uniforms, the day-to-day stuff that we need every day at practice that kids need to grow and develop."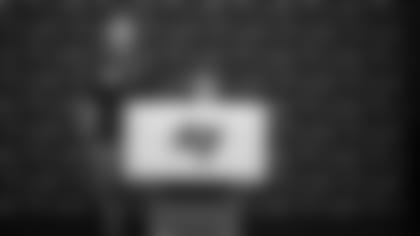 The honor comes following back-to-back wins for the Seahawks in Burdick's first year as head coach. It included a 17-0 shutout victory of Wesley Chapel to improve to 2-1 on the season.
"I was super excited," Burdick said. "I was just recently hired as the head coach at Sunlake. This is our first year and I know that we had a lot of kids that were really excited for us. We're a younger team and I think just us being able to turn things around a little bit and get a couple wins in a row that weren't really expected contributed to the nomination."
If you know a coach that should be nominated, visit the Buccaneers website to nominate the next Buccaneers High School Coach of the Week, presented by Tampa Electric.