STORY HIGHLIGHTS
Derrick Brooks is going into the Pro Football Hall of Fame as a member of the Class of 2014
Brooks' overwhelming statistical achievements include 11 Pro Bowls, 5 first-team All-Pro selections and the 2002 NFL Defensive Player of the Year award
The Bucs will celebrate a new Hall of Famer for the second straight year, after Warren Sapp got his gold jacket in 2013

For decades, the Tampa Bay Buccaneers had only the barest representation in the Pro Football Hall of Fame. Now, that is changing fast. On Saturday, the Hall of Fame revealed its Class of 2014 and it includes perhaps the quintessential Buccaneer: Derrick Brooks.
Brooks announced his selection on Twitter shortly after 6 p.m. ET on Saturday evening.
Though Saturday proved to be one of the most significant days in Buccaneers history, as one of the franchise's most beloved players received the ultimate honor in football, it wasn't exactly surprising. Brooks' achievements over 14 seasons in the NFL – which included 11 Pro Bowl invites, five first-team All-Pro selections, NFL Defensive Player of the Year honors, a Super Bowl championship and a Walter Payton NFL Man of the Year award – rank him among the most decorated players in NFL history, let along Buccaneer annals. The weight of his accomplishments, not to mention his sparkling reputation off the field, made Brooks a fairly easy first-year-eligible selection for the Hall of Fame selection committee.
Brooks gets his gold jacket just one year after Warren Sapp was named to the Hall's Class of 2013. Prior to that, the only member of the Hall of Fame who spent all or most of his career in Tampa Bay was 1995 inductee Lee Roy Selmon. Like Selmon, Brooks was a Buccaneer and only a Buccaneer…and, more than that, both set the ultimate franchise standard for all of those who would follow, both on and off the field.
Brooks and Sapp helped turn around a moribund Buccaneers franchise in the late 1990s. Two of their Tampa contemporaries, former Head Coach Tony Dungy and former safety John Lynch, were also among the 15 finalists under consideration for the Class of 2014 when the Hall of Fame Selection Committee held its decisive meeting on Saturday. While Dungy and Lynch ultimately did not join Brooks in this year's class, they will remain strong candidates in the coming years, and will soon be joined in that discussion by Ronde Barber, another indispensable figure from that Buccaneer era.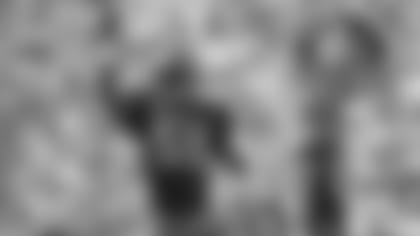 LB Derrick Brooks never missed a game during his 14-year NFL career, all with the Bucs
Brooks, however, goes in as a first-year-eligible candidate (as did Sapp in 2013), a nod to his enormous impact on not only the Buccaneers franchise but on the entire NFL. They are the first two Buccaneers to gain admission in their first year of eligibility. Brooks and Sapp are also part of an elite fraternity, as two of the six players in NFL history to earn a Defensive Player of the Year award, win a Super Bowl and be named to at least seven consecutive Pro Bowls. With Saturday's decision by the Selection Committee, all six of those men are now in the Hall of Fame, with Brooks joining his former teammate and Reggie White, Lawrence Taylor, Joe Greene and Jack Lambert.
That is an incredible list, of course, containing some of the biggest stars in league history, but Brooks belongs. This is a player who arrived in Tampa in 1995 and proceeded to play every single game, 224 in all, over the next 14 seasons. He made 221 starts, as well, one of only 30 players in league annals to open that many games. During that time, he essentially defined the position of weakside linebacker in a Cover Two defense, with incredible range and equal effectiveness against the run (2,148 tackles and 24 forced fumbles) and the pass (25 interceptions, seven defensive touchdowns).
"No one is more deserving," said Buccaneers Head Coach Lovie Smith, who was Brooks' position coach from 1996-2000. "I've had a chance to be around some great players and some are first-ballot Hall of Famers. There's nothing as a linebacker Derrick Brooks couldn't do and it's just good that other people acknowledge that also."
As mentioned, Brooks was named to 11 all-star squads (even winning Pro Bowl MVP honors in 2005) and was a first-team All-Pro five teams. He won three more second-team honors and was named to the NFL's All-Decade Team for the 2000s even though he played essentially half of his career in the 1990s.
It all peaked in 2002, when Brooks was the leader of one of the best defenses in NFL history, one that carried the Buccaneers all the way to their first Super Bowl championship. Brooks scored four of his seven defensive touchdowns that season, three on interceptions, helping the Buccaneers allow just 12.3 points per game and stand atop the NFL's defensive rankings. In Super Bowl XXXVII, he added a fifth touchdown, essentially sealing Tampa Bay's 48-21 victory over the Oakland Raiders with a 44-yard pick-six in the fourth quarter.
Brooks won his NFL Defensive Player of the Year award that season, and that came amid a run of extremely impressive honors for the highly-respected Buccaneer linebacker. In 2000, he was the co-winner of the Walter Payton NFL Man of the Year award along with Chicago's Jim Flanigan. In 2003, he was the recipient of the Byron "Whizzer" White NFL Man of the Year Award. The latter honor focuses on a player's contributions to the community, while the former recognizes a player's contributions both on and off the field. Both awards are among the most prestigious an NFL player can receive, and in Brooks' case they underscore how completely he impacted the Buccaneers and their community. Indeed, if there is another trait that links Brooks to Selmon it is the well-earned perception that both players, as phenomenal as they were between the lines, were even more impressive outside of them.
And now they are fellow Hall of Famers. If the Buccaneers wanted a greater presence within the walls of Canton, they simply could not have found a better representative than Derrick Brooks, an NFL legend in every sense of the word.