STORY HIGHLIGHTS
Akeem Spence and William Gholston, both fourth round picks in 2013, were starters on the Bucs' defensive line by the end of the season
Gholston and Spence will have to adjust to a new defense in 2014 but coach Joe Cullen sees upside in their game tape from 2013
Young defenders often unlock their potential between their first and second NFL seasons

Last April, as the third day of the 2013 NFL Draft began, the Tampa Bay Buccaneers were holding two picks in the fourth round. About an hour and a half later, the Buccaneers' defensive line was sporting new depth inside and out.
At the time, of course, those were just gains on paper. Every draft pick looks like a potential contributor in April; in reality, many third-day selections fail to make a significant impact in the long run, for Tampa Bay and every other team in the league.
Fortunately for the Buccaneers, that fourth-round haul still looks quite promising 10 months later. With the 100th overall selection, Tampa Bay chose Illinois defensive tackle Akeem Spence; 26 picks later, the team alighted on Michigan State defensive end William Gholston. By the end of the 2013 season, both halves of that Big Ten duo would be starting on Tampa Bay's defensive front.
Spence impressed early in mini-camps and OTA workouts and quickly locked down the starting nose tackle spot. He contributed just one sack during the regular season but showed his strength inside against the run and proved to be a solid player despite having to deal with a wrist injury much of the fall. Gholston took longer to work into the D-Line rotation but came on strong near season's end and eventually took the starting left end spot from Daniel Te'o-Nesheim, pitching in with 31 tackles, two sacks, and three passes defensed.
Of course, after Spence and Gholston's shared rookie season ended, the Buccaneers dismissed Greg Schiano and brought in new Head Coach Lovie Smith. Smith and the staff he quickly assembled, including Defensive Coordinator Leslie Frazier, will be installing a different defensive system, and they will be evaluating how well the Bucs' returning players will fit in that scheme. That is the main order of business at One Buccaneer Place right now, and it involves hours and hours of game tape study from the 2013 season. For Gholston and Spence, the main evaluators are Smith, Frazier and new Defensive Line Coach Joe Cullen.
The good news for that pair of rising NFL sophomores? They've made a solid first impression on the leader in their meeting room.
"I like what I've seen on tape and they have some great upside," said Cullen, who will give each player in his group an equal chance to prove himself once work begins on the field. "Whether someone's a five-time Pro Bowler or someone's just coming in as an undrafted free agent, I'm going to coach each guy the same, and so is [Assistant Defensive Line] Coach [Mike] Phair."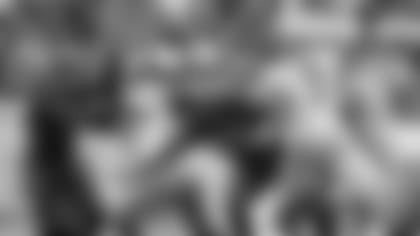 DE William Gholston (92) and DT Akeem Spence (97) could be regulars in the Bucs' D-Line rotation in 2014
The Bucs have certainly found useful players in the fourth round or later through the years. Recent examples include Keith Tandy in the sixth round in 2013, Dekoda Watson and Erik Lorig in the seventh round in 2010 and E.J. Biggers in the seventh round in 2009. The fourth round, specifically, produced wide receiver Mike Williams in 2010 and safety Tanard Jackson in 2007. But the last time a defensive end selected by Tampa Bay in the fourth round or later had an extended impact on the team was 2001, when Ellis Wyms came aboard via a sixth-round selection.
Spence or Gholston – or, hopefully, both – could be next. Neither player was productive enough in 2013 to guarantee that development, but Cullen has reason to believe they will do more next fall.
"I'm excited because a lot of times those young guys come in and they make a big jump from their first to second year," said the coach. "They know what the league's about, they're used to the season. It's all new to them [as rookies]. They come in and they're used to an 11 or 12-game season, being done in November; now all of a sudden they're playing 20 games. It's different and it takes a toll on them."
In Schiano's defense, Spence mostly lined up in what was called a "tilt-nose" position, with a cocked angle of attack over the center. He showed some promising pass-rush potential in the preseason and early in the regular season but wasn't much of a presence in the backfield most of the year. In the Bucs' new defense, Spence will find himself lined up straight in some situations and angled in others, but in all situations he'll be expected to get more advancement up the field.
"He does have some [pass-rush] qualities," said Cullen of Spence. "I thought he did some good things in his rush. I can't comment on the scheme before, but all four guys are going to have to create pressure on the quarterback, whether you're a nose tackle or right end or left end or an under tackle. I would expect anybody that lines up on any down, if the one-on-one rush presents itself we expect them to do their best to get to the quarterback."
Similarly, Gholston is seen as a versatile player who can line up at end but also see some time at tackle in pass-rush downs. At Michigan State, the 6-6, 280-pound defender moved around the defensive front quite a bit, and he was viewed as a player with as-yet-untapped athletic potential.
"He's rushed outside and he's rushed inside," said Cullen. "A lot of times you get that with big defensive ends. They can play in base situations and move inside. We're just going to take a look at everybody and see where they best fit."
If that fit proves to be as significant contributors in the defensive line rotation – perhaps even starters – in 2014, then the Buccaneers will definitely look back at their 2013 fourth-round draft efforts as a success.