STORY HIGHLIGHTS
DT Gerald McCoy will have to wear a protective covering on his fractured hand, but he is likely to play Sunday
The Bucs could get their first look at what a 1-2 RB punch of Doug Martin and Bobby Rainey will look like
The Steelers have a well-earned reputation for a hard-nosed style of play, and the Bucs want to match it

The Pittsburgh Steelers' reputation as a defensive-driven team belies the 2014 realityof a club that has fared better on the other side of the line of scrimmage.  That said, there's nothing misleading about the Steelers' decades-long reputation as a tough, hard-hitting team.  According to Tampa Bay Buccaneers' players and coaches, that is still very much true, and it's a characteristic they need to match on Sunday at Heinz Field.
"We need all of the guys we can get playing a great Pittsburgh team," said Buccaneers Head Coach Lovie Smith. "I say 'great' based on how they played last week and if that's the team that we get, then it's going to be tough duty for us and that's what we're expecting. We need to meet that intensity, that physical play if that's what we say we are."
The Bucs won't have "all" of their guys (nor will the Steelers, for that matter), but they're a lot closer to a full lineup than they have been since early in the season opener against Carolina, when a rash of injuries began.  Tampa Bay's final injury report of the week, complete with game-status designations, makes it clear that at least three and perhaps four key contributors will be back in the mix this weekend.
At the head of that pack is defensive tackle Gerald McCoy, perhaps the team's most important player.  The All-Pro defender missed last Thursday's game in Atlanta and the majority of the Week Two contest against St. Louis after sustaining a fracture in his left hand.  That fracture is not yet completely healed, but McCoy is expected to play with a protective covering that will allow him as much freedom of motion as possible.  He practiced all week, and while he was somewhat limited he has been tabbed as probable, and it's rare for players with that designation to be held out due to their injuries.
Running back Doug Martin is also listed as probable. The Buccaneers have had Martin since 2012 and fellow running back Bobby Rainey since the seventh week of 2013, and between them they have recorded nine 100-yard rushing games in that span.  But the two have played in the same game just once, in this year's season-opener, and Martin logged only nine carries in that one before sustaining a knee injury.  The Buccaneers came into the season intending to use at least two running backs extensively (and perhaps a third; Mike James also had a 100-yard game last year), but have not had a chance to work on a Martin-Rainey rotation.  That should begin to develop on Sunday.
Rookie tight end Austin Seferian-Jenkins is less of a known factor in the Bucs' offense than Martin, but that may not be the way the Bucs' coaching staff views it.  Seferian-Jenkins, a high second-round pick, showed a lot of promise during training camp and looked good on his one 26-yard catch in the season opener before he suffered an ankle injury.  The Bucs' passing game is looking for a spark, and Seferian-Jenkins might be able to provide it.  He was limited in practice this week but is probable on the injury report.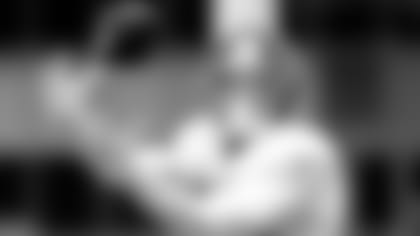 TE Austin Seferian-Jenkins gained 26 yards on his first NFL catch but hurt his ankle not long afterwards and hasn't played since
Defensive end Michael Johnson is questionable, and therefore the least certain of the Bucs' game-time decisions, but he could provide a big boost to a Buccaneer defense that has not been satisfied with the pressure it has put on opposing quarterbacks.  Tampa Bay's very first target in free agency, Johnson had 11.5 sacks in 2012 and is expected to provide the outside-pressure complement to the havoc that McCoy wreaks on the inside.  As with Martin and Rainey, that's a tandem the Bucs have seen too little of so far.  Johnson hurt his ankle early in the opener, missed the next game and then was limited to a half-dozen snaps in Atlanta.
Mason Foster, the team's starting middle linebacker, will not play; he and reserve end Larry English have already been ruled out due to shoulder and hamstring injuries, respectively.  Still, with reinforcements apparently on the way, the Buccaneers have reason to feel confident that they can rebound from last Thursday's rough game in Atlanta.
Again, that will also depend upon the Bucs' ability to match or exceed the Steelers' physical style of play.  Guard Logan Mankins is more familiar with the Steelers than most of his new Buccaneer teammates from his years in New England, and he has seen what it takes to beat them.
"I played them a lot of times and I know any yards you get offensively against this team, you have to earn it – they don't give up too many big plays," said Mankins.  "In the run game, you've got to get after them, you've got to get on guys, and you've got to hope you can make some creases in there. It's hard work. It doesn't come easy early, but if you keep after it enough times, you can get them.
"They're a physical team and you have to play up to it. They make it hard on you. But if you keep going and you do things right, usually you'll be okay."
The Steelers have also ruled out two starters – linebacker Ryan Shazier and cornerback Ike Taylor – in addition to placing linebacker Jarvis Jones on injured reserve earlier in the week.  Their only other questionable player is starting left guard Ramon Foster, who practiced fully on Wednesday and Thursday before being limited on Friday.