The Tampa Bay Buccaneers are 3-6 in 2018, but they haven't given up on their playoff aspirations. In fact, Head Coach Dirk Koetter, when announcing that Ryan Fitzpatrick would remain the starting quarterback, made it clear that he was still basing his decision on the belief that the Buccaneers could turn their season around.
It is not common for a team to go from 3-6 to the playoffs because it usually involves winning out the remainder of its schedule. But it is not impossible, either. The most recent team to do it was the Washington Redskins in 2012, and it has happened four times since 1990. Those four teams share one common trait: All four improved their turnover ratio after their 3-6 starts, three of them in rather dramatic fashion.
This is what Koetter said on Monday when asked if he thought the Bucs could turn things around dramatically simply by reversing their turnover-ratio deficit:
"Yeah, definitely. Absolutely. I don't even think it would be a question. But we have to do it. We haven't been able to do it in over a month."
Indeed, Tampa Bay is now a league-worst negative-19 in turnover ratio after losing that battle, 4-0, to Washington on Sunday. After a 2-0 start to the season in which they had a combined plus-two in the turnover department, the Buccaneers have lost that battle in seven straight games. Since the first quarter of their Week Three game against Pittsburgh, the Bucs have given it away 23 times and taken it away just once, and that one takeaway came on special teams. Tampa Bay's last defensive takeaway was Justin Evans' interception in the first period of that Pittsburgh game.
The 2012 Redskins team that stormed to the playoffs with a seven-game winning streak most notably featured quarterback Robert Griffin III, but it also had a defense that was good at taking the ball away, and that was true even during its 3-6 start. Still, the Redskins got even better in that department in the last seven games, and the other three teams noted above improved dramatically.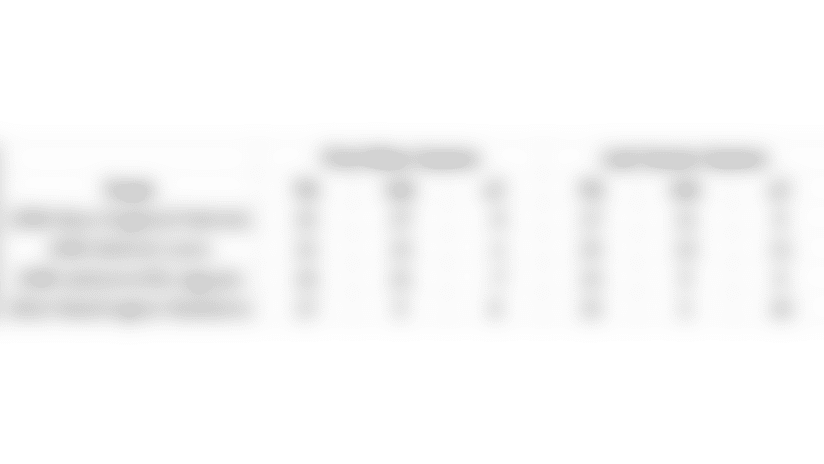 The Buccaneers' turnover ratio is far worse than any of those other teams at the nine-game mark. One can look at that in two different ways. Pessimistically, one could say that Tampa Bay's problem is a much bigger one than those above and thus tougher to fix. Optimistically, one could say that the 2018 Bucs have been so adversely affected by that one problem, far more than the teams above, and that if it is resolved the improvement in the team's fortunes would be even more dramatic.
We'll only be able to find out if that problem is, indeed, resolved. Hopefully that will begin on Sunday against the Giants.
Now on to your questions.
A reminder that you can send questions to me anytime you want on Twitter (@ScottSBucs) and they're easier to find if you include the hashtag #SSMailbagBucs. As you'll see from time to time, I also unilaterally appropriate for myself – as any good pirate captain would – questions I like that are meant for our Insider Live show or are simply responses to one of my previous tweets. I've also taken to stealing emails meant for our Salty Dogs podcast. As always, if you specifically want to get a question into the mailbag and would prefer to email your question, you can do so to tbbsocial@buccaneers.nfl.com.
This was sent in the day after the Washington game, in which Jacquizz Rodgers set a career high with 102 receiving yards on eight catches. Quarterback Ryan Fitzpatrick went to Rodgers repeatedly because that's what the Washington defense was choosing to give up, and it worked for the most part. Rodgers had never quite had a day like this in the passing game; his previous career high was 56 receiving yards.
I'm glad that Rodgers has a big fan out there because it's easy to get lost in the shuffle on a team that has so many dynamic offensive weapons, especially in the passing game. That said, I don't think that Rodgers is going to supplant Peyton Barber as the Buccaneers' starting running back anytime soon.
First off, Barber is running quite well right now. He averaged 4.7 yards per carry against Washington on 13 totes before the Bucs fell behind by two scores and went to more of a pass-oriented attack. He ran for 85 yards and a touchdown in Cincinnati and averaged 4.5 yards per carry. He ran for 82 yards on 13 carries at Atlanta, averaging 6.3 per pop. He is a bigger back than Rodgers (though Rodgers is definitely solid) and he is very good at gaining additional yards after contact. He rarely finishes a run without falling forward.
Rodgers is actually getting plenty of playing time. It's clear that the coaches value his pass protection, and he showed again in the Washington game that he can be an effective pass-catcher out of the backfield. He has averaged about 29 snaps per game over the past four weeks while Barber has averaged about 37; that's really not that big of a difference. If you want to think of the third-down back position as being a starter, same as the slot receiver, than Rodgers sort of is a starter already. That's particularly true with rookie Ronald Jones sidelined by a hamstring injury at the moment.
As a runner, Rodgers has only had limited opportunities this year, with 16 carries, and he's averaging just 2.4 yards per attempt. With the way Barber is running right now, it really wouldn't make a lot of sense to switch to Rodgers as the primary ballcarrier. His value to the Bucs is as a pass-protector, third-down back and occasionally fill-in for Barber while Jones is sidelined.
Well yes, Mel, as you probably know by now the Buccaneers have made a change at kicker, waiving Chandler Catanzaro and signing Cairo Santos. Santos has played most of his career in Kansas City but earlier this year filled in for an injured Greg Zuerlein with the Rams for two games and made five of six field goals. Obviously, the Bucs will hope that Santos brings a little more stability to the position.
The bigger question is where do the Buccaneers go from here in 2019 and beyond. The signing of Catanzaro to a three-year deal was clearly an attempt to bring that aforementioned stability to a spot that has been lacking it since Connor Barth held the job for three straight years (2010-12). Tampa Bay has not had the same opening-day kicker for two consecutive seasons since and that will continue in 2019 now that Catanzaro has been waived.
One answer, obviously, could be Santos. He has initially just been signed to a deal for the rest of the season. Presumably, however, he could perform well enough that the Buccaneers could look at him as the multi-season fix they thought they had brought in with Catanzaro. In his career, he has hit on 84.1% of his field goal tries and 95.7% of his extra point attempts, beginning in 2014. He's seven of 13 all-time on attempts from 50 yards and beyond, so it would be nice to have a reasonable option for extra-long kicks if needed. Among kickers with at least 100 field goal attempts since 2014, Santos ranks third with his success rate, just below Dustin Hopkins and a little above Zuerlein.
The league average for all kickers this season on field goals is 84.3%, so the Buccaneers would probably be satisfied if Santos can essentially continue to match that. He'll get a seven-game audition to convince the Buccaneers to give him the job long-term.
Otherwise, the Buccaneers could try to use the draft at that position again, though it's unlikely they would spend another Day Two pick on a kicker. They could give a shot to an undrafted rookie, as happens in several cities across the league every year. Oakland did that with Giorgio Tavecchio last year and now Tavecchio is filling in for an injured Matt Bryant in Atlanta. Houston did it with Ka'imi Fairbairn in 2017 and he's in his second year on the job and making 86.4% of his kicks. Kansas City did it with Santos in 2014.
Or they could see what other veterans hit the market, as they did this past season. It's fair to say the Buccaneers have had a string of poor luck with some of their kicker decisions in recent years; hopefully that will change in 2019.
Sigh. Yes, Ty, I think the Buccaneers will score more than three points against the Giants this weekend. I'm basing that on the fact that they were averaging 28.6 points per game prior to this past Sunday, and they're still averaging 25.8 per game after that unprecedented 500-yard, three-point loss against Washington.
There is clearly plenty that a fan could complain about regarding the Buccaneers this season, but I don't see how scoring is one of them. This is the highest-scoring team the franchise has ever had. Tampa Bay ranks last in the NFL in points allowed; if they were even 22nd in those rankings (25.6 per game, by Miami), they would be scoring enough on average to win every game.
Scoring was a problem against Washington, of course, because the offense absolutely flamed out in the red zone, somehow getting there five times (plus another drive that ended with a fumble from the Washington 19) and only coming away with a single field goal. That's so bad as to be almost inconceivable. You know when the last time the Buccaneers had at least five trips into the red zone and didn't score a single touchdown was? I happen to have game-by-game breakdowns of this going back into the '90s so I was able to look up the answer: The season finale of 2002, the Super Bowl year. That game was played in Champaign, Illinois against the Bears while Soldier Field was being renovated. It was a cold night game, and a strong wind was howling across the field in one direction, and neither team could operate against the win. The Buccaneers won 15-0 on five field goals, all five of them kicked in the direction of the wind. All came on drives that breached the Bears' 20-yard line.
There were special circumstances to that game. The Bucs' loss to Washington was, in contrast, the result of just about every possible breakdown inside the 20, from a botched snap to a fluky fumble to a strip-sack to a goal-line interception to missed field goals.
And I just don't see why we should expect something like that to happen again, even if you're currently feeling pessimistic about the team (which is fair). Prior to that game against Washington, the Bucs were doing just fine in the red zone, with an 86.7% touchdown rate that ranked 13th in the NFL. That was better than the Chargers and the Rams.
I'd be much more pessimistic about the Bucs' chances to put up points this coming weekend if they simply weren't getting into the red zone, but that's not the case. Tampa Bay's offense - in addition to having scored 11 touchdowns on plays that started outside the red zone (tied for fifth in the league) - has 35 trips inside the opposing 20 this year; only five teams have had more. When I was going through those season-by-season, game-by-game breakdowns, there were plenty of years in which the Bucs never had a game in which they got into the red zone five times. It only happened once from 2009 through 2013!
Five-hundred-and-one yards and only three points was terrible, and each of the mistakes that led to it are worthy of a fan's derision. But having all of that happen in one game was fluky, and it's not going to happen again. I fully believe the Bucs' offense will go right back to scoring in the high 20s, starting this weekend.