STORY HIGHLIGHTS
WR Louis Murphy caught a team-high eight passes for 99 yards during the preseason
A Bay area native, Murphy originally made the 53-man roster but was released on Sept. 6
WR Chris Owusu played the Bucs' first three games and had two receptions for 20 yards and a TD

Louis Murphy's first stint with the Tampa Bay Buccaneers ended six days into the regular season. Now he's getting a second chance to play for his hometown team.
On Tuesday, the Buccaneers shuffled their receiving corps by releasing third-year player Chris Owusu and re-signing Murphy, a sixth-year veteran who previously played three seasons in Oakland and one each with the Carolina Panthers and New York Giants. The Buccaneers also waived three players from the practice squad: linebacker Ka'Lial Glaud, safety Kimario McFadden and defensive end Adrian Robinson.
Both Murphy and Owusu made Tampa Bay's 53-man roster coming out of the preseason, but Murphy was subsequently released the day before the regular-season opener so that the team could bring rookie wideout and kick returner Solomon Patton. It likely did not help Murphy that he had suffered a back injury in the preseason finale against Washington Redskins; in fact, he had already been designated as "out" on the official injury report for the September 7 game against the Panthers before he was released.
Murphy is a former prep star at Lakewood High School and he was thrilled this past March to sign with the team he rooted for while growing up in St. Petersburg. He also played his college ball at the University of Florida, helping the Gators to two national championships before he was drafted by the Raiders in the fourth round in 2009.
Murphy played in all four preseason games for the Buccaneers in August, starting one, and led the team with eight receptions for 99 yards. Prior to joining the Bucs, he played in 71 regular-season games with 24 starts and recorded 121 receptions for 1,744 yards and eight touchdowns. He scored a career-high four touchdowns in his rookie campaign, including one on a 75-yard reception, and followed with career bests of 41 receptions and 609 yards in 2010. Murphy has also logged 14 carries for 146 yards and one additional score.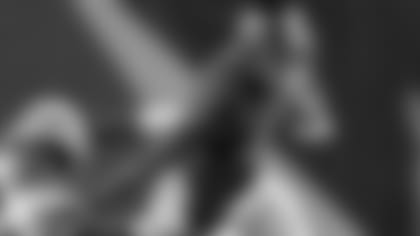 WR Louis Murphy played his prep ball in the Bay area and won two national championships at the University of Florida
Owusu played in each of the Bucs' first three games, contributing two catches for 20 yards and a touchdown. He scored the team's first points of the season on a 19-yard catch against Carolina. He also returned one kickoff for 45 yards against the St. Louis Rams on September 14 on a short kick that he fielded well in front of Patton.
Owusu originally came to Tampa in September of 2012, when he was signed off the San Diego Chargers' practice squad early in his rookie campaign. He played in five games that season, catching one pass for 24 yards. He then started the 2013 season on the Bucs' practice squad but was later promoted back to the 53-man roster, appearing in nine games and catching 13 passes for 114 yards. He played his college football at Stanford.
The Buccaneers now have three available spots on their 10-man practice squad. Those are likely to be filled before the start of practice on Wednesday.