STORY HIGHLIGHTS
WR Sidney Rice remains available in free agency but the Bucs don't have to address every roster need in that manner
The Bucs could trade down and still target a receiver in the draft if they have several they feel are good fits
Pre-draft visits from prospects add to the total scouting report on a potential pick

Each week, Senior Writer/Editor Scott Smith will dip into the inbox to answer questions from  Buccaneer fans.  This week, Smith fields questions on free agent wide receiver Sidney Rice, the possibility of a trade and a targeting of wide receiver Brandin Cooks in the draft and the purpose of the NFL's current run of site visits from draft prospects.
Fans can submit questions for upcoming mailbags via Twitter to @ScottSBucs (#BucsMailbag), through a message on the Buccaneers Official Facebook Page or via email at **tbbsocial@buccaneers.nfl.com*.  The One Buc Mailbag runs every Thursday and is not necessarily meant to reflect the opinions of the team's management or coaching staff.*
Hey Scott, now that the Bucs have traded Mike Williams and only have added guys that are a 4>th maybe 3rd at best receiver options why are they not targeting Sydney Rice who is still available? He would easily be a 2 guy on our roster right now and a 3 if we go receiver in the 1st round.
- Christopher Carroll, via email to tbbsocial@buccaneers.nfl.com
Well, first off Christopher, how do you know that they haven't targeted him?  The Bucs were big players in that initial wave of free agency, obviously, but they've continued to make depth signings in the weeks that have followed.  Major Wright just came aboard this week, and he was a 16-game starter for the Bears last year.  Rice is still available, and for all you or I know, Jason Licht might have contacted his agent.
But that sounds like a dodge, and I know it.  I may not know for certain that the Bucs haven't pursued the former Seahawk receiver, but I haven't heard any rumors to the effect and I think it's a fairly safe guess that there has been no interest.  So let's go ahead with your question as if we know that the premise is accurate.
I'll start by saying this: Let's not get greedy.  I don't mean that in a harsh way, Christopher; I mean it as much as a reminder for myself as anyone else.  If we were to roll back the clock to March 10, one day before the start of free agency, and make a list of depth chart needs the Bucs could potentially address with veteran signings, we might include defensive end, cornerback, kick returner, offensive line (at several spots), wide receiver, tight end, defensive tackle and quarterback.  Back on March 10, would any of us have realistically expected the team to take care of all of that in free agency, especially with three picks in the top 68 in a loaded draft coming up?  That the Bucs hit almost that entire list is still pretty remarkable.  As I noted in last week's mailbag, Licht chuckled a little bit when he was asked a similar question at the league meetings in Orlando and said, "The pockets are getting sort of empty right now!"
Yes, the Buccaneers still have some cap space to use on additional players if they want to, as they did with Wright.  That's not the type of specific information a team generally makes public, but ESPN's Pat Yasinskas recently pegged the Bucs' current cap space at $13.2 million.  Even if that's accurate (and as Yasinskas himself notes), some of that has to be earmarked for upcoming draft picks and it's also wise to keep some of it around to be able to react to a significant injury with another signing.  So there are still some coins jingling in those pockets, but there probably is not another big-dollar signing on the horizon for the Buccaneers, at least not before the draft.
So, the question becomes, what would Rice cost and would that represent value and an upgrade for the Buccaneers?  It's possible that Rice is looking for a pretty significant deal, and that's part of the reason he hasn't found a home yet.  You say Rice is a #2 NFL receiver; his former teammate, Golden Tate, got $31 million from the Lions on a five-year deal in March, with a cap hit of $3.1 million in 2014.  In 2012, when Rice and Tate were the Seahawks two starting receivers, catching passes from the same quarterback in the same system, they finished with nearly identical stat lines.  Rice had 50 catches for 748 yards and seven touchdowns, while Tate put up a 45-688-7 line.  Rice also has a 1,300-yard season on his resume (with Minnesota – and Brett Favre – in 2009), while Tate has never topped 900 yards in a season.  That's not a knock on Tate.  I like Golden Tate and would have liked to see him join the free agency rush to Tampa, but if he's commanding $3.1 million in this year, one could definitely imagine Rice thinking he should get something similar.
How about we compare him to Tennessee's Kenny Britt?  Britt doesn't have an 1,000-yard season, either, but there are some similarities.  Both Britt and Rice are big receivers (6-3, 215 for the former; 6-4, 200 for the latter) with speed and what many consider a significant upside, and they both have struggled to stay healthy throughout their careers.  Britt probably has a bit more baggage than Rice, but he just re-signed with the Titans for $1.4 million this year.  Rice has to believe he can make at least that much, right, and maybe more?
So Rice probably doesn't come cheap to any team,  unless he ends up waiting into the summer and finding no good offers.  You know who does come cheap, relatively speaking?  A draft pick.  I'm of the opinion that the Buccaneers can find a player of Rice's caliber or better in this year's draft, and he'll be four or five years younger and signed at good value.  I know you account for this in your question, saying Rice would be a good #3 receiver if the Bucs do take a receiver in the first round, but that scenario would likely have you paying your #3 like he's a strong #2.  And I honestly wouldn't rule out the Buccaneers drafting two receivers in May; the position is that deep this year.
The Bucs intend to address all of their depth chart needs in some way, obviously.  A lot of help has come from free agency, and some of it will hopefully come from the draft.  For those spots still in question – and, yes, wide receiver sure looks like one of those after the Williams trade – the Buccaneers may be waiting to see what they can accomplish on draft weekend.  If holes remain after the team's six picks, then you can dip back into free agency if you so desire.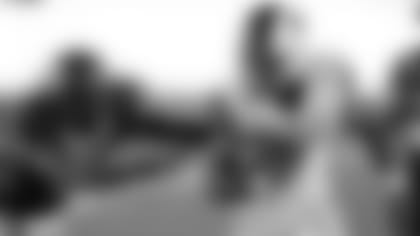 Oregon State WR Brandin Cooks is projected by most analysts as a first-round pick
With the WR pos. deep, what are the chances of trading down to get a 1st & 2nd to take a glimpse at Brandin Cooks?
- Marcus Evans (@psymons2), via Twitter
I guess I shouldn't be surprised that the first mailbag after the Mike Williams trade would be obsessed with the receiver position.  Unlike Christopher, however, Marcus here is focusing on the draft.
The "chances" of a trade down and a Cooks selection?  Well, I know that Licht and Lovie Smith are open to the idea of moving down from #7 and acquiring more picks.  I agree with just about everybody that the receiver position is a logical target for the Bucs in the first round, with the opening opposite Vincent Jackson and the depth of talent in the draft.  And I see that Cooks is considered a "riser" on the draft boards after his very good performance at the Scouting Combine.  He's really fast. That's good.
But I can't really give you a percentage of how likely I think that specific scenario is, Marcus.  To do that, I'd have to know how Licht and Smith have ranked all these great receiver prospects and if they like Cooks as much or more than, say, Marqise Lee or Odell Beckham or Kelvin Benjamin.  I'm sorry to say, I'm not privy to that information (very, very few people are), and if I was it wouldn't be a boon to my job security to share it with the world.
My thoughts on that trade-down scenario: I think you have to decide two things before you pull the trigger.  One, is there a small enough gap between the receiver you could take at #7 (most expect that to be Mike Evans) and the one you would get at, say #20, that you won't regret passing on the first one?  And, two, are there several receivers you would be satisfied with at #20?  There doesn't seem to be any real consensus in how the receivers will fall after Sammy Watkins and Evans, so it would be pretty risky to target one player and then trade down that far.  If you make that trade, it's because you think the overall depth at the position is strong enough that you're virtually guaranteed of getting one of the players you want.  Maybe, for instance, you feel comfortable with either Cooks or Beckham.
Perhaps you could minimize that risk and target a specific player a bit more if you agree on a smaller trade, say four or five spots down.  I'm not sure that nets you a second-round pick, however.  I looked over the last three drafts to find deals that were, in essence, a swap of firsts and a second-rounder to the team moving down, and I found four of them.  Miami gave up a second-rounder to move up nine spots to #3 last year; St. Louis gave up a second-rounder (there was also a seventh and a swap of thirds that didn't benefit the Rams) to move up eight spots last year to get to #8; Dallas gave up a second-rounder in 2012 to move up eight spots to #6; and Jacksonville gave up a second-rounder in 2011 to move up six spots to #10.
So it looks like the sweet spot is a move down of about eight or nine spots, from a pick late in the top 10 to late in the teens.  The Bucs are actually in pretty good position to do exactly that, especially if they like the depth at the receiver position more than any one particular player.  On paper, then, it looks like something that could happen, Marcus, but again it depends on how the team has ranked Cooks compared to his peers.  And, of course, it also depends on finding a trade partner, which could be difficult in what many consider the deepest draft in a long time.  The best bet for that to happen: Probably an early run on quarterbacks.
What's the point of bringing players in for visits before the draft? What does a team NOT know by this point? I think it's all just a smokescreen to get other teams thinking you're going to do this and that…and since everybody knows it's a smokescreen, it probably doesn't work anyway.
-Anthony Carter, via email to tbbsocial@buccaneers.nfl.com
Finally a question not about receivers (although it was submitted by somebody whose name reminds me of a receiver).
You know what I think it boils down to, Anthony?  I think teams never feel like they can have too much information on a player, especially one they are thinking about using something as valuable as a first-round pick on.
Yes, the Buccaneers base the majority of their scouting report on a player's talents on what they see on game tape, and what scouts see live during the college season.  And yes they add to those scouting reports at college all-star games and the Combine and all the campus Pro Days.  And yes they use all of those events to get sit-down interviews and medical information from the players.  The Bucs will have a very thorough dossier on any player they consider drafting in May, whether or not they get a visit from him to One Buc Place, as well.  And, in fact, most of them will not get that visit; each team is limited to 30 of them.
You can't work a player out on the field during one of those visits, but you also don't have a specific time limit when it comes to sitting down and talking things over.  At the Combine, each interview lasts just 15 minutes, and an air horn blasts signals in the hotel lobby every time another quarter-hour has passed.  It's kind of like speed-dating.  On a visit to team headquarters, the coaches and the players can take a little longer to get to know each other.
Ostensibly, these meetings are private, but it's not as if the travel plans of some of the more well-known names are a secret.  It doesn't take much searching to find a list of the teams that Texas A&M quarterback Johnny Manziel has or is going to visit (it was the Bucs on Thursday), for instance.  This year, the Buccaneers have elected to confirm these visits when they are reported independently, but they haven't gone out of their way to publicize any names first.  Thus, while you've heard about some of them, many others are going unreported, and in some cases that's because the visiting players are not high-profile names.  In some cases, a team will bring in a player it believes has a shot to be available as an undrafted free agent after the seven rounds are over.  A visit in April can help lay the groundwork for the recruiting effort that will take place when the draft ends and all 32 teams begin calling their targeted undrafted players.  There's obviously value in that.  In addition, every team likes to fill out its scouting report on players even if they don't expect to draft them.  If one of those players becomes available a few years down the road, or even next August when the roster cuts are made, that fuller scouting report can make it easier to decide whether or not to pursue him.
Is there a "smokescreen" element to all of this?  It would be naïve to think that's not in play to some extent.  I don't think that bringing in one specific player is going to convince the rest of the teams that you definitely are or definitely are not going to take him, but it could serve to cloud your intentions.  That, in fact, can happen even if you're not purposely trying to throw up a smokescreen; call it an unintended benefit.
I was interviewing Coach Smith recently, Anthony, and I asked him if he saw much value in all of the Pro Days on college campuses that follow the Scouting Combine.  I thought he might dismiss them a little bit.  Maybe it's a lot of traveling around the country for very little new information.  Maybe it's become a bit of a circus on some campuses.  But, no, Smith emphatically said that these Pro Days have value, and it was essentially for the same reason I mentioned above: You can never get enough information.  Every little bit helps.