STORY HIGHLIGHTS
A new coaching staff means extra time to work for the Buccaneers this offseason, including a voluntary mini-camp later this month
Mock drafts are ubiquitous on the internet, but one analyst takes an approach this author prefers
The Bucs addressed quite a few positions in free agency but couldn't possibly hit them all, and the draft could bring help at WR

Each week, Senior Writer/Editor Scott Smith will dip into the inbox to answer questions from  Buccaneer fans.  This week, Smith fields questions on the extra offseason work afforded to teams with new head coaches, the best mock drafters to keep an eye on and whether the team should have pursued WR Kenny Britt in free agency.
Fans can submit questions for upcoming mailbags via Twitter to @ScottSBucs (#BucsMailbag), through a message on the Buccaneers Official Facebook Page or via email at **tbbsocial@buccaneers.nfl.com*.  The One Buc Mailbag runs every Thursday and is not necessarily meant to reflect the opinions of the team's management or coaching staff.*
How come the Bucs aren't already practicing? Don't they get an extra mini-camp since they have a new head coach? I want to see all these new guys on the field!
- Brad Stewart, via email to tbbsocial@buccaneers.nfl.com
Patience, Brad!  Actually, all you need is just a wee bit of patience.  The Bucs hit the field next Monday, April 7, and even though it's voluntary I'm willing to bet you're going to see Michael Johnson, Josh McCown and every single one of the new signees in town.
Yes, a team with a new coaching staff is gifted with some extra offseason time to put their systems in place, which is actually why the Bucs are starting next Monday and not a few weeks later.  The majority of the league will get back on the field on April 21, but the work starts early in places like Tampa, Houston, Minnesota and Washington.
And, yes, these teams with new management also specifically get an extra mini-camp.  It's an extra voluntary camp (all 32 teams get one three-day mandatory camp, and most of them put that right at the end of the full offseason program) and it's coming up pretty soon, too.  The Bucs will hold that voluntary camp on Tuesday-Thursday, April 22-24, and given the palpable excitement over Lovie Smith's presence, I would also be shocked if attendance that week is much shy of 100%.
Just to finish the discussion, the Buccaneers also get to assign 10 "offseason training activity" days, or OTAs, as does every team.  Those will take place in a three-week period beginning on May 20, two weeks after the draft.  The Bucs will hold three OTAs in the week that begins May 19, three the following and the final four during the first week of June.  The whole thing wraps up with the aforementioned mandatory mini-camp from June 10-12.
There's also the typical Rookie Mini-Camp in the middle of all that, which the Bucs will conduct over the weekend of May 16-18.  If the current management structures that camp like the previous one (and like many teams around the league do), that will include the new draft picks, any undrafted free agents the team signs, a handful of first-year players and several dozen young men in town on tryout contracts.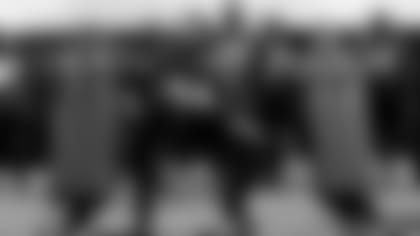 DE Adrian Clayborn and his teammates are ready to hit the field again on April 7
You talk a lot about how you like reading mock drafts even though you don't think they are worth much. Is there a reporter out there whose mock draft you trust more than the others?
- Reid, via email to tbbsocial@buccaneers.nfl.com
Honestly, Reid, not really.  And I don't mean that as an indictment of any of the local or national writers out there.  It's just not an undertaking that has much chance for success, no matter who you are.  You're trying to predict what 32 different groups of people are thinking, and those are 32 very insular groups.  The draft decision-makers work hard to maintain secrecy, for obvious strategic reasons, and there's an ever-growing sense that any information that does leak from a team is just as likely to be purposeful misdirection.  Then there's the complicating factor that even those team decision-makers don't necessarily know what they're going to do.  I mean, if you're picking first you know, and if you're picking fifth you probably have a pretty good guess, but if you're picking 15th there are so many variables before you're on the clock that you can't be sure which player you're going to land.
I guess a mock drafter could separate himself from his peers, to some small degree, in two ways: By superior evaluation of the prospects or by better access to inside information.  There are certainly reporters out there who have the latter – Adam Schefter comes to mind – but I'm skeptical how powerful that is when it comes to draft secrets.  It's just not in a team's interest for anyone outside of its inner circle to get a whiff of its real draft strategy.
I do, however, give a little extra credit to those who clearly do their own thorough evaluation of the draft prospects, such as Mike Mayock or even, yes, Mel Kiper.  If I were going to produce a mock draft right now, how would I go about it?  Well, I'd look at other mock drafts, and other lists of the top prospects, and then try to play mix-and-match by what I can guess are each team's interests and needs.  But I'm not going to spend hours evaluating college tape, and I can guarantee you that most of the mock drafters out there aren't doing that, either.
Even for those who do, the problem, of course, is that you can thoroughly evaluate a player and come up with your own opinions on him, but you can't really know how well your evaluation matches up with what a certain team thinks of that player.  Kiper's guess may be a more informed guess than yours or mine, but still just a guess.
I guess if pressed, I'd go with Mike Mayock, at least as the one mock draft I'm most interested in, and here's why.  A few years ago, I had the opportunity to interview Mayock while covering the NFL Scouting Combine in Indianapolis.  At some point I asked for his prediction of the Buccaneers' first-round pick, and he told me that he hadn't gotten to that point in his draft preparation yet.  See, Mayock does produce a mock draft, but not until shortly before the actual draft takes place.  Kiper and most of the others begin publishing mock drafts as early as January and simply update them in the months that follow, producing "2.0" and "3.0" versions, and so on.  Google "Mike Mayock Mock Draft" right now and you'll get links to tons of information, because he certainly is producing a lot of interesting pre-draft evaluation.  You'll find ranking lists by position and reports on Combine workouts and opinions on players who seem to be rising or falling on the proverbial draft board.  But you won't find an actual 1-32 pick prediction yet.  I think Mayock spends months gathering as much data as he can and then puts together his absolute best guess in the final hours.
Last year, the NFL Draft started on April 25 and Mayock released his one-and-only mock on April 24. How did he do?  You know what – pretty good, actually.
Depending upon how much leeway you want to give him for teams trading up and down, Mayock correctly predicted 12 of the 32 picks, which is about as high as a number as you should expect to see from any of these mocks.  Mayock got four of the first five picks right, and after missing on the Geno-Smith-to-Cleveland-at-#6 idea, then got #7 right, with guard Jonathan Cooper going to the Cardinals. WR Tavon Austin went next at #8, as Mayock predicted, but to the Rams, not the Bills; we'll give him partial credit.  A lot of pundits correctly had linebacker Jarvis Jones going to Pittsburgh at #17 – it was just too perfect a marriage of need, prospect rankings and the type of linebacker that the Steelers always seem to target – but I wonder how many also correctly matched guard Justin Pugh with the Giants.
Mayock's most interesting picks were linebacker Alec Ogletree to the Rams at #22 and cornerback Desmond Trufant to the Falcons at #30.  Ogletree and Trufant did indeed end up with the Rams and Falcons, respectively, but Trufant went 22nd and Ogletree 30th after a trade.  Mayock closed out the first round by correctly matching the Ravens with safety Matt Elam, but that was actually a pretty popular pick, too, after the departure of Ed Reed.
There were plenty of near-misses, such as the prediction of defensive tackle Sheldon Richardson to the Carolina Panthers, when in fact it was DT Star Lotulelei who ended up in Charlotte.  Likewise, the Texans alighted upon wide receiver DeAndre Hopkins, not wide receiver Justin Turner, later in the round.  This perfectly illustrates my point from earlier – an astute mock drafter can make a perfectly good connection between an obvious team need and a top-ranked prospect, but it's hard to really know how the team has those prospects ranked.
Obviously, I've admitted to reading and enjoying all those mock drafts out there, and I even periodically summarize their consensus thinking here on Buccaneers.com.  You say that I "don't think they are worth much," but I don't think I would put it quite that way.  I don't think I have put it that way in the past.  What I do think is that they are very entertaining and that they have very little chance of being more than marginally correct, especially in January, February or March.
Why aren't the Bucs going after Kenny Britt? We really need another receiver and we haven't signed any in free agency? Kenny Britt is still out there and he would be at least a really good third receiver?
- Louis R., via e-mail to tbbsocial@buccaneers.nfl.com
Well, the Bucs did sign Louis Murphy, the former Oakland/Carolina/N.Y. Giants receiver, but I guess you're talking about more of a "name" guy.  And, yes, I know (and Louis probably knows) that Britt signed with the Rams on Monday, but I was sitting on this question after not using it in last week's mailbag, and I think the topic is still valid.  After all, the Bucs had three weeks in which they could have gone after Britt.
You know, at the NFL's Annual Meeting last week, Bucs G.M. Jason Licht stood for a Q&A session with an assemblage of hometown media that lasted about 15 minutes.  About four minutes in, he was asked about possibly addressing the receiver position in free agency, and then a moment later about the apparent decision not to pursue a kick returner like Devin Hester or Dexter McCluster on the UFA market.  Licht laughed a little bit as he started his answer to the second question, as if to say, 'What more do you want from me?' It was a good-natured laugh, and several members of the media joined in.  "I wish we could have addressed everything in free agency.  We've signed all these guys and I'm still getting asked all these questions [at team headquarters], you've got staff members [saying], 'Hey, but what about this guy?'  The pockets are getting sort of empty right now!"
The Bucs still have money to spend if they choose and they're still kicking the tires on additional free agents, but I think the point is that, while they were extremely aggressive on the open market, they never expected free agency to solve every roster shortcoming.  Nor should they have.  After spending about a month and a half thoroughly evaluating the existing roster, Licht and new Head Coach Lovie Smith saw a need and an opportunity to make a swift reboot to the depth chart through free agency.  Nevertheless, the long-term core of this team will be built through the draft, and we as fans shouldn't really expect Licht and company to use free agency to plug every need.
As for Britt, he signed with the Rams on a one-year deal, reportedly for about $1.4 million.  Yes, that's affordable, but he wouldn't have been that affordable if there weren't some red flags.  Britt has missed 23 games over the past four years, most of them due to injury.  He has served a one-game suspension from the league that sprang from an accumulation of off-field incidents.  He has yet to post a 50-catch or 800-yard season in the NFL, and his 2013 season wasn't particularly productive (11 catches for 96 yards).  There's too much talent there for him not to land somewhere, but it doesn't surprise me that the Buccaneers didn't lead the charge in trying to sign him.  Personally, I'll take what has happened so far in free agency – with potentially huge gains on the D-Line, on the O-Line and under center – and cross my fingers that the Bucs land an impact receiver in the draft.