STORY HIGHLIGHTS
Rookie T Matt Patchan would eagerly move to guard if asked but his best bet probably remains at tackle
Jorvorskie Lane doesn't have to worry about the fullback position disappearing if he continues to shine
Buc fans responded to our fantasy team name article with some clever options

Each week, Senior Writer/Editor Scott Smith will dip into the inbox to answer questions from  Buccaneer fans.  This week's first two topics – the idea of rookie T Matt Patchan as a guard and the notion that FB Jorvorskie Lane is competing for a spot that doesn't exist – arrived via email, while Twitter provided some pretty witty responses to our own attempt at Buc-themed fantasy football team names.
Fans can submit questions for upcoming mailbags via Twitter to @ScottSBucs (#BucsMailbag), through a message on the Buccaneers Official Facebook Page or via email at *tbbsocial@buccaneers.nfl.com. The One Buc Mailbag runs every Thursday and is not necessarily meant to reflect the opinions of the team's management or coaching staff.*
Scott,
Attended training camp yesterday during the annual season ticket holder event (which I'll say is a great thank you from the Bucs).  Watching the offensive line I noticed the interior was having some problems opening holes.  We look stacked at OT.  Saw RT #78 Matt Patchan on the second line - the guy is huge.  His run blocking really impressed me.  He was so fast getting to the second level and walloped a couple LB's.  What is the chance of him being moved to guard?
Thanks
Ron
I interviewed Matt Patchan, the undrafted rookie out of Boston College, just a couple days ago – really earnest guy and probably someone with a lot of locals rooting for him since he played his prep ball at nearby Armwood High School. It's funny you ask about him moving inside to guard, because he told me he would gladly line up at any position the team asked of him, even on the interior line. That said, he has so far been working as a swing tackle, on the right edge some days and the left on others. I think that's his most likely path to a spot on the 53-man roster.
See, I'm not sure the Bucs are really "stacked" at offensive tackle.  Really, it's awfully hard to be stacked at OT in the NFL these days – if stacked means having good starters and quality depth – because they are in such demand.  Not too many teams have a couple proven NFL starters waiting behind the two tackles who are actually in the lineup.  Cincinnati had one with Anthony Collins, which proved huge for them last year when left tackle Andrew Whitworth moved inside to replace an injured Clint Boling at guard.  But then Collins hit free agency and the Bucs were all over him. That's why it's hard to keep tackle depth and you have to develop young guys as the Bucs did with Demar Dotson.
Right now the Bucs have Collins starting at left tackle and Dotson at right tackle, and they are very comfortable with that pair. Perhaps this is what Ron actually means by stacked, especially in relation to the rest of the line – that the starters are set at tackle but the guards are still question marks. But they need to find at least one if now two reserves with which they are comfortable. Right now, that comes down to Patchan, fifth-round rookie Kevin Pamphile, recent pick-up J.B. Shugarts and perhaps the versatile Jamon Meredith.
Take Meredith out of the equation for the moment since he is currently listed as the team's starting right guard. That would leave Pamphile, Patchan and Shugarts fighting for either one or two backup tackle spots, depending upon how Lovie Smith and company distribute their extra O-Line spots.
You might be right that Patchan would have more opportunities if he was an interior linemen, and you'd certainly be right that he'd have a better chance if he was versatile enough to play inside and outside. Teams usually hold on to eight or nine linemen during the regular season, and keep seven of them active on game day; that's certainly what the Bucs have commonly done. Below is the number of offensive linemen the Bucs have had on their roster in each of the last 10 seasons, and how many of their reserves were specifically listed as tackles on the depth chart. To be clear, these are end-of-season depth charts, because that's the quickest thing to access, but that probably makes little difference in the analysis. That span covers three different head coaches, and you might notice some trends.
2
You'll note the zeroes for the number of reserve tackles in 2012 and 2011; obviously, the coaching staffs in those seasons had somebody they were prepared to bring in if a tackle got injured, even if no one was listed on the depth chart. In 2012, that was probably Jamon Meredith; in 2007, it was probably Anthony Davis.
You'll also note that in only one of those 10 years did the Bucs have only one interior-line reserve on the depth chart; in 2010. So, in general, you can expect to have at least two spots for guard-center types but the tackle numbers fluctuated between one and two. Greg Schiano focused more on the interior, Raheem Morris more on the edge, and Jon Gruden was a little bit of both. It may just be that it's a little harder to find quality depth at tackle than it is at guard.
That, too, could be an issue for Patchan. The Buccaneers may not know yet which two guards they're going to start, but they clearly believe they have some talent in the foursome of Meredith, Oniel Cousins, Kadeem Edwards and Patrick Omameh. If any of those falter, there is plenty of competition among such young players as Jason Foster (recently seen filling in as the starting center), Andrew Miller, Josh Allen and Jace Daniels. Patchan might actually run into more competition on the inside than at tackle.
Of course, that wouldn't matter if, as Ron seems to suspect, Patchan would prove to be a very good interior lineman. I honestly have no idea if he would be, so I won't claim that he won't. I do wonder, however, if he's the type of lineman that you would move from the outside to the inside.
See, you're right that Patchan is a big guy; more specifically, he's really tall. At 6-7 (and 300 pounds), he's the second tallest offensive lineman the Bucs have at the moment, after the towering Dotson, who stands 6-9. I don't know this for a fact, but I think some coaches are a little leery of putting a player that tall on the interior part of the line. Nimble footwork is critical for a tackle; that's something Dotson has despite being so tall. You want that as a guard, too, but you really need strength and leverage, so you generally see shorter (it's all relative, as if 6-4 can really be called "short") players in the middle because they presumably have a lower center of gravity. Offensive line coaches constantly preach to their players that "low man wins" in a power blocking situation. In other words, whichever player in the matchup can keep his weight anchored and get under the other guy's pad level will be able to move his opponent.
Again, I'm not the one to say if Matt Patchan could play guard in the NFL or not. I do know that he would be more than willing. I think it is more likely, however, that he stays on the edge and has a very reasonable shot of making the 53-man roster, depending upon the number of offensive linemen Lovie Smith eventually keeps.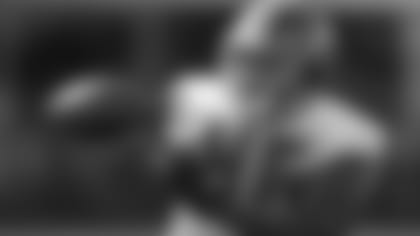 FB Jorvorskie Lane has shown he can block and catch passes in training camp and will also get a shot to see if he can contribute on special teams
My question is somewhat simplistic. Why invite Jorvorskie Lane to your training camp if you aren't sure that you even want a fullback? Let's suppose that The Bucks decide against the fullback position for this 2014-15 year.... If so, JTRAIN has wasted an entire camp fighting for a spot that was never REALLY there in the first place.
I am rooting for this big guy and hoping The Bucs sign him up. He is an aggressive big man that can open holes or make holes ALL BY HIMSELF.
KEN COOK
I sense a little anger there, Ken (maybe it's the occasional all-caps emphasis, the last of which I read while banging my fist on the table…ALL! BY! HIMSELF!)
I believe if Ken is angry about this, it's over a perceived injustice in Jorvorskie Lane's situation with the Buccaneers.  I say "perceived" because I don't think it actually exists.  However, I think that perception is probably my fault.  Ken, if you are angry, direct that anger at me.
On several occasions during the offseason and in training camp – usually while writing about depth chart numbers and how many combined RBs/WRs/TEs the team would keep on the eventual 53-man roster – I've pondered whether the Buccaneers would keep a traditional fullback at all. I thought it was possible that Lovie Smith's Bucs might keep an extra tight end and employ one or more of them as an H-back type with some lead-blocking responsibilities. In fact, it might be this exact sentence I wrote in last week's mailbag that prompted Ken's e-mail:
Still, a player like Jorvorskie Lane is really going to have to prove that he brings something of significant value to the offense in order for the coaching staff to keep an extra back and lose a bit of depth at another position.
Looking at that again, I can see why Ken, an apparent Jorvorskie Lane fan (and I'm definitely starting to see on the practice field why you would be one of those) would take offense. That same sentence could have just as easily used the name "Jeff Demps," and perhaps have been even more on point.
Back at the owners' meetings in March, Coach Smith said that there was room for a fullback in the offense he and Jeff Tedford would be installing. He has also said, on more than one occasion, that the fullback position has become somewhat marginalized in the NFL and that quality ones are hard to find these days. And that has always been my point.
If the Buccaneers could not find a fullback they would actually feel comfortable playing on a significant number of snaps, I think it's possible they would not keep one and use an H-back or perhaps a bigger back like Mike James when needed. I do think they would prefer to keep a fullback, however, and so it's particularly good news if one of them stands out in training camp. And Lane has certainly stood out.
I assure you, Ken, Jorvorskie Lane has not wasted an entire camp fighting for a position that doesn't exist.  The point is if he or Lonnie Pryor or Ian Thompson doesn't win that battle, then perhaps the roster spot goes to another tight end or receiver or tailback. The deciding factor might not even be offense; it might be special teams. I'll remind you of something Smith said recently, which I included in a very positive look at Jorvorskie Lane a few days ago:
"Fullbacks nowadays, there's not a lot of them around. In an ideal world, a fullback can play some in-line plays like that, in a traditional fullback position. He needs to be a special teams player also. And of course, occasionally catch the ball out of the backfield. Jorvorskie, of course, can do a couple of those things; we'll see about him playing special teams."
I've got something a little different to close out the Mailbag this week.  I got very few questions this week via Twitter; what I did get was a lot of tweets regarding Andrew Norton'samusing collection of Buc- and NFL-themed fantasy football team names.  Some of them were worthy of Andrew's list, which included such gems as "Herron Candid Camera," "The Clayborn Identity," and "Da'Quantum of Solace."
Here's a sampling of the fans' clever contributions:
@ScottSBucs How about, "Somewhere, over Dwayne Bowe"? :) (not Bucs but still hilarious) — Matt Besancon (@MattBTampa) August 7, 2014
@ScottSBucs I kinda like 2 of mine -- Me Lovie Long Time and You Licht Up My Life. — BucsBrief Podcast (@BucsBrief) August 7, 2014
Not sure if I get the "desperation" part, but I like the pun.