STORY HIGHLIGHTS
How does Tim Wright fit in after the additions of Brandon Myers and Austin Seferian-Jenkins?
Which games on the Bucs' upcoming regular-season schedule offer the most intrigue?
Of the seven teams that won four or fewer games last year, which one is poised for a playoff run?

Each week, Senior Writer/Editor Scott Smith will dip into the inbox to answer questions from  Buccaneer fans.  This week, we hear from a staunch Tim Wright supporter, a fan looking forward to the best games on the 2014 schedule and another fan who wonders which teams that won four or fewer games last year are most likely to continue a long-running NFL trend.
Fans can submit questions for upcoming mailbags via Twitter to @ScottSBucs (#BucsMailbag), through a message on the Buccaneers Official Facebook Page or via email at **tbbsocial@buccaneers.nfl.com*.  The One Buc Mailbag runs every Thursday and is not necessarily meant to reflect the opinions of the team's management or coaching staff.*
With the recent signing of Brandon Myers during the free agency and critical selection of Austin Seferian-Jenkins in the draft where does Tim Wright fit into the system. I honestly think he was one of the big reason why Mike Glennon managed to find some success in last years offense. The kid had 550 yds. and 5 touchdowns for the season. That seems pretty incredible for a TE converted rookie WR. It would be really disappointing to let such talent fade in our roster. I think it would be a great idea in mind to incorporate a 2 TE formation to create a more threatening combination with both Wright and ASJ (pardon the initials) causing havoc in the middle of the field while Vincent Jackson and Mike Evans line up on the outside to create a deep threat. Who do I have to talk to get this to potentially happen lol. You seem to have all the connections. Maybe you could spread the idea to Jeff Tedford. Just a thought lol.
You know, Darius, I could conceivably walk over to Jeff Tedford's office, poke my head in the door and say, 'Hey, coach, just so you know, Tim Wright is a good player coming off an impressive season and here are some ways you can use him in your offense.'  I'm not going to do that, of course, because I've always been of the opinion that NFL coaches are capable of seeing talent on the field and figuring out ways to use it (and because I value my job).  That's why they're NFL coaches, and they don't need me trying to tell them what to do.
One time, many years ago, I witnessed what I considered an obscure special teams ruling in an NFL game.  A few days later, I happened to bump into our special teams coach at the time and I asked him if he had known about the rule.  His reply, in so many words (I've left a few of  the more colorful words out) was, 'Of course I know that rule.  I'm a special teams coach in the NFL.'  He was an absolutely great guy, by the way; this just wasn't our most pleasant conversation.  And it was completely my fault (I was young, give me a break).  He was right: Of course he knew the rule.
This reminds me of some of the more pointed feedback I got on Twitter after tweeting about the third-round pick of running back Charles Sims two weeks ago.  I have no problem whatsoever with fans or members of the media questioning that pick, or any other pick.  It's their right, and it's part of the fun of following sports.  I just don't understand the comments that said, 'Don't they know we already have three running backs who did well last year?!'  Yes, they know that.  How could they not know that? They either made a great pick or a bad one (only time will tell, though Sims has looked really good on the field so far) but they didn't make one in a vacuum of information.
And they won't make a decision on Wright or any of his fellow tight ends in a vacuum of information, either.  If Wright is indeed as talented as his 2013 season suggests, and if he fits the offense well, he is sure to get his chance.  And here's the good news for you, Darius, as an ardent Tim Wright supporter: I think the information they've gathered so far favors the young player.  Here's what Head Coach Lovie Smith had to say about Wright on Tuesday after the first OTA practice:
"Tim is a guy I should have talked about more because he's another guy that does something well it seems like every day. Nowadays, with the emergence of the passing game and you've got to be able to pass to win…the matchups…tight end versus safety, tight end versus linebacker , we have a good matchup with Tim Wright. He of course can do things in-line, but he can split out, he can run all of the passing tree, he's natural moving out and running routes too. I'm very pleased with him and all he's done since Day One. He's a guy that's been here every day and we've seen him doing that."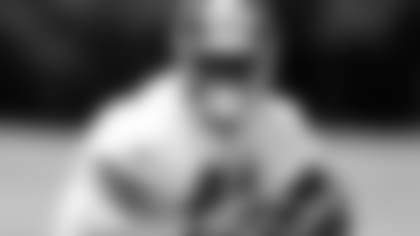 That does not sound at all like a player who's in danger of getting lost in the shuffle.  Keep in mind also that the team just released tight end Tim Crabtree a couple days ago.  That would seem to enhance Wright's chances of sticking.  I'd say things are going pretty well for him right now.
You're just about right on the money with Wright's stats from 2013, by the way; he finished with 54 catches for 571 yards and five touchdowns.  I'm going to join you, Darius, in saying that is downright remarkable for a player who was not only an undrafted rookie but a wide receiver as recently as two months before training camp.  You do have to take that receiver background into account, however.  If the best tight ends are ones that can produce big passing numbers and at least hold their own (if not excel) as a blocker, then you'd have to expect that the weaker half of Wright's game is as a blocker.  I don't think that's any secret, and that doesn't mean it has to remain a weakness.  I've been around Tim long enough to know he's a hard worker, and very determined.  Coach Smith alludes to that, too, in the quote above.
Now, let's not forget that Brandon Myers has 126 catches for 1,328 yards and eight touchdowns over the past two seasons.  A two-TE combo of Myers and Austin Seferian-Jenkins (I'm with you on the ASJ abbreviation, but we ought to spell out his name at least once here) could be pretty lethal, too.  All of this sounds like a good problem for the Bucs to have, to me, and it could become even more complicated (and potentially more dangerous) if Luke Stocker finds some better luck on the injury front and is able to make his presence felt, too.
Oh, that's easy: At Buffalo, August 23.
Just kidding!  That game violates the most important rule of preseason scheduling: Don't go very far from home.  It's not quite an August game in Seattle (that actually happened in 1994 by the way, and also one other time before I was around), but it's not Nashville or Miami, either.  At least the weather should be a nice break from a Tampa summer.
And it's a preseason game, of course, so it's not really in the discussion anyway.  We've got 16 regular-season games from which to choose, and a couple of them really stand out to me.
There's the game at Chicago in Week 12, of course, which has the Lovie Smith-returns-home factor and should draw a lot of attention.  I like the atmosphere in Soldier Field, too, and there's a chance that one could be cold and snowy.  We don't get many games like that, and every now and then they're a lot of fun to watch.  (Easy for me to say; I don't have to be out there on the field.)
I'm also drawn to the Week Three game in Atlanta: It's prime time on a Thursday evening (with a short flight home so the team isn't too disrupted by a road night game); the Bucs have often played well in the Georgia Dome; the Falcons are bitter rivals and one of the games I most want the team to win every year.  In the crazy NFC South the standings seem to flip almost every, so nobody would be surprised to see the Buccaneers and Falcons (two 4-12 teams in 2013), competing for the division title this year.  In fact, both teams seem ripe for a quick turnaround, Tampa Bay because of a new head coach and the many roster additions in free agency and the draft and Atlanta because they were hit so hard by injuries last year.  This game may very well combine early-season excitement with late-season importance if the NFC South comes down to the wire.
I think the game that I am personally looking forward to the most, however, is all the way down there in Week 16.  Call me old-fashioned, but a visit from the Green Bay Packers always feels like a bigger event.  That's a product, I know, of the Bucs' years in the NFC Central and the rivalry that grew in the second half of the 1990s.  First, the Brett Favre-led Packers were the team the Buccaneers couldn't get past for years as they gradually rose from a forgotten team to a real title contender.  Then, as the Warren Sapp-led Buccaneer defense just got better and better and the Bucs eventually did surpass the Packers, there was a series of big wins for Tampa Bay over Green Bay, almost all of them at Raymond James Stadium.
Green Bay has the great Aaron Rodgers in place of the great Brett Favre now, and they are once again a title contender that the Bucs will have to surpass on their way back up the ladder toward Lombardi Trophy territory.  Since this game will be played on the penultimate weekend of the regular season, if the Buccaneers are playoff contenders this year they might have to get over that Green Bay hurdle sooner rather than later.  Count me in.  I can't wait.
The Bucs only picked seventh in the draft this year even though they went 4-12 last year. I guess that means there were alot of teams with really bad records last year…teams that won four or less games. At least seven. (You can tell me if there were more…thanks!)  My question is, which of those teams do you think is most likely to be like last year's KC chiefs and make it all way to the playoffs this year. I think it's the Bucs!
I'm looking into my crystal ball and predicting that I'm going to get called a "homer" after this one.  A company man.  But you might just as well call me unimaginative, because I think Lovie Smith's Buccaneers are the chic choice to replicate what Andy Reid's Chiefs did last year.
The Chiefs went 11-5 last year in Reid's first year at the helm, after he replaced Romeo Crennel following Kansas City's 2-14 finish in 2012.  Even superficially, it's easy to see why analysts began comparing this year's Bucs to last year's Chiefs not long after Smith returned to Tampa in the first few days of January, well before the team even went on its free agent spending spree.  Smith is an established coach with a winning track record and a stable demeanor, like Reid, and he was inheriting a roster that, while far from perfect, had some key defensive pieces in place.  The parallels continued in free agency, when Lovie Smith got steady veteran quarterback Josh McCown, his Alex Smith, to lead the offense.
The Chiefs' nine-win improvement in one season was only one shy of the NFL record, but they didn't break new ground by going from the bottom of the standings to the playoffs that quickly.  Buccaneers fans should take heart – along with rooters in such places as Cleveland, Jacksonville and the nation's capital – a team going from four wins or less to the postseason in one year seems to happen almost annually these days.
Before the Chiefs flip from 2012 to 2013, you had the Indianapolis Colts rising from the post-Peyton 2-14 ashes in 2011 to an Andrew Luck-led 11-5 in 2012; a bunch of teams went from losing records in 2010 to the playoffs in 2011 but it was the Cincinnati Bengals who came all the way from the four-win club to go 9-7 and squeak in; Kansas City makes the list again with a 4-12 mark in 2009 becoming 10-6 in 2010; Cincinnati repeats, too, with a jump from 4-11-1 in 2008 to 10-6 in 2009; Miami's 2007-to-2008 improvement was even more impressive, starting at 1-15 and going to 11-5 (Atlanta also did the four-to-11 jump in wins those two seasons); your own Bucs pulled off the trick in 2007, winning the division one year after finishing 4-12; the 10-6 playoff-bound Jets of 2006 had limped to 4-12 the year before, the same two seasons that New Orleans made the leap from 3-13 to NFC South champs.
We thus make it back to the 2005 season before we find a playoff field that does not include at least one team that had four or fewer wins the year before, and even that group included two teams that improved from 5-11 to 11-5…coincidentally Lovie Smith's Bears and your own Buccaneers.  So it probably isn't a matter of whether or not one of 2013's downtrodden squads will be playing next January, but which one…or how many?
Let's look at our choices: Cleveland (4-12), Jacksonville (4-12), Houston (2-14), Oakland (4-12), Washington (3-13), Atlanta (4-12) and Tampa Bay (4-12).  Fortunately for me that excludes a couple other trendy turnaround picks in 6-10 Buffalo and 7-9 Rams.
I do think the Buccaneers are one of the best bets on that list.  I'm not sure I can say they are the best bet, however, because they happen to play in a division that is very strong right now, and rarely has a four-team meltdown like the NFC North last year or the NFC West group that sent a 7-9 team to the playoffs a few years back.  The Buccaneers could be vastly improved in 2014 and still struggle to hit double-digit wins because of the war of attrition against Carolina, New Orleans and an Atlanta team that is likely to be improved, too.  And, even though I'm personally optimistic about the additions the Bucs made in free agency, we should still heed the alarm of previous teams that have tried such a dramatic roster remake in that way.
That's the case against the Bucs.  The case for them includes new help in the areas the Bucs needed it the most – pass-rush (Michael Johnson, Clinton McDonald), wide receiver (Michael Evans, Robert Herron, etc.), and offensive line (Anthony Collins, Evan Dietrich-Smith, perhaps a returned-to-health Carl Nicks).  The latter of those, however, also remains the team's biggest question mark, as the two guard spots are undecided and will have farther to go if Nicks' return isn't quick or smooth.  There is also the Lovie Smith factor, which I think is real, and the fact that McCown is not only at the helm but in possession of far more weapons than Mike Glennon had for most of 2013.  Evans, Herron, Vincent Jackson, Austin Seferian-Jenkins, Brandon Myers, Doug Martin, Mike James, Bobby Rainey, Charles Sims, and so on…if it comes together quickly, it will be a vast improvement on last year's 32nd-ranked team.
I think the Buccaneers will be significantly better in 2014 than they were in 2013.  Will it be enough to make them the favorites to rise from the four-win club to the playoffs?  Well, the other seven choices have their issues, as well.  Even if Cleveland has made strides, will Johnny Manziel win the starting job and will a rookie quarterback be able to lead such a big turnaround (yes, Luck did it, but that's not common)?  Jacksonville seems to be headed in the right direction but it's probably going to be a slow and steady development for Blake Bortles and a brand-new receiving corps.  Houston's defense could be ridiculous with Jadeveon Clowney next to J.J. Watt, and the Texans should have healthier seasons out of Arian Foster and Andre Johnson, but do they have the quarterback to take them back to the playoffs?  Oakland is counting on the quarterback that Houston wanted to get rid of after last year's debacle and is coming off a confusing offseason in which it lost several of its best players.  Washington has a healthy RGIII now, and RGIII has DeSean Jackson to throw to, but the RGIII trade with St. Louis has made it harder for the Redskins to replenish their 18th-ranked defense through the draft.  Atlanta gets a bevy of players back from injury, has landed a much-needed left tackle in the draft and has significantly beefed up its defensive line, but the secondary is questionable, Tony Gonzalez is (finally) gone and they face the same tough division as the Buccaneers.
Deep breath.  That was a big paragraph that really just scratched the surface on the issues for each team.  Obviously, there is a lot still to be determined.  Still, here is how I would rank those seven teams in terms of the likelihood that they will rebound from a four-or-fewer-win season to the playoffs in 2014:
1. Washington: RGIII and Brian Orakpo are back, the offense is deeper and more varied and the NFC East is less daunting than some other divisions.
2a. Atlanta: Their slide in 2013 was largely attributable to injuries, and the Matt Ryan/Julio Jones/Roddy White core is intact and dangerous even without Tony Gonzalez.  The ruggedness of the division makes the road tougher than it is for Washington, however.
2b. Tampa Bay: Perhaps as much offensive potential as Atlanta but it still has to all come together and prove itself.  A tough division road but a higher chance for a dominant defense than the Falcons.
4. Houston: The defense alone is enough to make this team a contender in the AFC South, but the quarterbacks consist of low-ceiling veterans and a project rookie
5. Cleveland: The Browns also have a talented defense but the offense is completely unpredictable, especially if Manziel wins the job early.  The receiving corps is questionable and there's little RB depth behind newcomer Ben Tate.
6. Jacksonville:Chad Henne will have to play at a high level to keep the Blake Bortles development from starting, and that will be more difficult with a green receiving corps he has to break in.
7. Oakland: I'm not convinced that Matt Schaub is the answer, even in the very short term, and this team appears to have the most depth chart holes on paper of the seven candidates.
So I hedged my bets with that 2a/2b gambit, but I didn't put the Bucs at number one, so I'm not that big of a homer, right?  Right?!  With better things expected from both the Bucs and the Falcons and two other returning playoff teams looming in the NFC South, I just think RGIII and the Redskins have a clearer path to a playoff turnaround.
By the way, I decided to open this question up to eight of my colleagues here in the office.  After much discussion and a lot of scribbling on the greaseboard, I came up with my rankings above, and I also got everybody's vote for the top choice.  There were four votes for Washington (counting mine), three for the Bucs and two for Atlanta.