STORY HIGHLIGHTS
RB Mike James was as good as advertised at avoiding negative plays during his abbreviated rookie season
The Buccaneers' contract work in free agency continues to give the team flexibility in years to come
Undrafted rookie G Andrew Miller may face an uphill battle, but the Bucs' guard competition is wide open

Each week, Senior Writer/Editor Scott Smith will dip into the inbox to answer questions from  Buccaneer fans.  This week's topics include the relative lack of buzz around second-year running back Mike James, the approach to contract structuring in free agency by the team's new management, and undrafted rookie guard Andrew Miller.
Fans can submit questions for upcoming mailbags via Twitter to @ScottSBucs (#BucsMailbag), through a message on the Buccaneers Official Facebook Page or via email at **tbbsocial@buccaneers.nfl.com*.  The One Buc Mailbag runs every Thursday and is not necessarily meant to reflect the opinions of the team's management or coaching staff.*
A lot of talk has been made about the depth at running back, but I've hardly heard Mike James name mentioned. Where do you see him in the mix this season? The few times he was the features back last season, he showed potential to be our best back (even slashing through the Seattle defense).  Is he too similar to any of the other backs, or does he provide something that none of the others do? I can't wait to see what he can do if fully healthy in 2014...I just hope he gets the carries!
- Eric Norton, via email to tbbsocial@buccaneers.nfl.com
In last week's mailbag, I took issue with the basic premise of one of the questions ("no one has recognized the Bucs as a threat this year").  Well, with the first question of this week, I'm going to start by saying I agree 100% with the basic premise.
I might quibble with some of the ideas in your email, Eric, but I think you're completely right that James has been mostly a forgotten man this offseason.  I guess that's not terribly surprising, because much of the attention has been focused on the new players in town, and that's okay.  Let me ask you this: How much have you heard about, say, Akeem Spence or Keith Tandy this offseason?  Same thing.
I am unabashedly a Mike James fan, and I was almost more bummed out last year when he got hurt than when Doug Martin went down.  I mean, you knew Doug Martin was going to come back and (rightfully) reclaim his #1 spot on the depth chart, so while it was devastating to the Bucs' season that he got injured, it wasn't a huge blow to his own career.  James, on the other hand, could have used another six or seven outings to prove that his incredible work over roughly three games was more than a fluke.
James was particularly amazing in Seattle in Week Nine when, given the relative fortunes of the Bucs and Seahawks and the well-known home field advantage of CenturyLink Field, Tampa Bay nearly pulled off the upset of the season.  The Seahawks won in overtime on the way to Super Bowl glory, but James incredibly ran for 158 yards on 28 carries against the NFL's best defense.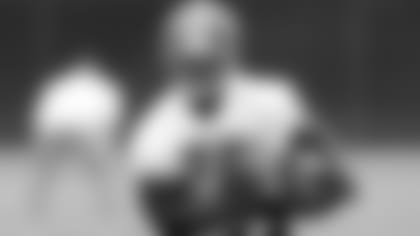 RB Mike James ran for 158 yards against the NFL's best defense in Seattle last season
Now, Eric, you say that James showed the potential to be the Bucs' "best back" with that performance.  Yes, that was probably the single best game by a Tampa Bay running back in 2013, given the circumstances, but Bobby Rainey ran for 163 yards and scored three total touchdowns just two weeks later (against a far less impressive Falcons defense).  No offense to James or Rainey, but I don't think we can put either one of them ahead of Martin yet due to the latter's more proven track record.  I think if you and I were drafting the three in a vacuum, Eric, we would both take Martin first.  Plus, let's not get carried away with 'potential'…click here to see what Gerald McCoy thinks of that word.
I don't think that James is too similar to the other backs on the depth chart for that to be a problem for him.  If anything, Rainey would seem to have a more similar build and style to Martin.  It may be that James' greatest strength is something that's not too sexy – he gains yards and almost never loses yards.  James is the kind of back who makes one cut and goes, and if he's hit he does his best to fall forward.  He just isn't going to give you negative plays, and coaches love that.
In fact, I just unearthed an interesting stat regarding our shared obsession, Eric.  Last year, James carried the ball 60 times and was "stuffed" – stopped behind the line of scrimmage – once.  That 1.7% "stuff percentage" ranked fourth in the NFL among all players who carried the ball at least 50 times.  But here's the kicker – the three players above him were all quarterbacks, who almost can't be stuffed.  Since most QB runs are scrambles, if they're tackled behind the line of scrimmage it's a sack, not a stuff.
That means James had the lowest stuff percentage of all running backs who carried at least 50 times.  I'll happily concede that the low sample size here takes a bit of an edge off that stat, because if he carried 259 times like Jamaal Charles did he'd probably see that percentage go up a bit.  San Diego's Danny Woodhead was first on the list among players with at least 100 carries, with a 2.8% stuff percentage, and Charles was first among players with at least 200 carries, with a 4.6 stuff percentage.
Again, I'll concede that point, and that's because I don't think this is a case of statistical cherry-picking.  We were told before James ever got his chance that this was one of his strengths.  Here's an excerpt and a quote by James from an article about himon Buccaneers.com from last August:
That straightforward thinking also applies to the rookie's approach to running the ball.  As his head coach, Greg Schiano, has pointed out on several occasions, James has a one-cut-and-get-upfield style that rarely results in negative plays.
"It's just a style I have," he said. "I'm always aware of down and distance and what's going on on the field.  I definitely don't want to put the offense in a bad position.  That's my job, not to take any losses.  My job is to get as many yards as possible and put the offense in the best position possible, so that's what I'm trying to do."
Here is why, more specifically, you haven't heard much about James this offseason: Charles Sims.  The Buccaneers drafted the West Virginia running back in the third round – to the surprise of many given the presence of Martin, James and Rainey – and immediately noted what a great pass-catcher Sims is.  It is almost inconceivable that Sims won't make the 53-man roster, assuming he stays healthy (third-round rookies are almost never cut), and it also seems quite likely that Sims will have a significant role in the offense this year.  That's conversation point No. 1.  Conversation point No. 2 is: How much will this affect Doug Martin's workload?  You don't often get to conversation point No. 3: What does this mean for James and Rainey?
That third point is going to come to a head in the next six weeks.  It is not impossible to see the Bucs keeping all four of those tailbacks, especially if there is no real fullback on the roster.  On the other hand, you also have to consider such possibilities as Jeff Demps making the team (and being considered a running back), or even a player such as undrafted rookie Brendan Bigelow making a splash.  The point: The competition is going to be pretty ridiculous in the Bucs' backfield this summer.
Here's the good thing, Eric: It really doesn't matter that James had little buzz around him during the offseason.  He did what he needed to do, which was complete his return from his 2013 ankle injury and get into the mix on the practice field.  Now he'll have a chance to prove himself all over again to a new coaching staff on the practice field and in the preseason.  He also used his rehab time to pack on the upper-body muscle, and you've got to believe that will help a player with his running style.  James has been compared to Earnest Graham for his ability and willingness to take on any role (and that is high praise indeed in Buccaneer Land) but this could be another useful comparison.  Graham also packed on muscle and gradually created a more chiseled physique during his time with the Bucs, and that served him well when he suddenly got the chance to be the workhorse in 2007.
You asked me about Mike James, and I guess it's kind of obvious that I'm a fan.  I don't want that to be interpreted as any slight to Bobby Rainey, who probably deserves a similar write-up.  I guess this is a good thing, right?  You'd rather have too many good running backs than not enough.
@ScottSBucs you lauded Mark a few times for structuring those contracts. Are the new contracts structured alike? — Timo (@GermanBuccaneer) July 18, 2014
They are!  You know, when you find a good thing…
That's a really good question, Timo, and I'm glad it arose out of your reading of our "First 100 Days" project.  One of the key storylines of that piece is that, during their evaluation of the roster, free agency and the Bucs' cap situation, Lovie Smith and Jason Licht gradually came to the conclusion that being aggressive in free agency was the right approach.  Part of what made that possible was the way some of the bigger contracts on the team were structured, with most of the money in the form of annual salaries and not signing bonuses.  That structure allowed the team to more easily redistribute its cap space, as it did by releasing cornerback Darrelle Revis and then signing such free agents as Michael Johnson, Clinton McDonald and Alterraun Verner.
Director of Football Administration Mike Greenberg (unofficial title: Cap Guru) helped put together those previous deals under former General Manager Mark Dominik.  Greenberg is still with the team and he and Licht obviously were of a like mind because the Bucs' free agency run this past spring was marked by many of the same sorts of contracts.
For instance, defensive end Johnson, McDonald, Verner, tackle Anthony Collins, center Evan Dietrich-Smith and tight end Brandon Myers all agreed to contracts without signing bonuses.  Their compensation comes in the form of larger base salaries each season, plus occasional roster or workout bonuses.  In all cases, the guaranteed money in the contract is in the early years.  This keeps to a minimum the possibility of "dead money," when a player is released with years left on his contract and the prorated remainder of his signing bonus suddenly accelerates in terms of its cap hit.
Quarterback Josh McCown did get a signing bonus, but his contract is only two years long, so there really isn't a great need for flexibility later in the deal.  All in all, the Bucs under Licht and Smith have devoted a great deal of funds and cap space to some key new players, but they've remained nimble in the process.
I'm a big fan of rookie Andrew Miller from VT. He was an outstanding, underrated tough sob offensive lineman. How is he doing in camp, and what is the latest word on his performance?
- James Grandinetti, via email to tbbsocial@buccaneers.nfl.com
Well, James, I really can't answer that because training camp hasn't started yet.  The Bucs' first practice is Friday at 4:30 p.m.  Moreover, the first practice in pads isn't until Sunday.  I guess the latest word on Miller's performance is that he successfully reported to camp on time.  And, hey, the first step is being there.
I made a point of noting that the first padded practice isn't until the third day of camp, James, because this is an important distinction for offensive linemen.  There probably isn't a single position on the depth chart that is harder to judge during the offseason than the offensive line.  Nobody can hit each other, but at least wide receivers can show off their speed and their sharp cuts and good hands.  Linebackers can display their play recognition and their instincts.  Cornerbacks and safeties can pick off passes.  Defensive linemen can't hit their offensive counterparts, but they can show off their speed and quickness in bag drills.  Since speed isn't the most coveted trait for offensive linemen (though not unimportant), there's not much more these big blockers can do up front in an offseason practice than prove they know where they're supposed to go on every play.  Oh, and that they know the snap count.  You definitely don't want to commit a bunch of false starts in a June mini-camp practice.
Hey, but I can tell you this: As an undrafted free agent, he made a good choice as to where to sign.  There aren't two spots on the Bucs' depth chart more unsettled heading into training camp than right and left guard.  If Carl Nicks isn't ready to go, there literally is no real favorite at either spot.  Now, I'm not saying that an undrafted rookie is a strong bet to win a starting spot on the offensive line, but I am saying that the whole depth chart is up for grabs.
There are six players listed as guards on Tampa Bay's roster: Miller, Oniel Cousins, Kadeem Edwards, Jason Foster, Carl Nicks and Patrick Omameh.  Jamon Meredith is listed as a tackle but you should probably throw him into that mix as well.  I don't know much about rookie center Josh Allen, but presumably he could be considered for any of the interior spots.  Nicks has 61 career starts and Meredith has 24.  Everybody else mentioned in this paragraph has combined for nine starts…and "combined" is misleading because all nine belong to Cousins.
Now, it's possible that at some point between now and the regular season the Buccaneers will find a way to add another veteran to that mix.  But you certainly can't count on it.  Right now, that's at least one guard spots and maybe two that are wide open for competition as camp begins.  Like I said, James, I can't tell you much about Miller's performance yet, but if he's as promising as you believe, he'll get a very real shot.