STORY HIGHLIGHTS
Discussing the possibility of Derrick Brooks being the next player chosen for the Buccaneers' Ring of Honor
Reliving past draft-weekend opinions that proved to be off the mark
Third-year S Mark Barron could be ripe for a breakout season in 2014

Each week, Senior Writer/Editor Scott Smith will dip into the inbox to answer questions from  Buccaneer fans.  This week, Smith addresses such topics as the next Buccaneer slated for the Ring of Honor and the players likely to break out for Tampa Bay in 2014.
Fans can submit questions for upcoming mailbags via Twitter to @ScottSBucs (#BucsMailbag), through a message on the Buccaneers Official Facebook Page or via email at **tbbsocial@buccaneers.nfl.com*.  Following  this introductory edition, the One Buc Mailbag will run every Thursday, beginning this week.*
I'm looking forward to reading the new One Buc Mailbag column and it sounds almost like our favorite super hero's column Answer man.  I hope you can fill those big shoes.  I read a question asked by one of your readers asking about who you think will make it to the Hall of Fame in the next couple years from the Buccaneers.  I have several questions in the same area concerning the Buccaneer Ring of Honor as well as the Hall of Fame.  First, how long till a retired Buc can be inducted into the Ring?  I'm guessing it can be as little as 5 year since Warren Sapp made it last year 5 years after he retired just like the time limit for the Hall of Fame.  Next question, Derrick Brooks was just inducted into the Hall of Fame so do you think he could make it into the ring this upcoming year like Sapp did?  Moving back to the Hall of Fame I didn't hear you mention my all time favorite Buc Mike Alstott possibly making it into the Hall of Fame.  Be honest, do you think he will never make it into the Hall or maybe it may just be 20 years.  I'm not sure how his statistics look but he had more heart than anybody I know.  I'm guessing it is a sure thing sometime down the road he will make it into the Ring but what do you think?  Sorry about throwing things at you from all over the place but as I was writing questions just popped up.  I'm confident everything can be answered like before with statistics, humor and a little class.
- Jay via email to tbbsocial@buccaneers.nfl.com
Once again, I find myself toiling in the shadow of our dear, departed Answer Man.  We'll see if I can fill those shoes in the long run, but I think I at least demonstrated last week that I can channel his propensity for turning a 200-word answer into a 2,000-word answer.
Let's get to your questions one at a time.  First: How long must a player or coach be retired to be eligible for the Ring of Honor?  Actually, there isn't any specific criteria for inclusion, as there is for the Hall of Fame.  As a practical matter, I don't think you're going to see anyone chosen, barring unusual circumstances, until they've been out of the game for at least five years.  Warren Sapp's election to the Hall of Fame made him an obvious choice last year, but that had the built-in delay of the Hall's five-year waiting period.  There are so many potential candidates for the Ring of Honor, in my mind, that there's no reason to rush any one player or coach.
Second: Could Derrick Brooks be the next choice for the Ring of Honor.  I can't tell you at this point that Brooks is the choice for 2014, Jay, but I can agree wholeheartedly with your logic.  Sapp's election to the Hall of Fame seemed to be the impetus to his getting the call from the Ring of Honor last year; the same would logically seem to apply to Brooks.  I'd say #55 would be the smartest choice for a betting man.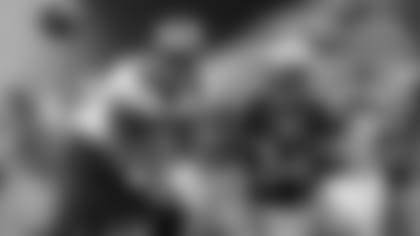 Hall of Fame LB Derrick Brooks is a lock for the Buccaneers' Ring of Honor at Raymond James Stadium. Will it happen in 2014?
Third: What are Mike Alstott's Hall of Fame and Ring of Honor chances? Actually, I did mention the A-Train when discussing the question of future Buc Hall of Famers in the February 11 mailbag.  My argument then was that Alstott's six Pro Bowls and three first-team AP All-Pro selections are a very good start for a Hall of Fame resume, but that I feel he was more appreciated here in Tampa than nationwide.  Buc fans will never forget his incredible second and third and fourth-effort runs, and he piled up the touchdowns in bunches.  A Hall of Famer in the eyes of many Buc fans but I wonder if he can gain enough support nationally.
Buccaneers Ring of Honor at Raymond James Stadium?  I think that's a no-brainer.  The team's all-time leading touchdown-scorer, second in rushing  yards, fourth in receptions and undeniably an all-time fan favorite in the Bay area.  It's not a matter of if but when.
I know what you're thinking, Jay.  The Answer Man would have thrown in two or three charts and a half-dozen digressions from the main topic.  Maybe next time.
You know, Vince, that's a great question.  Before I begin the self-flagellation, however, let's all agree that everybody has been wrong at some point about somebody the Bucs have drafted.  That includes fans, members of the media, even those who were actually responsible for making the draft picks.  The Bucs were wrong to think Dexter Jackson (the receiver, not the safety) would be able to translate his big plays at Appalachian State into the pros, for instance.  The assembled media (honestly not talking about anybody in particular) was wrong to pan the Bucs' pick of Davin Joseph in 2006 and ding them for not taking Winston Justice instead.  I tend to be optimistic about most of our picks, trusting the judgment of the people in this building who know way more about player evaluation than I do, but I can think of a number of times my initial reactions were proven to be well off-base.
I loved the move to draft DT Brian Price in the very next round after getting DT Gerald McCoy in 2010, for instance, but Price didn't work out at all.  I was one of those who wondered if Warrick Dunn was too small to be the type of back who would prove worthy of the 12th overall pick; didn't take long for those worries to be quashed.  I remember thinking Stanford TE Alex Smith was a huge steal in the third round in 2005; I thought he might be a fixture at the position in Tampa for years.  Smith was a decent player for the Bucs and he is in fact still in the league with Cincinnati, but I don't think you would still call him a draft steal.
However, since your question isn't really strictly defined, Vince, I'm going to take it in a slightly different direction.  Again, I think we've all been too high or too low on any number of players the Buccaneers have picked through the years.  What really stands out in my mind, however, are the times when I've been wrong about what I think the team should do.  Again, I trust our coaches and personnel people to know best, but I'm human and a football fan and I can't help having my own thoughts about what the team should do before any draft.  Sometimes I get my hopes up for a specific player or position.  As an example, I remember very badly wanting the Buccaneers to find a way to move up from #4 to #2 in 2007 to get Calvin Johnson, but of course the other team has to be willing to deal, and the Lions probably were not.
But here's the one that I always come back to, Vince, and it's my final answer to your question: The fifth pick in the 2005 draft.  As you may recall, the Buccaneers were rumored to have interest in several of the highly-rated running backs that year, as well as USC wide receiver Mike Williams.  I badly wanted the Buccaneers to draft Mike Williams, believing that the receiving corps needed the help more than the backfield, which had gotten 926 yards out of Michael Pittman after ill-fated free agency hire Charlie Garner went down early with an injury.  Michael Clayton was coming off his 80-catch rookie season (which proved to be quite misleading) and Joey Galloway's first season in Tampa had been injury-plagued and mostly unimpressive.  Let's pair Clayton with Williams, I thought, roll with Pittman another year and let either Brian Griese or young Chris Simms direct a dangerous passing attack.  A few days before the draft, the Bucs' management went to dinner with Mike Williams, and that certainly created the impression he was their main target.
Well, that wasn't the plan at all.  The Bucs had been targeting Auburn running back Cadillac Williams all along, and they got their man.  Mike Williams went to the Lions five picks later (he wasn't even the next receiver taken, as the Vikings made the regrettable choice of Troy Williamson at #7).
You probably remember what happened, Vince.  Mike Williams was a bust who played for three teams in his first two seasons before a mild resurgence with the Seahawks in 2010.  He had just 29 catches for the Lions in that 2005 rookie campaign, so it's hard to imagine he would have made much of a difference in Tampa.  Meanwhile, the Buccaneers did find that complement to Michael Clayton – Joey Galloway, who was healthy for 16 games and produced 83 catches for 1,287 yards and 10 touchdowns, one of the best seasons ever for a Buccaneer receiver.  Clayton himself declined, so another receiver would have been helpful, but I certainly wasn't expecting that when I lobbied (in my own mind) for Mike Williams.  At the same time, Cadillac Williams got his shoes in the Hall of Fame after the best three-game start to a career for a running back in NFL history and was a key part of a rushing attack that produced 1,826 yards for an 11-5 team.
Now, it's true that injuries – particularly two devastating knee blowouts – would rob Williams of much of the star career that first season seemed to portend.  Still, he was clearly the right pick for the Buccaneers in 2005, not the guy I wanted, Mike Williams.  I've tried to remember that lesson every year since as the draft approaches.
I was surprised at what Tim Wright did last year.  Who do you think there is on the Bucs' roster who might be ready to have a breakout season this year?
- Jake, via Facebook message
Well, I can't really give you a Tim Wright equivalent because Wright was a rookie last year, and an undrafted one at that, making him something of a longshot.  I'd categorize his 54-catch season as more of an unexpected surprise than a breakout year.  Anyway, I won't know who this year's rookies are until May.
The question is still a valid one, though.  You're going to find a breakout player of some kind on the roster just about every season, such as DT Gerald McCoy in 2010 or RB Earnest Graham in 2007, and it's not always easy to predict.  Some candidates, like McCoy, are fairly obvious – he was the third overall pick in 2010 and his first two seasons were disappointments only due to injury.  McCoy just needed health, and when he got it, he broke out with a Pro Bowl season.  Graham on the other hand, was a revelation in '07 as a back who could handle the primary job in the backfield.  He was already a very useful player for the Bucs as a special-teamer and part-time back, but he had never carried more than 28 times in a season before 2007.  When injuries took out Cadillac and Pittman, the job fell to Graham and he produced 898 yards and 10 touchdowns in 10 starts.
So, what candidates do I see on the 2014 roster?  The obvious place to look is the defensive line, where the Bucs drafted three mid-round players last year in Akeem Spence, William Gholston and Steven Means.  Based on his late-season surge, Gholston would seem like the most likely to break out with a 5-7 sack season next fall.  I could also be talked into cornerback Rashaan Melvin, an undrafted rookie out of Northern Illinois who looked like he had the inside track on the nickel back job last summer before injuries took him out of the equation.  There should be healthy competition in the Bucs' secondary this summer, and if Melvin is as good as he looked in mini-camp and training camp last year, he could emerge in 2014.
None of those are my pick, however.  I'm going to go with third-year safety Mark Barron.  Call it a hunch.  The seventh overall pick in the 2013 draft, Barron has started 30 games in his first two years and has been a solid contributor in the secondary.  With Lovie Smith and Leslie Frazier installing a new defense and almost certainly looking for ways to take advantage of Barron's skills, the former Alabama star could go from solid starter to star in a hurry.  Don't worry about Barron's physical style around the line of scrimmage being lost in a Cover Two base defense – John Lynch fared just fine in a similar system, and he certainly spent plenty of time up in the box terrorizing ballcarriers.